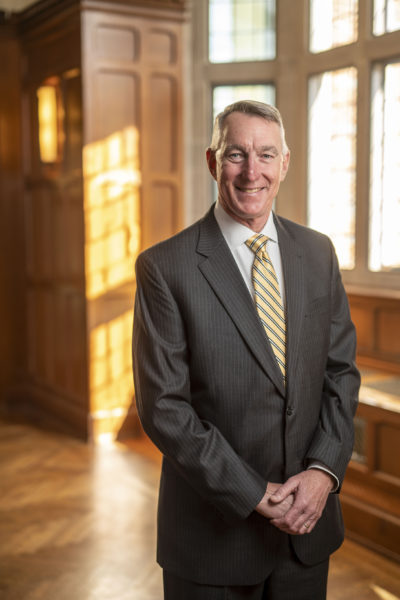 Gary H. Cheek has announced that he will be stepping down as director of Vanderbilt University's Bass Military Scholars Program in 2021 for family reasons. Cheek, a retired U.S. Army lieutenant general who has served as the program's inaugural director since 2019, will remain in the role through the spring to assist with the selection of next year's cohort of scholars and ensure a seamless transition with his successor.
"I am so grateful for Gen. Cheek's leadership of the program and at Vanderbilt. To his credit, the Bass Military Scholars Program is off to a successful start and well-positioned to sustain that momentum," said Provost and Vice Chancellor for Academic Affairs Susan R. Wente, who will be appointing a committee in the coming weeks to conduct a national search for the next director. "The entire Vanderbilt community wishes him and his family the best."
The Bass Military Scholars Program supports up to 40 scholarships and programming for honorably discharged military veterans pursuing graduate and professional degrees at Vanderbilt Law School, Owen Graduate School of Management, Peabody College of education and human development, the School of Medicine, and the School of Nursing. The program currently awards each recipient $25,000 per year toward general education expenses.
In addition to their studies, the Bass Scholars meet regularly as a group and collaborate on projects across their various schools throughout the academic year. Those projects include a range of campus service activities designed to foster military-civilian exchanges and mentorship opportunities within the broader Vanderbilt community.
"I remain grateful for the opportunity to serve at Vanderbilt, humbled by the talent and service of our Bass Military Scholars, and thankful for the strong support of the Vanderbilt community," said Cheek. "It has been my honor to be part of such a unique and exciting program at a world-class university."
Provost Wente will soon announce the search process for the next director of the Bass Military Scholars Program. The program was established in 2018 with a $25 million gift from the Lee and Ramona Bass Foundation and provides significant financial aid and programming support for military veterans pursuing the following professional degrees in five of Vanderbilt's schools:
Vanderbilt Law School: doctor of jurisprudence (J.D.)
Owen Graduate School of Management: master of business administration (MBA)
Peabody College of education and human development: master of education (M.Ed.) and master of public policy in education policy (M.P.P.)
School of Medicine: doctor of medicine (M.D.)
School of Nursing: master of science in nursing (M.S.N.)
Current scholars in the program include former combat pilots, two of the first female officers to serve in previously all-male Army field artillery units, a Navy SEAL and an Army Ranger.