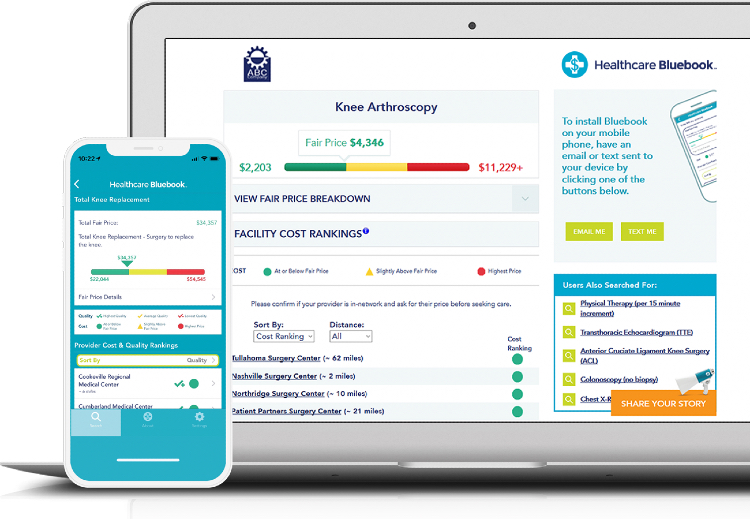 Healthcare Bluebook, a new free service for Vanderbilt benefits-enrolled faculty, staff and their dependents, will launch on Sept. 15.
Healthcare Bluebook is an online price comparison tool for health care services, such as imaging, elective surgeries and more. The tool ranks providers in a given geographical area in terms of quality and affordability. Healthcare Bluebook allows you to shop for procedures, compare facilities and their pricing, and find the best quality for medical services, all while saving money.
"Vanderbilt is making Healthcare Bluebook available to all benefits-enrolled faculty and staff to promote health care cost transparency and empower employees with information to make decisions regarding care and providers," said Laura Nairon, interim associate vice chancellor, People and Business Services.
How does Healthcare Bluebook work?
Healthcare Bluebook's web and mobile application show you the cost of hundreds of common medical services and procedures and provide you with a selection of "Fair Price" facilities. The Fair Price is the amount you should reasonably expect to pay for a service or procedure and reflects the discounts that the health plan has negotiated with a facility. You then choose the provider that is best for you.
To access Healthcare Bluebook on a PC, laptop or tablet: healthcarebluebook.com/cc/VU
To access on a mobile phone: Install the Healthcare Bluebook app and use the mobile code "VU"
Once you've logged in, search for a procedure, review the price range shown on the color bar, then scroll down the page to review the list of facility options by quality and cost.
Healthcare Bluebook also provides detailed information on the quality of common inpatient procedures. Remember to always check a provider's in-network status before scheduling a procedure.
How does Healthcare Bluebook assign quality?
Healthcare Bluebook's quality ratings are designed to help patients understand each hospital's specific level of quality for a particular inpatient clinical area or procedure. Quality ratings are calculated for each clinical area by combining a hospital's performance in several areas—such as patient safety and compliance with standards of care—and calculations are based on a statistically significant sample drawn from Centers for Medicare and Medicaid Services data.
Watch for your Healthcare Bluebook Welcome Kit in the mail
All Vanderbilt University benefits-enrolled faculty and staff should receive a Welcome Kit from Healthcare Bluebook at their mailing address in the coming week. The Welcome Kit includes a free protective sleeve for your insurance card and information on how you can search and save with Healthcare Bluebook when scheduling a medical procedure.
For more information, visit healthcarebluebook.com/cc/VU, or contact the Healthcare Bluebook customer service team at 800-341-0504.