Vanderbilt University will honor Constitution Day with a focus on the centennial of the ratification of the 19th Amendment to the U.S. Constitution featuring a conversation with Elaine Weiss, author of The Woman's Hour: The Great Fight to Win the Vote. 
The Margaret Cuninggim Women's Center at Vanderbilt has a limited supply of The Woman's Hour to give away. For a chance to receive a book, complete this form.
Constitution Day Conversation with Elaine Weiss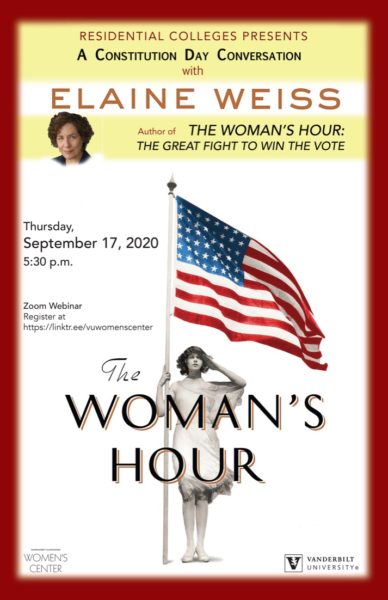 Thursday, Sept. 17, at 5:30 p.m. via Zoom
Join author Elaine Weiss for a discussion of her book, The Woman's Hour: The Great Fight to Win the Vote, followed by an audience Q&A. Weiss will be joined by Bonnie Dow, professor of communication studies and dean of academic initiatives in the College of Arts and Science, and student panelist Sydney Taylor. Taylor was an intern at the Nashville Public Library, where she worked on the newly opened Votes for Women Room.
The Constitution Day event is sponsored by Vanderbilt's residential colleges. Register to participate here. >>
Submit questions for Weiss here. >>
Ingram Commons Book Group Discussion
Wednesday, Sept. 16, at 5:30 p.m. via Zoom
On the evening prior to the Constitution Day event, Melissa Gresalfi, dean of The Martha Rivers Ingram Commons, will host a special book group discussion of The Woman's Hour featuring the author. The Ingram Commons will provide electronic copies of the book to students who register through Anchor Link.
Women and Politics Series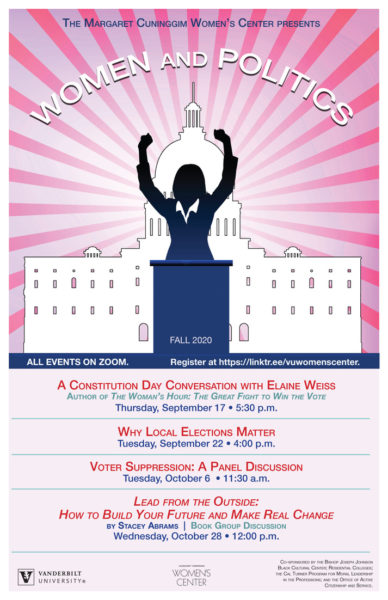 The Sept. 16 and 17 conversations with Weiss will launch a Women and Politics series sponsored by the Women's Center, Vanderbilt Residential Colleges, the Bishop Joseph Johnson Black Cultural Center, the Cal Turner Program for Moral Leadership in the Professions and the Office of Active Citizenship and Service.
Upcoming events in the series include:
"Why Local Elections Matter," Sept. 22 at 4 p.m.
"Voter Suppression: A Panel Discussion," Oct. 6 at 11:30 a.m.
Book group discussion of Lead From the Outside: How to Build Your Future and Make Real Change by Stacey Abrams, Oct. 28 at noon
Register for events in the series and learn more. >>
Learn about women's history at Vanderbilt. >>
Read how a Vanderbilt alumnus' persistence helped propel the 19th Amendment's ratification. >>
Read "How my great-grandfather's bravery helped secure a woman's right to vote." >>