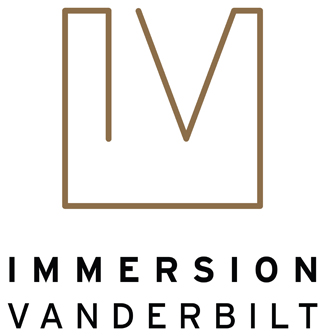 Due to the unprecedented challenges presented by the COVID-19 pandemic, undergraduate students in the Class of 2022 will now have a flexible option for the Immersion Vanderbilt requirement.
Immersion Vanderbilt is now highly recommended but not required for undergraduate students who matriculated in the summer and fall of 2018 as well as those who joined this class later as transfer students. This modification was proposed by the Immersion Faculty Steering Committee due to the impact of the pandemic on this first undergraduate class with Immersion Vanderbilt as a degree requirement, especially with regard to their ability to engage in their planned opportunities for experiential learning on and off campus. The proposed change was then accepted by all four of the undergraduate degree-granting schools and colleges.
All students in this select group are strongly encouraged to complete an Immersion project; however, the previously published deadline to submit an Immersion plan proposal by Sept. 7, 2020, no longer applies.
Students who submitted an Immersion plan proposal may still complete that project or adjust it if needed. Undergraduate students in the Class of 2022 who successfully complete Immersion Vanderbilt will still have this achievement, and the title of the final project, noted on their university transcript.
This option is only available to undergraduate members of the Class of 2022, as described above. Undergraduate students who matriculated as first-year students in summer 2019 or later, as well as those who joined this class as transfer students, will still have Immersion Vanderbilt as a degree requirement.
As always, the Immersion portal provides detailed information about events, timelines, FAQs and opportunities for experiences. Undergraduate students are encouraged to schedule an advising appointment with an Office of Immersion Resources adviser to get started or to rethink their plans. Questions can be directed to immersion@vanderbilt.edu or to the dean's office in the appropriate school or college.