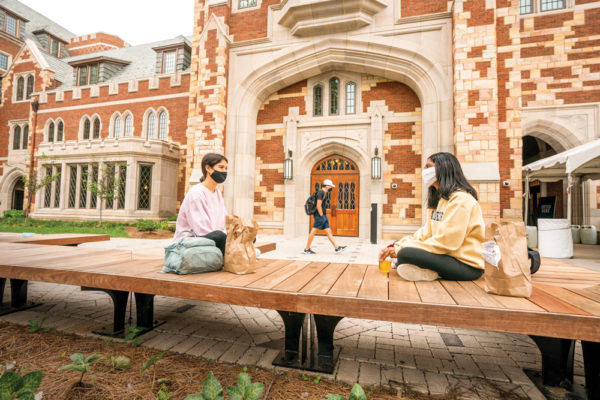 Vanderbilt ranked No. 1 in the "Great Financial Aid" and "Their Students Love These Colleges" categories in The Princeton Review's latest Best Colleges rankings. The rankings are based on how students across the nation rate their overall satisfaction with their schools.
Opportunity Vanderbilt, which promises to meet the financial needs of every undergraduate who attends the university, contributed to Vanderbilt scoring the top spot in the "Great Financial Aid" category. Vanderbilt's admissions process is need-blind, the university meets 100 percent of a family's demonstrated financial need, and financial aid awards do not include loans.
The university also ranked No. 3 for "Best Counseling Services" based on students' positive opinion of the support and counseling services they receive at Vanderbilt. The university offers support through its extensive Student Care Network, a holistic group of services and resources pertaining to health and wellness available to all Vanderbilt students. The network includes four primary offices—the Office of Student Care Coordination, the University Counseling Center, the Student Health Center and the Center for Student Wellbeing—as well as a variety of additional on-campus and community resources.
Vanderbilt ranked highly in a number of categories that reflect students' overall satisfaction with the administration, life on campus and location in Nashville. The university took the No. 2 spot in the 2021 rankings in the following categories: Best-Run Colleges, Most Beautiful Campus, Best Quality of Life, College City Gets High Marks and Happiest Students.
Each of The Princeton Review's 62 annual college ranking lists report the top 20 colleges in a specific category. The rankings are entirely based on what students attending the schools say in surveys about their colleges and their experiences.
Other top 20 rankings for Vanderbilt include: Town-Gown Relations Are Great (No. 3), Best Athletic Facilities (No. 4), Best Campus Food (No. 6), Lots of Greek Life (No. 8), Students Most Engaged in Community Service (No. 12), Best College Newspaper (No. 13), Professors Get High Marks (No. 13), Best Science Lab Facilities (No. 15), Best College Library (No. 16), Best College Dorms (No. 17) and Best College Theater (No. 17).
For the complete rankings, visit The Princeton Review website.