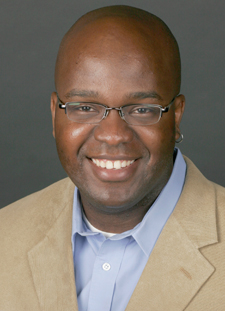 Vanderbilt University has named Bunmi Olatunji, Gertrude Conaway Vanderbilt Professor of Psychology, as interim dean of the Graduate School. Olatunji currently serves as associate dean of academic affairs for the Graduate School and takes over as Dean Mark T. Wallace returns to the faculty starting Sept. 1.
Reflecting the increased importance of graduate education at Vanderbilt, the new dean of the Graduate School also will hold the title of vice provost for graduate education. This enables direct connectivity with both the academic deans as well as the provost's vice provost leadership team.
"We have laid a tremendous foundation to recruit and retain the very best graduate students from around the world," said Susan R. Wente, provost and vice chancellor for academic affairs. "In recent years, Vanderbilt has invested significantly in graduate education, and we are now poised to take our already thriving programs to the next level of excellence. This is a key strategic priority for our university that will add to our own innovation and benefit higher education and scholarly research more broadly."
The university has increased support for graduate student academics as well as resources for well-being. Among these initiatives is the Russell G. Hamilton Scholars Program, launched in 2017. It is one of the most extensive graduate student scholarship programs in the nation and also includes the Russell G. Hamilton Graduate Leadership Institute activities focused on offering resources to develop the next generation of leaders.
More recently, the university provided resources for graduate students as they navigate the challenging environment caused by the COVID-19 pandemic, including support from the University Hardship Fund.
For the new role, the university is seeking a leader who will continue to foster a collaborative Graduate School support system across multiple departments and programs at Vanderbilt as well as central provost resources such as the Career Center, University Counseling Center and the Office of Planning and Institutional Effectiveness. Further, the successful candidate will ensure equity and excellence in keeping with Vanderbilt's culture of interdisciplinary collaboration and collegiality.
A broad-based diverse search committee, chaired by Wente, will be comprised of the following members:
James P. Byrd, professor of American religious history, associate dean for graduate education and research chair of the Graduate Department of Religion, Divinity School;
Duco Jansen, professor of biomedical engineering and neurological surgery and senior associate dean for graduate education and faculty affairs, School of Engineering;
Terrah Foster Akard, associate professor of nursing and pediatrics and director of the Ph.D. in Nursing Science Program, School of Nursing;
Jeannette Mancilla-Martinez, associate professor of special education and associate dean for academic affairs and graduate education, Peabody College;
Kathy Gould, Louise B. McGavock Chair, associate dean for biomedical sciences, professor of cell and developmental biology and director of Graduate Student Support, School of Medicine;
Julian F. Hillyer, director of graduate studies and professor of biological sciences, College of Arts and Science;
Sharece Thrower, interim director of graduate studies and associate professor of political science, College of Arts and Science;
Nancy Reisman, professor of English, College of Arts and Science;
Joshua Passantino, president of the Graduate Student Council;
Logan Northcutt, president of the Organization of Black Graduate and Professional Students;
John Hindle, BA'68, PhD'81, former Vanderbilt trustee and a member of the Graduate School External Advisory Committee;
Charleson Bell, BE'07, MS'09, PhD'15, research assistant professor of biomedical engineering, School of Engineering, and chair of the Dores of Distinction advisory board.
View the full job description. >>
Interested candidates should submit a single PDF including a C.V. and a statement of interest that includes a vision for graduate education broadly, guiding principles for decision-making, and their commitment to and experience in graduate education. The PDF should be emailed to gsdean@vanderbilt.edu no later than Sept. 25, 2020. Nominations are also encouraged and should be submitted to the same email address.