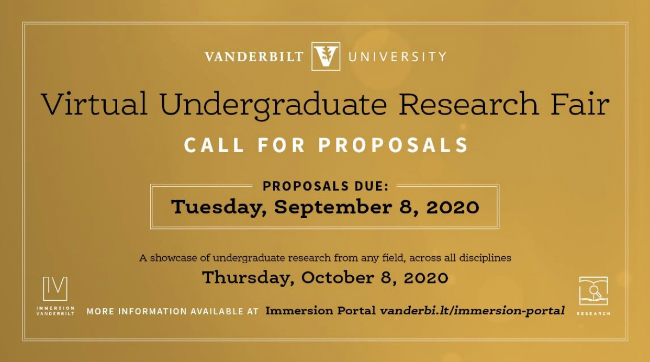 The seventh annual Vanderbilt Undergraduate Research Fair is scheduled for Thursday, Oct. 8. This year's event will be virtual, complete with presenters, breakout sessions and a chance to safely and responsibly interact with students, faculty and staff from across campus.
Students should follow this link to register as a presenter.
The Vanderbilt Undergraduate Research Fair features poster presentations of student research projects that are representative of a variety of fields and disciplines. Undergraduate students who have completed research while enrolled at Vanderbilt in any field or discipline are encouraged to complete the online registration form by Tuesday, Sept. 8, at 11:45 p.m.
Students may present:
projects that have been completed during the course of the academic year or summer, at Vanderbilt or elsewhere;
projects being completed as part of an honors thesis or independent study; or
projects that were completed while enrolled as a Vanderbilt undergraduate.
The fair is sponsored by the Vanderbilt Undergraduate Summer Research Program, the Littlejohn family, the Goldberg family, the Office of the Provost, and the Office of Immersion Resources.
Learn more on the Vanderbilt Undergraduate Research Fair website. Questions may be directed to the Office of Immersion Resources (immersion@vanderbilt.edu).