The Margaret Cuninggim Women's Center will sponsor the online screening of a short film followed by a discussion on Wednesday, Aug. 26, to mark Women's Equality Day, which commemorates the 1920 adoption of the 19th Amendment.
The virtual event will begin at 4 p.m. RSVP for the event here. >>.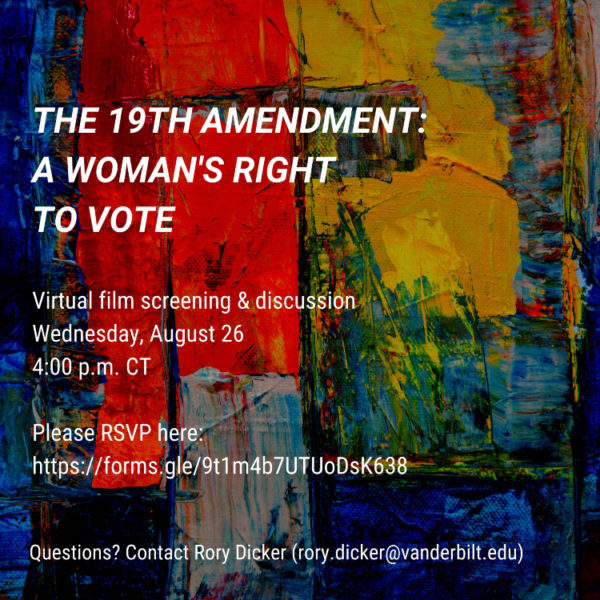 The 19th Amendment: A Woman's Right to Vote is an award-winning film from the Annenberg Public Policy Center. It features Supreme Court Justices Ruth Bader Ginsburg and Anthony Kennedy and other legal scholars and traces the fight for equal rights. The film begins with the emergence of the suffragist movement from the anti-slavery movement of the 1800s and progresses with the Seneca Falls Convention of 1848, which adopted the "Declaration of Sentiments," a set of resolutions written by Elizabeth Cady Stanton.
"Voting is the most basic right of a citizen," Ginsburg says in the film. "The most fundamental right and obligation is to participate in choosing the people who will make the laws of our country."
A century ago, on Aug. 18, 1920, Tennessee became the 36th state to ratify the 19th Amendment, which met the constitutional requirement that an amendment be ratified by three-fourths of the states (following approval by Congress). The 19th Amendment became law eight days later, on Aug. 26, a date now recognized nationwide as Women's Equality Day.
All are invited to participate in the virtual film screening and discussion.
For questions, contact Women's Center Director Rory Dicker.