Media Inquiries
Latest Stories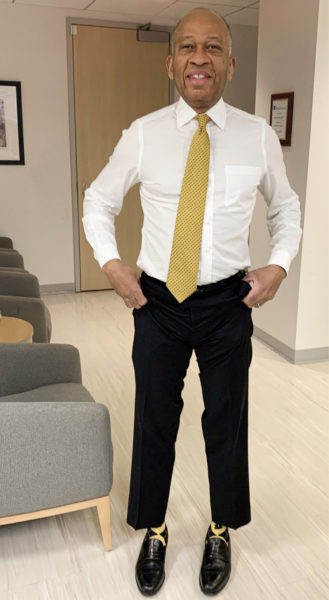 Dr. David Patterson, BA'81, MD'85, is proof the Vanderbilt experience doesn't have to end after graduation.
On top of his successful practice as an internal medicine specialist in the Washington, D.C., area, Patterson has served Vanderbilt as a trustee since 2013. He also is a member of the Vanderbilt University Medical Center Board of Directors, and past president of the Vanderbilt Medical Alumni Association.
"I am lucky to do what I do," Patterson says. "When I look at my successes, whatever they are, a huge portion comes from my education at Vanderbilt."
His love of Vanderbilt is evident. It even inspires those with no other connection to Vanderbilt, like a patient who recently made a gift to Vanderbilt in his honor. In return, Patterson promised to wear his limited-edition Vanderbilt socks—complete with matching tie—for an entire week.
Through the years many of Patterson's patients have given to Vanderbilt, in particular to the Alice and V.K. Patterson Scholarship, which he established in 2012 in honor of his parents and their lifelong commitment to education. The scholarship supports students from backgrounds traditionally underrepresented in medical education—students like he once was.
Patterson grew up as the youngest of 20 children in the small town of Franklin, Kentucky. He always knew he wanted to become a physician, but without Vanderbilt's scholarship support, he never would have realized his dream. Now he's committed to paying it forward.
"My parents, neither of whom had the opportunity for a formal education, preached that to whom much has been given, much is expected in return," he says. "I strongly believe in that. We stand on the proud shoulders of those who have gone before us, making a way for us so that someday we may provide strong shoulders for the next generation."
—SYDNIE HOCHSTEIN