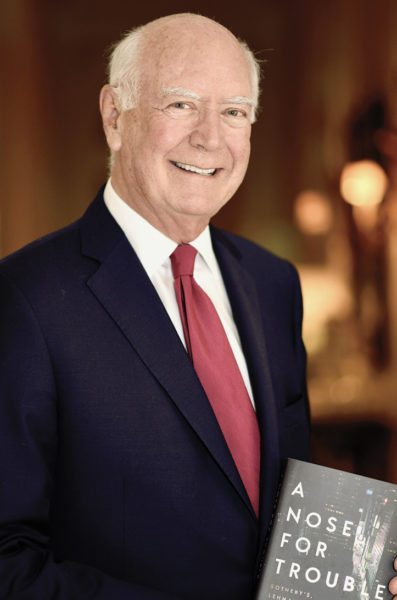 On the surface, Vanderbilt Trustee Emeritus Michael Ainslie appears to have led a smooth professional life as a successful CEO, board chairman, and longtime champion of the Posse Scholars program.
That's all true. But as Ainslie writes in a new autobiography, he also has a knack for seeking out—and solving—difficult problems. "I've always looked for a challenge, something complicated, something entrepreneurial, and frequently, that has led to trouble," he writes.
The book A Nose for Trouble: Sotheby's, Lehman Brothers, and My Life of Redefining Adversity (2020, Greenleaf) charts Ainslie's path from hurtling around the world as recipient of what is known today as Vanderbilt's Michael B. Keegan Traveling Fellowship, to eventual stints as a radical-thinking CEO at the National Trust for Historic Preservation and the art auction house Sotheby's.
In particular, Ainslie says the economics and math education he received at Vanderbilt, coupled with his global experience, served him well at Sotheby's, where he was named CEO in 1984. During his decadelong tenure there, he redefined the company's target customer—selling to individual collectors instead of art dealers—and instituted pricing changes that rippled across the industry.
While leading Sotheby's, he wanted to expand his role working with nonprofit and philanthropic organizations. He soon discovered the Posse Foundation, a national organization that provides scholarships to cohorts of promising student leaders from public high schools in urban areas. Vanderbilt was the first school to partner with Posse in 1989, supporting a group of five students from New York City.
Today the Posse Foundation works with 58 top colleges and universities and recruits from 10 U.S. cities. Two Posse alumni—Shirley Collado, BS'94, and Kito Huggins, BS'96, JD'99—currently serve on Vanderbilt's Board of Trust.
"Posse appealed to me for many reasons," writes Ainslie, who went on to become the first board chair of the organization, a role he occupied for 13 years. "I could see that so many kids did not have these [educational] opportunities or avenues." Through the years Ainslie has mentored—and become close friends with—many of the students who participated in Posse.
Yet, it's another Vanderbilt graduate whom Ainslie most recently has been paying attention to: In May his daughter, Serena, completed her bachelor's degree in American studies from the College of Arts and Science.
The book is available on Amazon and on audio.
—RYAN UNDERWOOD, BA'96