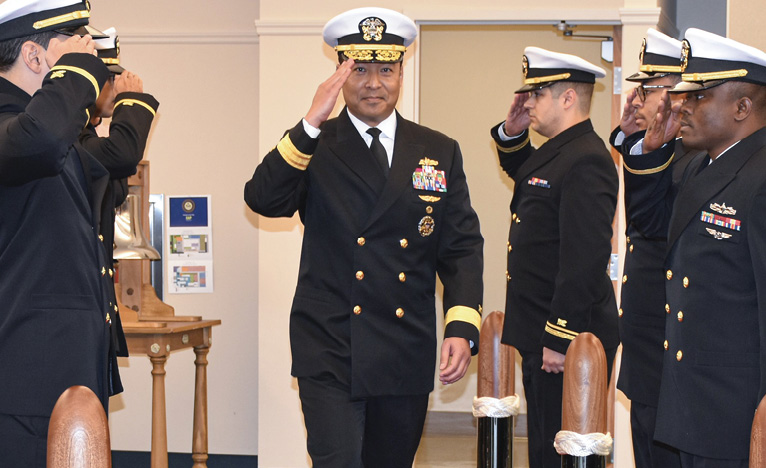 As long ago as 500 B.C.E., military leaders recognized the importance of logistics. Sun Tzu detailed its role in the seminal Art of War. In 335 B.C.E., Alexander the Great termed his logisticians a "humorless lot. … They know if my campaign fails, they are the first ones I will slay."
Logistics are no less important in today's military, and have been a daily reality for Kenneth Epps throughout his 29-year Navy career. But they took on even greater significance for him in August 2019, when he was promoted to rear admiral and deputy chief of staff for fleet ordnance and supply in the U.S. Fleet Forces Command.
Every Monday, Wednesday and Friday, Epps sits down in a top-secret room with the four-star fleet commander to assess the state of the world. Epps' role is to ensure that all the Navy's operating forces in North America and the North Atlantic have what they need logistically to succeed—no matter what may come their way.
"It's my job to remove challenges and barriers, and to make sure they have the tools, training and equipment to ensure they are prepared to fight," says Epps, whose office is in Norfolk, Virginia. "It's a bit like firefighters. They don't want to fight fires but are always prepared, and always preparing."
Although his father was career Navy, Epps hadn't planned to follow him. Then the Navy offered him the opportunity for a premier education with a full scholarship to Vanderbilt.
"I was competitive—and learned to be comfortable—in and out of the classroom. That gave me a lot of confidence and enabled me to be comfortable no matter where I found myself later in life," he says. "My experiences at Vanderbilt contributed greatly to my success today."
Epps notes that while book smarts are indispensable, they only take you so far.
"If you aspire to the highest ranks of leadership, the role of emotional intelligence matters," he says. "Leadership is getting things done through people, and I learned invaluable lessons on how to do that at Vanderbilt."
—JAN READ