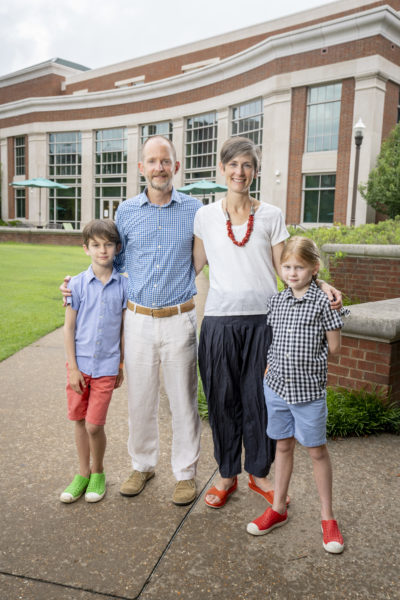 One of the special parts of student life at Vanderbilt is the university's uniquely personal and collaborative residential college experience. Undergraduate houses and colleges are led by faculty who live in community with students.
Our faculty heads of house and their teams are excited to learn more about their new student residents! They're starting by revealing some things about themselves in this special portrait series.
Name: Melissa Gresalfi
Faculty position: Associate professor of mathematics education
Years at Vanderbilt: 8
Your residential college: Dean's Residence, The Ingram Commons
Hometown: Royal Oak, Michigan
Favorite song: Current favorite: "Front Porch" by Joy Williams; perennial favorite: "When I was a Boy" by Dar Williams.
Favorite book: (impossible question!) most recent fiction favorite: Where the Crawdads Sing; most recent non-fiction favorite: Brown Girl Dreaming
Favorite food: Anything Vietnamese
Favorite spot on campus: little circular flower garden next to Kirkland Hall
Although this year will be extremely different than years past, what are you most looking forward to in the upcoming academic year? I am looking forward to the enthusiasm that students always bring. Campus has been quiet and lazy, and we can't wait for the energy to return!
Why do you value about being a faculty head of house, or what do you love about the residential college experience? I love that being a member of the residential faculty allows me to get to know students in a totally different way than I do in my classes.
What advice do you have for new students coming to campus as well as returning students?  PLEASE WEAR YOUR MASKS. But also take advantage of all the MANY chances to meet other students, either online or in small groups, face to face. There are a lot of great things happening on campus, even though things look different!
Tell us a funny or poignant experience you've had at Vanderbilt. Too many to count. My kids have essentially grown up on this campus (still are!) and they really feel a sense of ownership. The funniest thing that happened last year was when my son made homemade parking tickets for the cars that were parked in "our" spaces and charged a $1,000 fine. Fortunately, the people who got ticketed thought it was hilarious!
Who do you mask up for?  For my parents, who live here in Nashville, and for all of our staff and faculty who are here to make the campus strong even if they are older or anxious about their own health. I mask up so that when we do have a vaccine, everyone is able to get it and stay healthy.