One of the special parts of a student's life at Vanderbilt is the university's uniquely personal and collaborative residential college experience. Undergraduate houses and colleges are led by faculty who live with their families in community with students.
Our faculty heads of house and their teams are excited to learn more about their new student residents! They're starting by revealing some things about themselves in this special portrait series.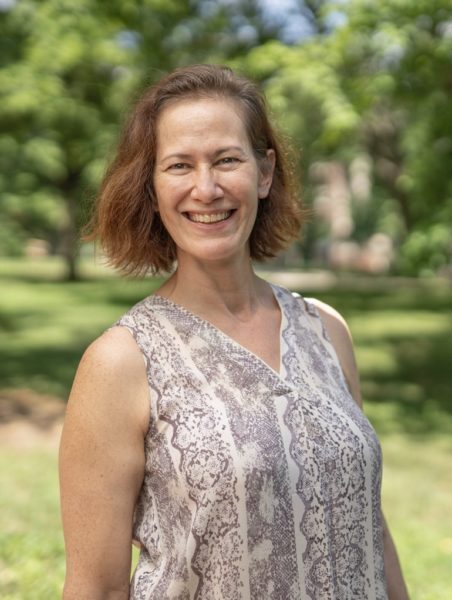 Name: Elizabeth Meadows
Faculty position: Associate director of the Robert Penn Warren Center for the Humanities and senior lecturer in English
Years at Vanderbilt: 7 years as a faculty member, 6 years as a grad student
Hometown: New York City
Residential college:  East House (East is Beast!)
Favorite song: Changes all the time, but right now I'm feeling nostalgic, so Earth, Wind and Fire's "September" and Marvin Gaye's "Got to Give It Up." I also listened to George Michael's Listen Without Prejudice album again recently and I just LOVE "Waiting for that Day." That whole album is so underrated! And Peter Gabriel's "Solsbury Hill" and "In Your Eyes."  Ask me another day and I'll name a whole bunch of Journey stuff, The Police's first album, some Lizzo, and Stevie Wonder's "That Girl."
Favorite book:  I definitely CANNOT choose just one! Bleak House by Charles Dickens; Possession by A.S. Byatt. The best book I've taught recently is Kazuo Ishiguro's Never Let Me Go. I also like a lot of sci-fi, fantasy and YA. And in that broad category, I just read the Broken Earth trilogy by N.K. Jemisin and it is AMAZING. I loved it so much I also got her new book about New York City, The City We Became, and that was great too. Also, for those who love to read, the "What Should I Read Next" podcast is great!
Favorite food: Chocolate (though bacon is a VERY close second)
Favorite spot on campus: This may be odd, but I love the pedestrian bridge. I always see someone I know and want to see more of! Even when I'm rushing back and forth in a hurry, there's time for a quick check-in and promise to get together soon.
Although this year will be extremely different than years past, what are you most looking forward to for the upcoming academic year? I'm co-teaching a brand new course (with Professor Chris Loss of Peabody) on the rise of the American research university, using Vanderbilt as a case study. What's special about this course is that students will get to work with all sorts of exciting material from Vanderbilt's Archives and Special Collections.  I can't wait to see the exciting projects students create using those materials!
Why do you value being a faculty head of house, or what do you love about the residential college experience? Students are learning ALL THE TIME, not just in the classroom, and I am passionate about facilitating that learning by building a strong sense of community. I love seeing how students make connections between what they learn in the classroom and what they learn in their overlapping communities here at Vanderbilt, and how they then apply it in their own lives.
What advice do you have for new students coming to campus and returning students? It's a marathon, not a sprint. And take a chance—explore topics, classes, experiences, organizations, friendships that expand your boundaries. Find the thing that you didn't know you would love.
Tell us a funny or poignant experience you've had at Vanderbilt? I had my son when I was a grad student here. When he was a baby, there was one day when he couldn't go to daycare because he'd had a fever the day before. I HAD to teach and go to class and my husband had to work. My faculty mentor and adviser, who was also the dean of A&S at the time, offered to take care of him. My son was a few months old at the time, so I brought him to the dean's office and ran off to teach. When I came back to get him, she'd had to go into a meeting with the Provost, so she'd brought the baby in with her.  When they let me into the meeting to get him, I found him cuddling with the Provost, who had honed his baby-soothing skills with his grand kids. I like to say I'm the only person at Vandy who's used the Provost's office as a babysitting service. But really, I think of that story as an example of how committed Vandy faculty are to making sure their students can succeed.
Who do you mask up for?  My colleagues and my students—the sooner we can get this under control, the sooner we can work, learn, and spend time together!