One of the special parts of student life at Vanderbilt is the university's uniquely personal and collaborative residential college experience. Undergraduate houses and colleges are led by faculty who live in community with students.
Our faculty heads of house and their teams are excited to learn more about their new student residents! They're starting by revealing some things about themselves in this special portrait series.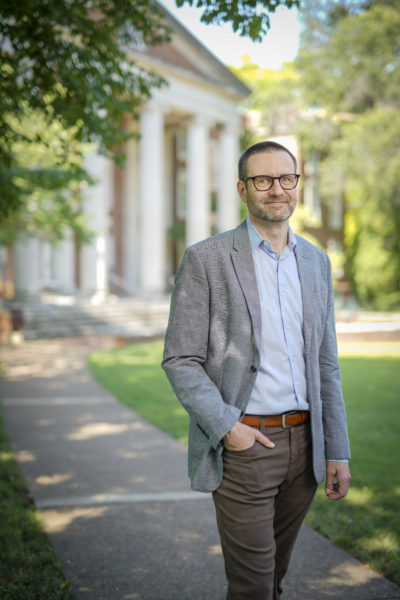 Name: Christoph Zeller
Faculty position: Associate professor of German studies and of European studies
Years at Vanderbilt: 16
Hometown: Born in Innsbruck, Austria. Educated in Frankfurt and Stuttgart, Germany. Now Nashville is my hometown.
Residential college: West House
Favorite song: "Place to Be" by Nick Drake
Favorite book: Lost in America by Franz Kafka
Favorite food: Smoked or grilled salmon, homemade sourdough bread
Favorite spot on campus: Benches in the arboretum between Benson, Garland and Rand halls
Although this year will be extremely different than years past, what are you most looking forward to in the upcoming academic year? A vaccine (just kidding). I'm looking forward to having conversations on racial justice, diversity, equity and inclusion and promoting lasting change to fight systemic racism on campus and in our society as a whole. Also, trying out new online options to engage with students, colleagues and staff. Learning is mutual, and I am eager to learn.
Why do you value being a faculty head of house, or what do you love about the residential college experience? My role as faculty head comes with opportunities and responsibilities. I cherish the opportunity to meet students during a mix of focused and casual events, to have fun together, but also to discuss topics of great relevance for their academic and personal growth.
What advice do you have for new students coming to campus, as well as for returning students? Keep an open mind. Your path of learning may lead you onto unexpected terrain. Embrace what makes you uncomfortable. It will transform you. Have trust in yourself. What seems difficult at first will diminish with growing knowledge and skills.
Tell us a funny or poignant experience you've had at Vanderbilt. I am once and again impressed by the outpouring of support and mutual help in times of crises here at Vanderbilt and the spirit of community that prevails at every level.
Who do you mask up for?  I step up and mask up for fairness, justice and a healthy community.