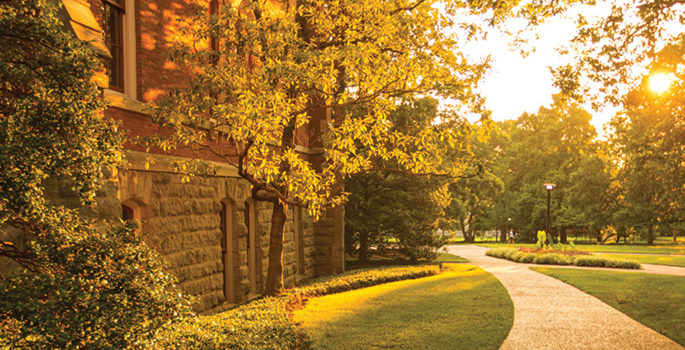 I am delighted to write to you as Vanderbilt's ninth chancellor, a role I officially began July 1. This marks an exciting—and challenging—new chapter for me personally, and for our university community. As we find ourselves at one of the most pivotal moments in our history, we are looking ahead with purpose, excitement and hope.
New beginnings often are filled with optimism. But this is especially true when they are rooted in a tradition of achievement, a common purpose, and the strong community that has led our university to where we are today.
When I originally envisioned my first days as chancellor, I could not have imagined that the world would be in the grip of a global pandemic while simultaneously witnessing a powerful call for racial justice. And yet, this period represents a valuable opportunity for all of us to come together to advance Vanderbilt's mission—to share our values, our discoveries, our wisdom and our humanity when society needs them most.
There is much to look forward to. Together, not only will we advance our mission, but we will look for ways to expand it—finding new questions to answer, exploring novel ways to resolve social ills, developing new paths toward an empowering education, and discovering breakthroughs to improve and save lives. And we will continue to do all these things with Vanderbilt's invigorating spirit of collaboration.
To quote Vanderbilt alumnus, Nobel Peace Prize winner and Vanderbilt Trailblazer Muhammad Yunus, PhD'71: "A university should not be an island where academics attain higher and higher levels of knowledge without sharing any of this knowledge with its neighbors."
At this critical time, Vanderbilt is engaging with local communities and with colleagues around the world to leverage our knowledge, research and expertise to have an impact on the most pressing issues of our time. With the combined efforts of our students, faculty and staff, and the continued engagement of our alumni—who span a variety of diverse accomplishments, backgrounds and global geographies—we are extending our resources broadly and working together to benefit all of society, both in the near term and for many years to come.
This issue of Vanderbilt Magazine showcases many examples of how Vanderbilt is making a difference, including collaborative, life-saving work being done by a diversity of neuroscience researchers; timely insights from national news anchor Willie Geist, BA'97; and a profound essay exploring racial injustice from the medical perspective of Dr. André Churchwell, BS'75, a Vanderbilt alumnus, physician and faculty member who now serves as our esteemed vice chancellor for equity, diversity and inclusion.
Dr. Churchwell's essay is an important reminder that, while he and many others have worked for a long time to make Vanderbilt a more diverse and inclusive community, we must continue to ask ourselves: How can we do more? Universities such as ours exist because of an unshakable belief in human potential. Therefore, as one of my first initiatives as chancellor, we issued our commitment to an inclusive Vanderbilt, and our plan for creating an environment in which all members of our community can thrive and contribute to their full potential. (See vu.edu/inclusive for details.)
Those who have come before us—academic leaders, faculty and staff members, philanthropists, and generations of accomplished alumni—have built a tradition of excellence. We are proud of what we have accomplished, but we are not satisfied. Now, more than ever, as we find ourselves in the midst of historic change, it's critical that we work as One Vanderbilt, a vibrant, collaborative community, to embark on our next chapter.
Thank you for the kind welcome, the thoughtful questions you have asked and the continued dialogue. I am honored to serve as Vanderbilt's ninth chancellor and look forward to a bright future ahead.
—DANIEL DIERMEIER,
CHANCELLOR