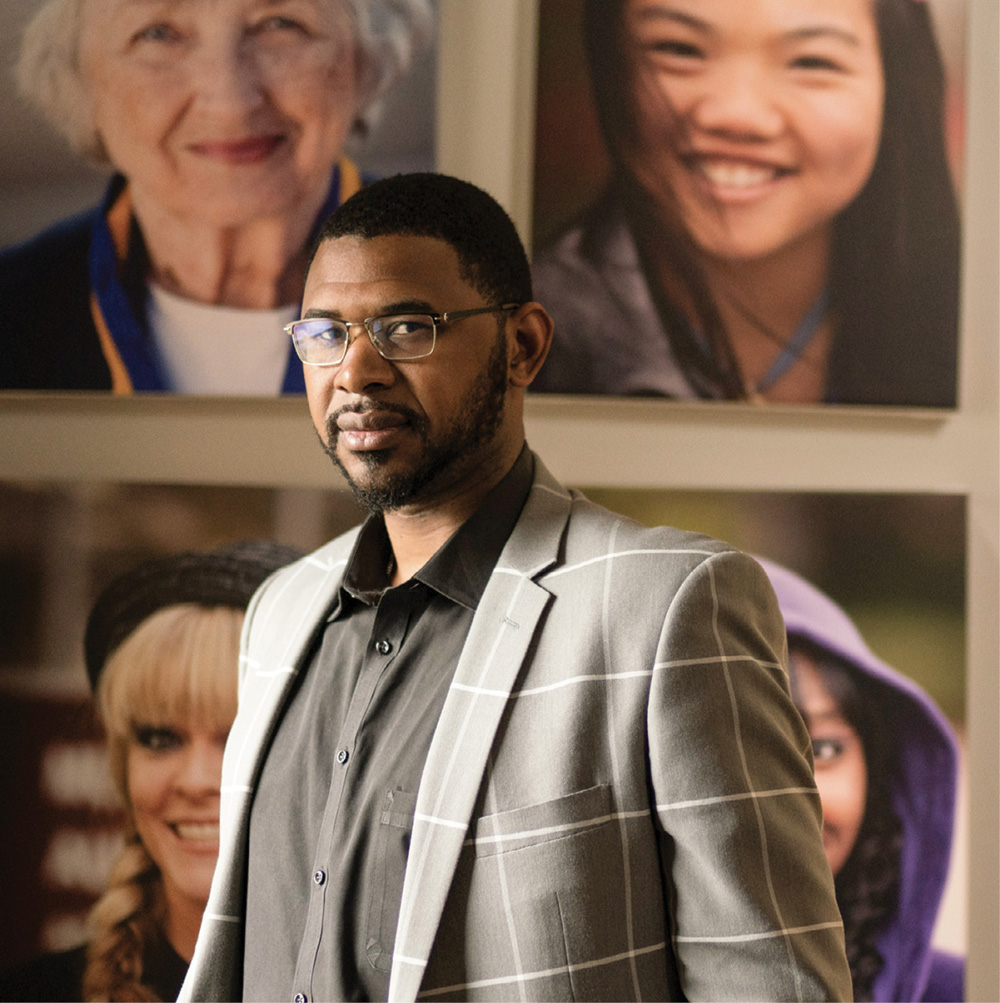 For Commodore faithful, Shan Foster is perhaps best known as the 2007–08 SEC Player of the Year in men's basketball and Vanderbilt's all-time leading scorer. He also is remembered for authoring one of the most thrilling moments in Memorial Gymnasium history, scoring a career-high 42 points—including the game-winning basket—in an overtime win against Mississippi State on Senior Night in 2008.
But the impact of his work off the court may end up surpassing those accomplishments in the minds of many. Foster, who initially was drafted by the Dallas Mavericks with the 51st overall pick in the 2008 NBA draft and played professionally overseas, is today the vice president of external affairs at YWCA Nashville & Middle Tennessee. There he leads the AMEND Together initiative, a prevention program dedicated to ending violence against women and girls by engaging men and boys to be part of the solution.
"More than 15 million children in our country witness abuse in their households, and the boys who witness it are more than twice as likely to repeat that behavior," Foster says. "We're making people aware of this problem and giving men the ability to choose a different path. Their actions don't have to mirror what they've seen or what's being pushed in our culture."
Foster and his staff of six have created programs to cultivate healthy masculinity in the Middle Tennessee community, educating boys and young men about how to be catalysts for change.
"We test their understanding of these issues when they enter the program, as well as in the middle and at the end of the program," Foster says. "In the four years we've been doing this, we've seen that knowledge transfer in 80 percent of our young men. They come to realize that they play a role in the culture of violence toward women and that they can change it."
Foster is passionate about his work with AMEND Together, in part because he knows firsthand the damage that domestic violence can do to families and the wider community, having witnessed its effects while growing up in Kenner, Louisiana, outside New Orleans.
"I saw a lot of arguing, a lot of conflict," he says of his childhood. "I saw violence against women, whether it was in the neighborhood or in my own family. I didn't necessarily understand it was abusive behavior at that time, but I saw it and it resonated as being wrong. I knew I wouldn't want to be treated that way."
"We have a goal of making Nashville the safest city in the world for women and girls."
Initiated at YWCA Nashville & Middle Tennessee in 2014, AMEND Together gradually is becoming a national program. Last fall Foster and his staff hosted SHIFT, a two-day national conference that confronted the crisis of violence against women. Among its speakers were athlete and actor Terry Crews, an activist who was among the "Silence Breakers" chosen for Time's Person of the Year award in 2017, and Brenda Tracy, a victim of gang rape while a student at Oregon State University 20 years ago who now tours the country educating student-athletes about sexual violence.
"We invited representatives from 22 states to learn what we're doing to create a model to end violence against women and girls," Foster says. "We have a goal of making Nashville the safest city in the world for women and girls, and a number of other cities have stepped up to that challenge. We're excited to partner with them and are continuing to expand nationally."
AMEND Together is not affiliated with Vanderbilt, but Foster helped bring Crews to campus to speak at a Chancellor's Lecture Series event in September 2019. And Foster remains involved with the university in other ways, most notably serving as a commentator for home basketball games on the SEC Network Plus.
"I have a strong affinity for Vanderbilt," he says. "Vanderbilt has provided so much value in my life. I have so many great memories. This community welcomed me with open arms and continues to do so."
—MITCH LIGHT, BA'93