One of the special parts of student life at Vanderbilt is the university's uniquely personal and collaborative residential college experience. Undergraduate houses and colleges are led by faculty who live in community with students.
Our faculty heads of house and their teams are excited to learn more about their new student residents! They're starting by revealing some things about themselves in this special portrait series.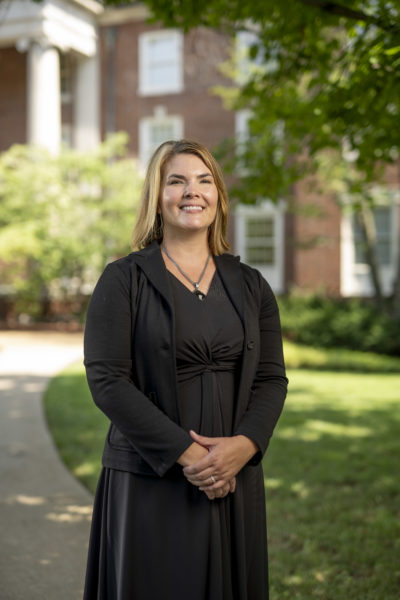 Name: Natasha McClure
Faculty position: Assistant professor of nursing
Years at Vanderbilt: 12
Residential college: North House
Hometown: Jamestown, Kentucky
Favorite song: I love music from all genres and have many favorites
Favorite book: The Power of Vulnerability by Brené Brown
Favorite spot on campus: North House, of course! The patio is the perfect place to watch a sunrise or sunset.
Although this year will be extremely different than years past, what are you most looking forward to in the upcoming academic year? I am looking forward to seeing what the Class of 2024 brings to the VU community. I always enjoy the enthusiasm, excitement and curiosity of our first-year students. This year I'm looking forward to seeing the entire campus lean in to the challenge as we all prepare to Anchor Down and Step Up for a year unlike any other.
Why do you value being a faculty head of house, or what do you love about the residential college experience? It is incredibly fun but also humbling to connect with and support students as a faculty head of house. Similar to my profession, I am meeting a person at their most vulnerable time of transition, and this shared experience forges a unique bond. My favorite parts are the memories and mentoring relationships built with students that continue through their remaining years at VU and beyond.
What advice do you have for new students coming to campus as well as returning students? We can all learn something from one another. Each class provides its own unique contribution to this campus and the lives of those that get to know them. In my first year as a faculty head, the North House Class of 2022 taught me that students should be intentional about enjoying the time we have together at VU and focus on balancing fun with work.
Tell us a funny or poignant experience you've had at Vanderbilt. There are so many I can't think of just one!
Who do you mask up for? Everyone! As a nurse, my training has prepared me to care for others' needs in a variety of ways, so this comes naturally to me. In North House, we focus on a culture and community of care. I hope we can all mask up for each other as a way to show how much we value each and every person and work together to extend that culture of care to every spot on campus.