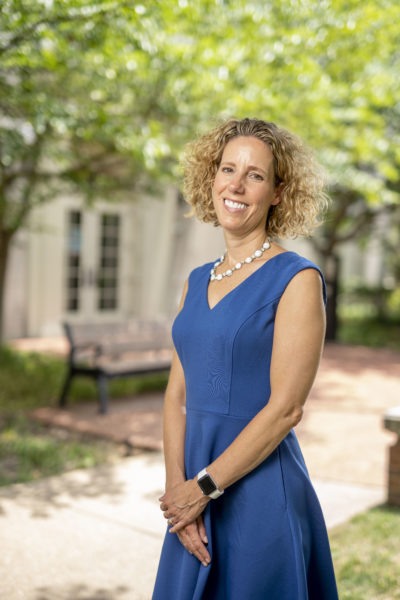 One of the special parts of student life at Vanderbilt is the university's uniquely personal and collaborative residential college experience. Undergraduate houses and colleges are led by faculty who live in community with students.
Our faculty heads of house and their teams are excited to learn more about their new student residents! They're starting by revealing some things about themselves in this special portrait series.
Name:  Alyssa Hasty
Faculty position: Cornelius Vanderbilt Chair in Molecular Physiology and Biophysics and associate dean for faculty development in basic sciences
Years at Vanderbilt: 26
Residential college: Murray House
Hometown: Nashville, Tennessee
Favorite song: "You're the Inspiration" by Chicago
Favorite book: Redeeming Love by Francine Rivers
Favorite food: Pizza
Favorite spot on campus: The patio outside of Murray House
Although this year will be extremely different than years past, what are you most looking forward to in the upcoming academic year? Meeting my new residents and greeting my prior Murray residents on campus.
Why do you value about being a faculty head of house? In my day job, I don't have very many opportunities to interact with undergraduate students. I love getting to know the residents of Murray. And then each year I recognize more and more students on campus as Murray alumni accumulate, so I feel more a part of the entire university. I have developed very close relationships with a few students each year and they have come to feel like my own children.
What advice do you have for new students coming to campus as well as returning students? This year has been so incredibly difficult for everyone. Please give yourself some grace as you adjust to things on campus. And please make sure you know ahead of time about all of the resources available to you.
Tell us a funny or poignant experience you've had at Vanderbilt. This isn't really poignant or funny, but I felt sheer delight when Murray won the Commons Cup last year!
Who do you mask up for?  My lab members.