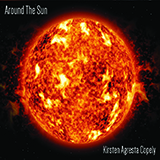 Kirsten Agresta Copely, adjunct associate professor of harp, released Around The Sun, an all-original new age harp album in January. It takes listeners on a journey through a 365-day cycle from "Daybreak" to "Winter's Bone" with introspective melodies and ambient soundscapes. This marks her third solo album and first as composer.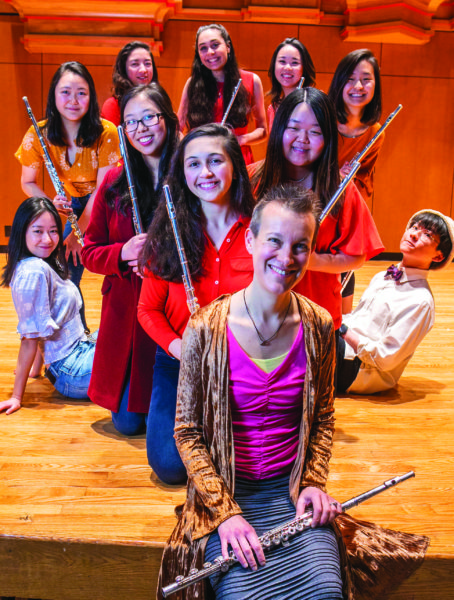 Molly Barth, assistant professor of music, performed solo recitals and masterclasses in London at the Royal Academy of Music and City University of London, and presented chamber music recitals in Berlin as well as in several locations in France. On tour with the Zohn Collective, a 12-member chamber ensemble, Barth collaborated with the Guadalajara-based puppet theater company La Coperacha at the Cleveland Museum of Art, the University of Chicago and Oberlin College. Locally, she has appeared several times in the flute section of the Nashville Symphony Orchestra and has performed recitals with the Blair Woodwind Quintet. She also performed at a house concert in Nashville, curated by Jeff Coffin, adjunct instructor in jazz saxophone, with performers Wu Fei and Ciona Rouse, and gave a solo performance on Nashville Public Radio 91Classical's Live in Studio C. Recipient of a Vanderbilt University Research Scholars Grant, Barth, along with several other Blair faculty members, will complete a recording project featuring works of Blair composition faculty and graduates of the Blair composition program. Her guest teaching appearances include Indiana University, the Oberlin College-Conservatory of Music, the Aria International Summer Academy, and the Tennessee Governor's School for the Arts. Barth serves on the Flutist Quarterly editorial board as a new music specialist.
Joy H. Calico, Cornelius Vanderbilt Professor of Musicology, was the Gerstein Distinguished Visiting Professor at the Centre for Jewish Studies on the music faculty at the University of Toronto. Last summer she delivered the keynote address at an international conference on Kaija Saariaho at the University of Saarland (Germany), and participated in the tosc@paris international opera conference in Paris, for which she had been on the program committee. As part of the Digital Cultural Heritage TIPS project, she and co-organizer Cliff Anderson received a Delmas Foundation grant to host an international workshop and hackathon on music encoding (MEI) at Vanderbilt in October 2019, and in spring 2020 she and music librarian Jake Schaub co-directed a Buchanan Fellowship on encoding music manuscripts in special collections. Calico was elected to a two-year term on the American Musicological Society Board as director-at-large, and completed her tenure as editor-in-chief of the Journal of the American Musicological Society in December 2019 with a special issue on Music, Race, and Ethnicity. She published an article on Saariaho in Contemporary Music Review, as well as chapters on Eisler in The Oxford Handbook of Faust in Music (Oxford) and Lachenmann in Art and Resistance in Germany (Bloomsbury). Her book Brecht at the Opera was one of five best-selling titles from the University of California music backlist to be published in paperback for the first time in 2019. Her second book, Arnold Schoenberg's A Survivor from Warsaw in Postwar Europe, will appear in Italian translation from Il Saggiatore in 2020.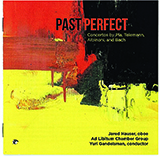 Jared Hauser, associate professor of oboe, has a new album, Past Perfect: Concertos by Pla, Telemann, Albinoni and Bach with the Ad Libitum Chamber Group, Yuri Gandelsman, conductor. Hauser has given performances and master classes at Festival della Piana del Cavaliere, Configni (Italy); McGill University, Schulich School of Music (Montreal, Quebec, Canada); University of Memphis (Tennessee); University of North Carolina-Greensboro, Double Reed Day, featured artist; Valley Conservatory Early Music Festival, featured artist; and National Music Festival, instructor and featured performer (Chestertown, Maryland).
Jerry Kimbrough, adjunct associate professor of guitar, began subbing for the Grand Ol' Opry staff band in 2019, playing with both classic artists and new artists. He also performed with fellow faculty members Ryan Middagh, senior lecturer in jazz studies, and Marc Widenhofer, adjunct instructor in global jazz studies, at a jazz gig in downtown Nashville on Sunday afternoons. Kimbrough is music director for the Ray Stevens CabaRay show on PBS and remains on the board of directors of Leadership Music and the executive board of the Nashville Musicians Association.
Peter Kolkay, associate professor of bassoon, premiered Mark-Anthony Turnage's Massarosa for bassoon and string quartet with the Calidore Quartet, May 16, 2019, at the Chamber Music Society of Lincoln Center. The piece was commissioned via a Chancellor's Faculty Fellowship Kolkay received, 2015–17. On the same program Indiana University musicians performed Joan Tower's Red Maple for bassoon and string quartet, and both composers were in attendance at the performance. A new recording of Michael Torke's bassoon concertino West, with the Albany Symphony, was released by Albany Records in August 2019.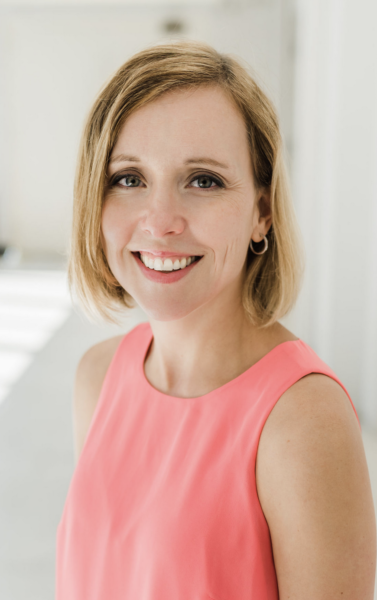 Jennifer McGuire, senior lecturer in collaborative piano, conducted The Ghosts of Gatsby, by Joshua McGuire and Evan Mack, and Mansfield Park by Jonathan Dove in October at Blair. In December 2019, she and baritone Jeffrey Williams made a recording of songs by Heinrich Marschner, which will be released on the Centaur label in late 2020. In February 2020, she conducted Don Pasquale at Boston Conservatory. In May she was to play two concerts in Paris, France, with the Atlantic Ensemble, and in June she was to conduct a workshop of a new work, Halcyon Days, with Vital Opera Company. These are being rescheduled to 2021.


Joshua McGuire, '03, senior lecturer in musicianship, and Evan Mack, '03, whose opera The Ghosts of Gatsby was produced at Blair in the fall, won the National Opera Association's Argento Prize in 2019 and was produced at the NOA conference in Cleveland in January. Yeltsin in Texas!, a comedy in one act, premiered in February with Opera in the Heights (Houston) and at Texas Christian University (Fort Worth).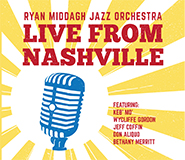 Ryan Middagh, assistant professor and director of jazz studies, released an album in September 2019. The Ryan Middagh Jazz Orchestra's Live From Nashville features Keb' Mo, Wycliffe Gordon, Jeff Coffin, adjunct instructor of jazz saxophone, Don Aliquo and Bethany Merritt. Additionally, he has 11 new arrangements and compositions available through music publisher J.W. Pepper.
Douglas Shadle, associate professor of musicology, was the inaugural Scholar-in-Residence at the Gabriela Lena Frank Creative Academy of Music in Boonville, California, in January. His essay "Santa Was the Wrong Kind of Old White Man" appeared in the May 14 print edition of The New York Times.
Thomas Verrier, associate professor of wind studies, traveled in July 2019 to Hong Kong and China, where he taught band clinics, served on the adjudication panel for the prestigious Nie Er Wind Band Competition and conducted the Youxin Nanjing Summer Music Camp. In October 2019, he traveled to Costa Rica to conduct the National Band in San Jose. Accompanying him was Caleb Harris, adjunct associate professor of piano, who performed the Stravinsky Piano Concerto with the band and worked with youth orchestras of SINEM. Also making the trip was composition alumnus Jonathan Mitchell, '19, who was commissioned to write arrangements of traditional Costa Rican folk music for the youth orchestras of SiNEM.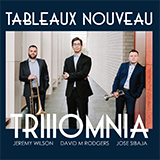 Jeremy Wilson, associate professor of trombone, Jose Sibaja, associate professor of trumpet, and David Rodgers, '17, form the trio TRIIIOMNIA, which in May released its first album, a crossover of jazz, Latin and classical styles. The album features music arranged by Sibaja and pieces written by both Rodgers and Ryan Middagh, director of jazz studies. TRIIIOMNIA gave its first Blair concert in January.
Felix Wang, professor of cello, and Carolyn Huebl, professor of violin, were appointed co-artistic directors of the inaugural Hilton Head Chamber Music Institute last summer. The highly successful first season brought students from around the country for an intensive two-week experience. Wang then served again on the faculties of Madeline Island Chamber Music, and the Green Mountain Chamber Music festivals in Burlington, Vermont. The summer concluded with two weeks at the Chautuaqua Institution in western New York. Wang began the school year with a performance of unaccompanied Bach at the Vanderbilt Peace Vigil, with guest Arun Gandhi on Magnolia Lawn. Highlights of the year included performances in Memphis and a master class at the University of Michigan.
Susan Yang, '13, adjunct artist teacher of piano, released Doorways: Half-Remembered Music (2019, Blue Griffin) last fall, a project born out of two ideas. The first was to juxtapose pieces from different eras and to draw unusual, subtle connections; the second was to demonstrate that, despite the progressive development in music, composers still look to the past and to other cultures for inspiration.