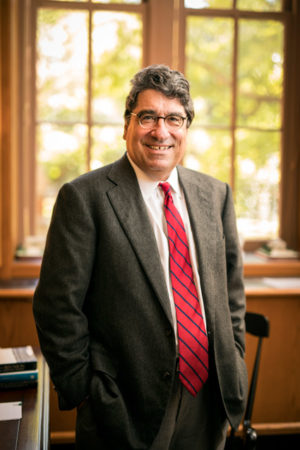 Nicholas S. Zeppos, Cornelius Vanderbilt Chancellor Emeritus, has been appointed to the board of McLean Hospital, a world leader in the treatment of psychiatric disorders and the top-ranked freestanding psychiatric hospital in the United States.
McLean Hospital, located in Belmont, Massachusetts, is the largest psychiatric affiliate of Harvard Medical School and a member of the Mass General Brigham Healthcare System.
"Nick is a proven leader, and his work as chancellor of Vanderbilt embodies McLean's 'bench to bedside' mission," said Dr. Scott L. Rauch, president and psychiatrist in chief for McLean Hospital. "At Vanderbilt, Nick advanced major initiatives in neuroscience and caring for those on and off the campus who suffer from the reality and stigma of mental illness. We are absolutely thrilled to have Nick join our board."
Zeppos, who served as Vanderbilt University's eighth chancellor from 2008 to 2019, has been a strong advocate for enhanced and expanded mental health resources and a supportive campus culture for mental health and wellness. During his tenure, Zeppos appointed a chancellor's committee to review all existing campus resources and programs related to mental health and to identify needed changes to reduce the stigma surrounding these services. He helped lead a university-wide campaign, GO THERE, to foster a culture of openness, honest reflection and brave dialogue about mental health.
"I am honored to serve on the board of this outstanding hospital and renowned center for education and research related to mental health and wellbeing," Zeppos said. "I look forward to expanding my strong interest in the treatment of mental illness and the development of new research-based treatments and cures."
Zeppos joined the Vanderbilt faculty as an assistant professor of law in 1987 and went on to serve as a professor of law, associate dean of Vanderbilt Law School, associate provost for academic affairs, vice chancellor and provost before being named chancellor.
"As chancellor, Nick's support of Vanderbilt's programs in neuroscience and behavioral health helped bring the institution to the forefront and to be recognized internationally for discoveries and advancements," said Dr. Jeff Balser, president and CEO of Vanderbilt University Medical Center and dean of the School of Medicine. "He continues to be a passionate supporter of research that advances the treatment of mental illnesses. He will offer important insights to the leadership of McLean Hospital that will help them advance their mission."
An esteemed legal scholar, teacher and executive, Zeppos is returning to the faculty this fall as University Distinguished Professor of Law and Political Science.
Zeppos has received many honors throughout his career including the Jack C. Massey Leadership Award from Mental Health America of Middle Tennessee and five teaching awards for "Best Professor."