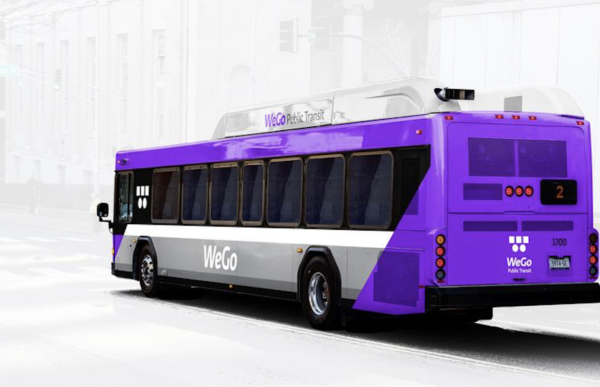 All full-time and part-time Vanderbilt University faculty, staff and students can now ride WeGo Local buses, WeGo Regional buses (formerly RTA) and the WeGo Star train (formerly the Music City Star) for free using their Vanderbilt ID cards.
Vanderbilt has expanded its EasyRide program to make these sustainable transportation options more affordable and convenient for the university community.
"We are giving our students, staff and faculty more options, affordability and convenience when making the daily decision of how to travel to campus, as well as more flexibility to match their dynamic lifestyles," Erin Hafkenschiel, executive director of mobility at Vanderbilt, said. "From the start, MoveVU's goal has been to better align our transportation and mobility program with the university's values as outlined in the Academic Strategic Plan and FutureVU. Given the COVID-19 crisis, it is more important than ever to create a sustainable and equitable transportation program. Expanding our EasyRide program certainly accomplishes those goals and provides our community with more affordable transportation options."
In addition, all faculty, staff and students can ride the buses and train for free with their Vanderbilt ID at any time, not only when commuting to and from the Vanderbilt campus.
With the access provided by the Vanderbilt ID, tickets for WeGo Regional buses and the WeGo Star are no longer required for VU community members. (This change took effect April 1; no refunds for previously purchased tickets will be issued.)
WeGo's response to COVID-19
WeGo Public Transit is collaborating with the Metro Nashville Health Department to ensure that all of its practices are in line with recommended efforts to minimize the spread of COVID-19, general influenza and other viruses.
WeGo recommends that riders wear a mask while using public transit. Since the start of the pandemic, the agency has increased the frequency of its vehicle and facility disinfecting program, with greater focus on surfaces touched most frequently by riders and employees. It also is working with its regional bus and train service providers to ensure they are increasing cleaning efforts as well.
WeGo Public Transit has been operating an enhanced modified service plan throughout the spring and in anticipation of increased ridership due to the gradual reopening of Nashville's economy. Learn more here.
MoveVU Commute Hub


Those using sustainable commuting options, including local and regional buses or the train, can use the MoveVU Commute Hub to log their trips. The hub is a one-stop commuter information resource for the Vanderbilt community. The hub includes a new app and website that help users log commutes and allows them to better understand their commute options beyond driving alone—including WeGo public transit, bicycles, scooters, walking, carpooling and vanpooling.
For more information about transportation and mobility at Vanderbilt, visit vanderbilt.edu/movevu.