A fifth-grade school bus trip to an El Paso Symphony Orchestra concert proved to be a transformative experience for Lorenzo F. Candelaria, the new dean of the Blair School of Music.
"I made up my mind on that bus ride home that I would learn to play the violin," said Candelaria. "I had no prior background in music, but the violin became my pathway to higher education—and my life's work as a musician, teacher and administrator. My own experiences drive my passion to keep building new audiences for music."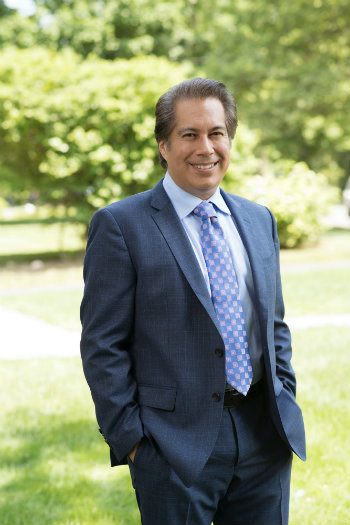 Candelaria, who goes by "Frank," praised the mission of Blair Academy, the music education program housed at Blair for all ages and abilities. "That was definitely a draw for me in coming to Vanderbilt," he said.
He was recruited to Blair from Purchase College, State University of New York, where he has been dean of the School of Arts and professor of music for the past two years. His tenured appointment as professor of musicology at Blair began on May 16. On July 1, he succeeded Mark Wait, who stepped down after leading the Blair School for 27 years as the Martha Rivers Ingram Dean of the Blair School of Music.
Candelaria, who holds the Martha Rivers Ingram Dean's Chair, remains grateful for the scholarships that made it possible for him—as a Mexican-American first-generation college student—to earn a bachelor of music from Oberlin College in 1995 and a doctorate in music history from Yale University in 2001.
"I learned firsthand the capacity of distinguished institutions to promote socio-economic mobility and to prepare future leaders for our complex and diverse society," he said. "I applaud Vanderbilt's progress in building a more diverse and inclusive community of highly accomplished scholars through initiatives like Opportunity Vanderbilt."
After graduating from high school, Candelaria went to the Cleveland Institute of Music to study under renowned Russian violinist Victor Danchenko. The next year Candelaria enrolled at Oberlin, where he was more than a little annoyed to find out he had to study music history.
"The great irony is that I fell in love with Medieval and Renaissance music and eventually focused my research on plainchant and illuminated chantbooks," Candelaria said. "A well-rounded liberal arts curriculum, similar to my fifth-grade trip to a symphony concert, helped me fall in love with something that I never imagined would interest me."
After earning his doctorate with distinction from Yale, Candelaria briefly pursued a performance career, playing violin and singing with groups that included Walt Disney's Mariachi Cobre and the Grammy-nominated Mariachi Sol de México.
He also lived in Madrid for two years while researching his first book project, which focused on the Rosary Cantoral, a rare manuscript of Latin plainchant for the Catholic mass compiled around 1500. "By sheer coincidence, I rented an apartment owned by William Christian Jr., a prominent religious historian and author who had also been studying popular religion in 16th-century Spain," Candelaria said. "I was fortunate to be able to read books that he had left behind and were pertinent to my own research."
The Rosary Cantoral: Ritual and Social Design in a Chantbook from Early Renaissance Toledo was published in 2008 and reissued in paperback two years later. In 2009, Candelaria received the Robert M. Stevenson Prize from the American Musicological Society for outstanding scholarship in Iberian and Latin American music. He continues to do research for a book under contract to the University of Rochester Press on music in early Mexican Catholicism.
"My deep dive into illuminated chantbooks has enabled me to work closely with art historians, sociologists, cultural historians and many others. "The general spirit of working intently across disciplines is something that I'm looking forward to doing—not only within Blair, but also across Vanderbilt departments and programs."
Candelaria's career in academia has been marked by a clear progression to smaller institutions with an intensified focus on the arts and their integrated roles in community, beginning with the Butler School of Music at the University of Texas at Austin for 12 years, then the University of Texas at El Paso and Purchase College, State University of New York.
"As an administrator, I enjoy staying connected with my colleagues and students through frequent conversations," Candelaria said. "These talks help keep my finger on the pulse of the institution and keep me energized and focused on our goals."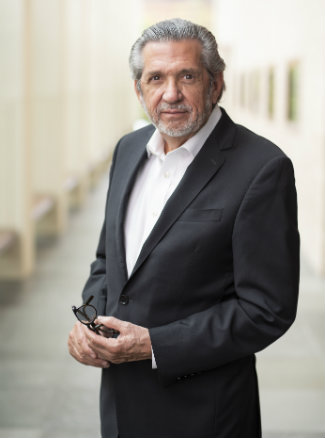 One of Candelaria's priorities is to build on and expand the accomplishments of Dean Emeritus Mark Wait, whom he describes as "salt of the earth."
"Blair has benefited greatly from Dean Wait's steady and progressive leadership, and I expect to be talking with him frequently as I transition into my new role," Candelaria said.
In addition to Blair's stellar reputation as a music school at a top-tier research institution, Candelaria was attracted to Vanderbilt's core commitment to the arts and humanities as essential for higher-level thinking and global engagement. Another factor was the university's location in a culturally attractive city with an entrepreneurial spirit.
"I want to help the Blair School achieve nothing short of becoming the model for a deeply integrative arts education in the 21st century—one characterized by genuine inclusivity, a broad global mindset and unyielding commitments to promoting vibrant economies and social justice for new and emerging communities here and throughout the world," Candelaria said.