Media Inquiries
Latest Stories
On July 1, 2020, Daniel Diermeier, an internationally renowned scholar of political science and managerial leadership, began his tenure as the ninth chancellor of Vanderbilt University. Formerly provost and dean of the Harris School of Public Policy at the University of Chicago, and a longtime professor at Stanford University and Northwestern University's Kellogg School of Management, Diermeier was selected by the Vanderbilt Board of Trust after an extensive worldwide search.
In a wide-ranging interview, Diermeier spoke about growing up as a first-generation student in a divided Germany, taking the helm during the COVID-19 pandemic, and the collaborative culture that has fueled Vanderbilt's success. He also addressed the violent acts of racism and injustice that have swept our country, noting Vanderbilt's twofold responsibility to improve equity and inclusion on our campus, and to leverage our mission and expertise to support progress across our community at large.
What is it like coming into your role as Vanderbilt chancellor in the midst of the COVID-19 pandemic?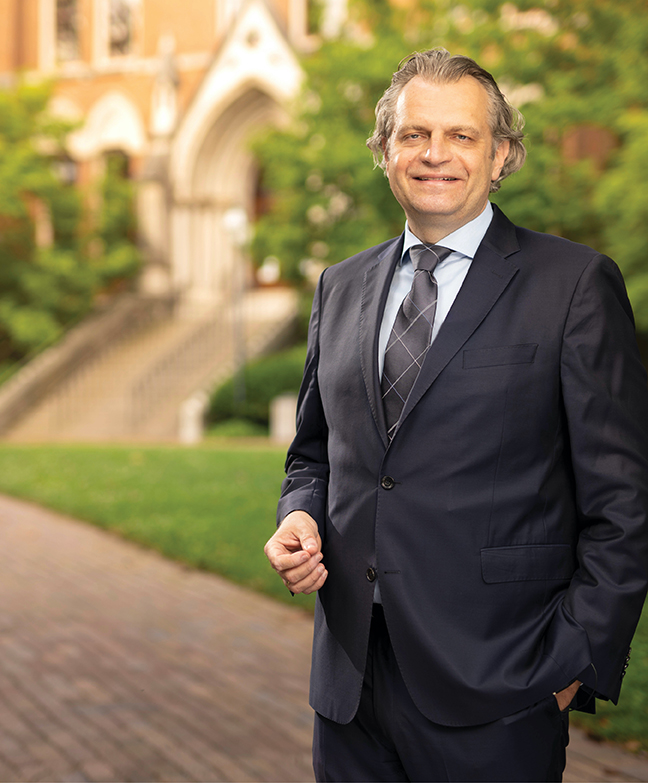 The team led by Interim Chancellor Susan Wente has performed magnificently under very difficult circumstances—with many tough challenges. Just the ability to change, within literally a matter of days, to a model where teaching happens at home is incredible. There's a sense of tremendous accomplishment, and Vanderbilt will look back with pride many years from now.
The challenge now is that so much of our mental energy is occupied by dealing with the difficulties presented by the pandemic. As leaders we must keep the long perspective front and center as well. This is difficult because the pull toward the crisis of the moment is very strong.
A very distinguished CEO during the financial crisis once told me that he kept yellow notepads in the left and right pockets of his suit. In the left suit pocket, he wrote down the 10 things that must happen today to ensure that the company, during hard times, is still in business tomorrow. And in the right pocket, he wrote down the things that needed to happen so they could come out of the crisis stronger. Being able to have these two perspectives at work simultaneously is utterly important.
Part of what I'm trying to understand, and to ensure, is that we emerge from this stronger.
In addition to the pandemic, profound calls for racial justice reform are being heard around the world. How will the university address these concerns, both on our campus and in our society?
In regard to diversity and inclusion, Vanderbilt has made a great deal of progress in recent years, starting with the efforts launched by Chancellor Emeritus Zeppos and boosted tremendously by Interim Chancellor Wente. Today, Dr. André Churchwell is leading our work in this area as vice chancellor for equity, diversity and inclusion. But we need to find additional ways to step up to combat racism and injustice.
I see this happening in two ways. First, we can make a difference through our involvement within Nashville and beyond. The tragic killings of the last few months tell us that we need not only to conduct teaching and research, but to think carefully about how these activities can be extended. As a leading research institution, we can foster community partnerships to help overcome social inequities in health care, education, public safety, urban planning, and many other important areas.
The other way is to create an inclusive community on Vanderbilt's campus, and across our university community. Vanderbilt exists because we all hold an unshakeable belief in human potential. We must create an environment of trust where every member of our community can thrive, learn from one another, and realize this potential on a daily basis. Everyone must feel welcome, connected and included at Vanderbilt.
For these transformative processes to operate, everyone at Vanderbilt must feel safe and respected. We have an ironclad, zero-tolerance policy for any acts that violate the safety and well-being of any member of our community. As a university this is one of our most critical responsibilities.
It is not just our professional duty, but also a moral obligation that unites Vanderbilt's leadership team, and has been front and center as we work to address recent reports by members of our community about sexual assault. While we have made important strides to address sexual assault and misconduct as a campus community, we recognize that these steps are just the building blocks, with much more work to be done.
Thinking about the long term, what do you see as Vanderbilt's priorities?
The biggest challenge is that as a university we've made tremendous progress, and it's easy to plateau and say, "That was great," and feel proud. We need to ask ourselves, "What is our aspiration, what are our new goals?"
When I first came here, I said we should be proud but never satisfied. We should always want to raise our ambitions. As for exactly what this means, these conversations have just started. It will take many weeks and months of discussion with the faculty, students, staff and alumni to get there. We will deal with the challenges day to day, but let's also look beyond that and think about what's ahead. Let's look at the left and the right suit pocket.
The last few months have been devastating in many ways. But we should never forget that there is a path toward a future that will be better, where we can have an even bigger and more profound impact on research and the lives of our students. It is vital that we always go back to—and be clear about—our purpose, our values and how to advance them in this new world. Indeed, the role of universities has never been more important today.
This is something you learn from the great leaders during times of crisis. Lincoln and Churchill were realists and optimists at the same time. Keeping these two perspectives alive simultaneously is essential during challenging times like those we are living through now.
How did you transition from a professor into higher-education leadership?
My original interest was in philosophy, which started in high school. I then studied philosophy, logic, political theory and one semester of musicology in Germany. Over time my interest moved firmly toward political science and quantitative forms of political science in particular. I got my Ph.D. at the University of Rochester in this area.
How leaders communicate and connect with people is an important way to enhance trust. … It's important that people feel a connection, knowing we are committed to a solution and care about the challenges they are facing.
My first job was at Stanford University's Graduate School of Business. They had a strong group in my area, but they also introduced me to thinking about business and society more generally—questions of governance, questions of corporate social responsibility.
I then was recruited to the Kellogg School of Management at Northwestern, where I became particularly interested in crisis management and reputation—leading under pressure, how to lead and communicate under difficult circumstances. As life goes, these interests have come in handy at this time!
I started getting interested in academic leadership at Northwestern. At first it was mostly entrepreneurial. I had created centers, an institute on complex systems, and various leadership development programs. At some point I became interested in taking those interests to the next level, to a bigger stage. I was offered a deanship at the University of Chicago's Harris School of Public Policy and did that for two years. Then I was asked to serve as provost, which I did for three and a half years.
As a leader I learned that during tough times it's important to maintain trust with your community. This is very difficult during a crisis like COVID-19 because you don't have all the answers. It takes time to figure things out, and there is tremendous, persistent uncertainty. You must react to changing circumstances and deal with unprecedented challenges.
How leaders communicate and connect with people is an important way to enhance trust. There must be transparency and a sense that we know what we are doing. But it's also important that people feel a connection, knowing we are committed to a solution and care about the challenges they are facing.
What was your upbringing like in Germany?
I was born in Berlin—a divided city—in the western part. The experience of a border and separation left a profound mark on me. There were cousins, aunts and uncles whom I was not allowed to visit until I was 12 or 13. Just crossing the border and driving through East Germany to other parts of Europe was always a challenge. Border controls with barking dogs, machine guns and land mines were very intimidating and scary.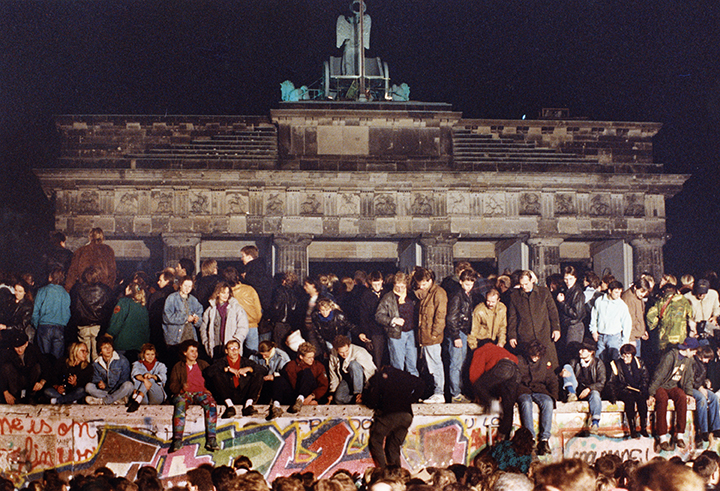 That environment forced me to think about what politics can do, and what conflict is about. I was a first-generation student and the first in my family to graduate from high school. I studied in Munich and was fortunate enough to get a fellowship from the German government to study at the University of Southern California. I was a philosophy Ph.D. student for one year but decided that was not for me.
When I came back to Germany, as it happened, it was exactly when the Berlin Wall fell. I was there the summer when East German citizens were rushing toward West Germany through Hungary. I remember the speeches and was in Berlin on the day the borders fell. I will never forget when the Brandenburg Gate opened, which was one of the great moments in recent history. I saw Chancellor Kohl, President Bush and the president of France literally a few yards in front of me. I climbed on top of the wall, I tore my jacket on the spikes, we had champagne, there was Beethoven's Ninth … it was unbelievable. What struck me so deeply was seeing how political institutions, and rules, and government structures—what liberties we do or don't have—can make a profound impact on how people act.
What are your impressions of Vanderbilt so far?
A couple of things about Vanderbilt had caught my attention throughout my career. I had seen some of the significant faculty hires Vanderbilt made in political science. I knew about Owen and the law school. So, I had a sense of the academic fabric. I also had a sense of the tremendous work of the medical school and in the basic sciences.
But most interesting to me was the transformation of undergraduate education, the commitment to residential colleges and to Opportunity Vanderbilt. If you look at universities in general, and their overall momentum, very few places have made as much progress as Vanderbilt. I was very impressed. I also had known Susan Wente as part of an informal provost group, so I had some insight into the secret for Vanderbilt's success.
Later on, I actually came here to learn about the spinoff of Vanderbilt University Medical Center and the resulting financial structure. I was very impressed by that, too, the thoughtfulness, the care, the ability to execute something so complex.
What do you see as Vanderbilt's strengths?
I knew that Vanderbilt had been making tremendous progress. What I didn't know about was the culture, and what makes it unique. That I learned throughout the selection process and in subsequent conversations with the search committee and other members of the community.
What I learned is that the culture of collaboration and cooperation was very profound, very strong. It wasn't just something people talked about—it was lived. And what that does is enable us to do things that you otherwise couldn't do. Unfortunately, many universities are much more siloed, not just structurally, but mentally or culturally. That makes it difficult to bridge those gaps, or doing so becomes very transactional. The sense that we are all part of one institution, characterized by a set of values, is very powerful.
How do you see the future of Commodore athletics?
It's not an accident that athletics and sports—whether at the collegiate level or professional—are such an important part of people's lives. I grew up an avid soccer fan and still watch a lot of games. When I came to the U.S., I went to football, ice hockey, baseball and basketball games. I took my young sons to the first game of the World Series of the White Sox in 2005, and we went to see NHL, NFL and NBA games. So, I have a personal connection with sports.
But there's something bigger going on here. Someone once said, "When I want to know what's great about the world, I read the sports section; when I want to know what's wrong, I read about politics." I know the sports section isn't super interesting these days, but that sentiment encapsulates something important: What we value in athletics are values that are important for life in general. We see them in a particular, simplified and clear form that everyone can follow, and that everyone can get passionate about. You see great talent at work; you see perseverance; you see teamwork; you see the commitment to get better; you see ambition. And we respond to that, strongly, and in a way that is more profound and more important to people than sometimes we realize.
That's what sports and athletics can do. And it can do that in a collegiate setting. But it has to embody the values, and it has to be a fit for the institution. When you look at Vanderbilt, it has been committed to excellence since its founding. That means we must be committed to excellence in everything we do. So, if you're going to have an athletics program, you have to be successful, you have to win! But we have to win the right way. If done well, the positive impact athletics can have on a college campus and in a university community can be profound. It's a way to bring us closer together, to foster a sense of pride, of celebration and sometimes heartbreak. It adds an emotional dimension to a university community in a way that few other things can.
What do you think of Nashville so far?
The first thing you learn about Nashville is that there is a sense of joy and fun—it's a happy place. What I'm really struck by, though, is the people. They are warm and welcoming; there is a sense of pride in Nashville and Tennessee.
There's a sense of optimism and a "can do" spirit. It's done in a way that is connected. It doesn't feel like a place with a lot of sharp elbows. There's an atmosphere of enjoying life and a sense that our best days are ahead of us. The optimism and possibilities are palpable.
Chancellor Daniel Diermeier was interviewed by Vanderbilt Magazine Editor-in-Chief Ryan Underwood, BA'96.