Media Inquiries
Latest Stories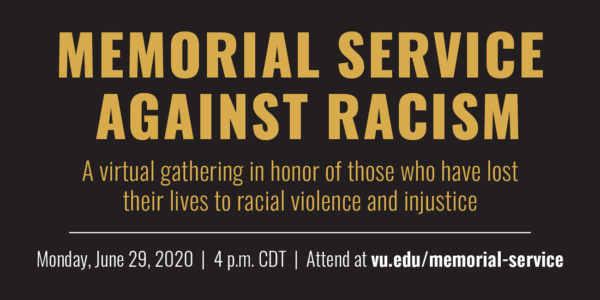 Vice Chancellor for Equity, Diversity and Inclusion and Chief Diversity Officer Dr. André L. Churchwell will host a memorial event to honor George Floyd, Breonna Taylor, Tony McDade, Ahmaud Arbery, Rayshard Brooks and the countless lives lost due to anti-Black racism and police brutality in the United States.
The memorial will be held virtually on Monday, June 29, at 4 p.m. CDT. The event will be available live via YouTube for members of the Vanderbilt University community.
"The Vanderbilt community is grieved by the loss of Black lives across our country as a result of racial injustice in our country," Churchwell said. "During this memorial service, we will stand together as people united in mourning and dedicated to pushing for justice and equality for Black people in America."
In addition to remarks from Churchwell, several other university leaders will speak at the memorial, including Interim Chancellor and Provost Susan R. Wente, Incoming Chancellor Daniel Diermeier and Professor of the Practice of Ministry Forrest E. Harris Sr., who serves as the director of the Kelly Miller Smith Institute on Black Church Studies at Vanderbilt and is the president of American Baptist College in Nashville.
The 30-minute memorial service also will include an interfaith prayer of hope and a moment of silence. Learn more about how to attend the virtual June 29 memorial service at vu.edu/memorial-service and let us know of your plans to attend.>>