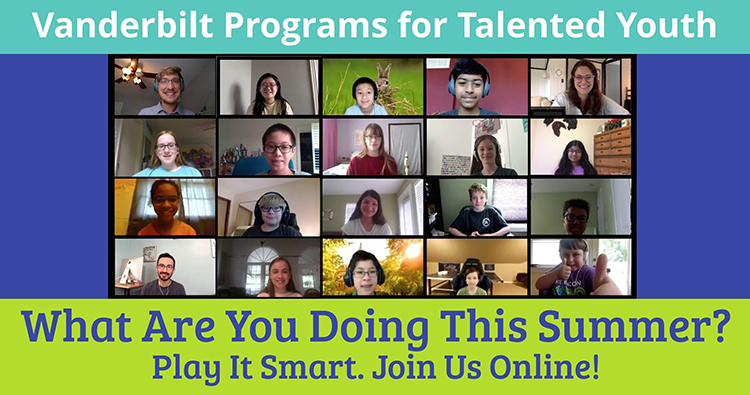 Are you looking for an online summer opportunity for an advanced learner in your life? Has your student missed having the chance to work with their academic peers, investigating topics that are challenging and interesting? There is no need to look past your own backyard for a reinvigorating learning experience for your student.
Vanderbilt Programs for Talented Youth's Online Academy is providing advanced learners going into grades 8–12 with online learning opportunities this July. Two session options are available: July 6–17 and July 20–31.
PTY's Online Academy gives advanced learners the opportunity to take classes in a creative, supportive and engaging environment through synchronous and asynchronous experiences. PTY's classes are taught by Vanderbilt faculty and staff, graduate student scholars and content experts and are designed specifically with the academically talented and motivated student in mind.
From biochemistry, genetics and health care courses to rhetoric, psychology and moral leadership, PTY is sure to have something that will excite your curious student.
Learn more about our courses, class design, eligibility requirements, and how to submit a registration request on our website.
Engage your student's mind and help them connect with academic peers by enrolling them in one of our exciting course opportunities this July.
Have more questions?
Connect with us at vsa.pty@vanderbilt.edu.