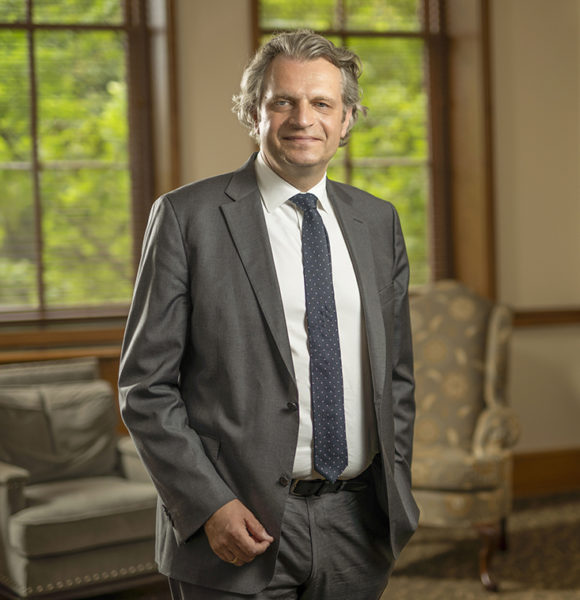 Chancellor Daniel Diermeier reflected on the extraordinary challenges presented by COVID-19 as well as racial injustice in our society—and discussed the university's role in confronting these challenges—during a series of virtual gatherings with the Vanderbilt community.
The webinars for students and their families, staff, faculty and alumni were conducted via Zoom ahead of Diermeier's official start as Vanderbilt's ninth chancellor on July 1.
To access video recordings of the virtual gatherings, visit the Chancellor's website.
"These are difficult times, but it's exactly in those times when universities can play a very important role and when their value is particularly obvious," Diermeier told students on June 3.
Universities "are the places where we can look at the causes, the conditions and the complexities of the various problems that we have to deal with in society at a given time," he said. "It's where we can discuss, debate and learn … where we have a community of students and scholars that can figure out solutions to these challenges and make a lasting contribution to improve society and humankind more generally."
Diermeier said he plans to make addressing issues of race, inequality, diversity and inclusion a top priority in his role as chancellor, building on the important work Vanderbilt has done in recent years and noting there is still much more to do.
"Universities are based on the unshakable belief in human potential, and they're about realizing human potential to the fullest," Diermeier told staff on June 8. "I want people to be able to bring their best self to this university, feel welcome and realize their specific potential." Regardless of role or background, we each make a contribution, he said.
Vanderbilt should double down on its commitment to bringing a diverse student body to campus and creating an inclusive and supportive culture, as well as its commitment to recruiting minority faculty and providing the support for them to succeed, Diermeier said in his discussion with faculty on June 9. The university and its scholars also have a vital role to play in confronting the health disparities and social and economic inequities that disproportionately impact the African American community in Nashville and beyond.
Diermeier thanked students, faculty and staff for the sacrifices and impactful contributions they've made since the coronavirus pandemic began. He noted that students, especially seniors, gave up their final months on campus while faculty pivoted to online teaching and staff supported these and other ongoing university efforts.
"It is very, very difficult for people to deal in an environment where not only are they facing health risks to themselves and their family, but uncertainty over their own future," he said. "I appreciate everyone stepping up and contributing to our mission, even though we are dealing with these extremely difficult circumstances. We are asking you to do more right now, and I know that. We're asking you to step up, and you have done that."
"Universities are based on the unshakable belief in human potential, and they're about realizing human potential to the fullest. I want people to be able to bring their best self to this university, feel welcome and realize their specific potential."
Plans for the fall semester, made following much careful deliberation and discussion among university leaders, were announced June 16. "I do want to point out—to state the obvious—that these are plans, and that we are in a period of persistent and profound uncertainty. Circumstances will change. It will require all of us, in the spirit of one community, to deal with these challenges," he said.
Diermeier shared some of his personal story with each audience. A native of Germany, he is a first-generation college student who pursued graduate studies in philosophy in the U.S. before transitioning to political science and applied game theory, subsequently adding his current specialties of business leadership and crisis management.
He was in his hometown when the Berlin Wall fell and recalls the profound jubilation of that moment. "It showed me the power of political institutions and need to get them right, and how people's lives can be affected by setting up government structures the right way," he noted.
Diermeier said Vanderbilt was on his radar long before he was approached about becoming chancellor. Initiatives like Opportunity Vanderbilt, the residential colleges, the transformation of undergraduate education and the spin-off of the medical center as a separate entity from the university captured his attention, but Vanderbilt's distinct culture of collaboration, cooperation and respectfulness was particularly important to him.
"It's that culture that enables you to do things that otherwise you couldn't do," he said. "All too often, universities are very siloed and very territorial, and I haven't seen that here. There's an openness to connect across different fields." This unique culture has been on full display in Vanderbilt's response to COVID-19, Diermeier said.
Though the university faces profound uncertainty in the wake of the ongoing pandemic and resulting economic fallout, Vanderbilt is on stronger financial footing than many of its peer institutions, Diermeier said, due in large part to the careful stewardship of Chancellor Emeritus Nicholas S. Zeppos, Interim Chancellor and Provost Susan R. Wente and a strong finance team.
Looking to his scholarship for examples, Diermeier said a hallmark of good leadership during times of extreme crisis is the ability to confront short-term challenges while still focusing on the long-term strength of an organization.
"How do we take this pivotal moment and turn it into a force for good?" Diermeier asked the faculty. "I would encourage people to take this experience and see how we can turn it into opportunity with respect to the specific areas that we're interested in or the bigger issues of higher education that we're dealing with," such as improving technologies, developing new methods for teaching and learning, better serving underprivileged communities and more. He also implored students to step up to the challenge of this generation-defining moment.
"We will get through this. We will get through this in a way that will make us proud, in a way that is consistent with our values and the purpose of this university," he said. "My strong belief is we will look back at this period, 20 years from now, and we'll say this was our proudest moment."