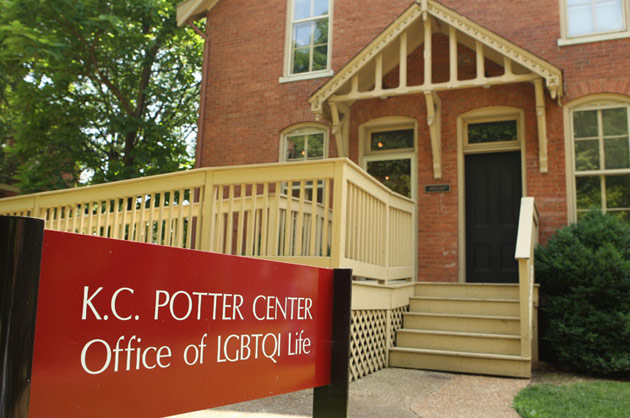 The Office of Lesbian, Gay, Bisexual, Transgender, Queer and Intersex Life has announced the recipients of its annual LGBTQI Life awards, including the Allyship in Action, Advocate of the Year, Intersectional Advocate of the Year, and Spotlight awards.
Many of the award winners acknowledged and prioritized the various social identities that contribute to the diverse communities of LGBTQI+ people. The K.C. Potter Center is committed to uplifting intersectional identities and efforts so all LGBTQI+ community members are seen, valued and heard.
Recipients are typically recognized during the annual Lavender Celebration ceremony hosted by the Office of LGBTQI Life each April. Due to COVID-19, recipients of the awards were notified via email and celebrated during a virtual version of the ceremony online. A volunteer committee representing faculty, staff and students selected the winners after an open call for nominations.
Allyship in Action Awards are given to community members who demonstrate the courage to exist in solidarity with the LGBTQI+ community while acknowledging that freedoms are linked and allyship is an ongoing process. This year's winners are:
Sarah Jordan Welch, prevention educator and victim resource specialist, Project Safe Center. 

Welch's nominator shared, "It is common knowledge amongst our students that Sarah Jordan will listen to them, believe them, and can be trusted to get them the resources they need. She is well-informed and ready to respond to LGBT students' unique needs."
Ms. Maxine Maruszewski, custodial worker, Custodial Services, Division of Administration. 

Maruszewski's nominator stated, "as someone who isn't a part of the LGBTQIA+ community, she helped make our students feel accepted and valued for who they are, something they often don't get outside of our building or community."
Advocate of the Year Awards are given to individuals who live their commitment to justice and service. This award recognizes individuals who center intersectionality, use their position as a catalyst for change and create brave spaces. This year's winners are:
MarTaze Gaines, 2020 M.Ed. graduate in Community Development and Action, Peabody College. 

Gaines' nominator highlighted their commitment to organizing brave spaces within and outside of Vanderbilt. "After the recent tornado that impacted Middle Tennessee, MarTaze was one of the first to respond and tirelessly worked to organize a community response that largely included the Vanderbilt community."
Heather Smith, assistant professor of the practice, Department of Human and Organizational Development, Peabody College. 

Smith's nominator shared about her political and policy efforts to support LGBTQI individuals, regularly contacting and meeting with representatives and senators. "She was active in contacting representatives and senators and she worked with Lisa Henderson, past Tennessee Counseling Association president, in coordinating an on the hill meetings."
Olivia Hill, assistant manager in facilities, Plant Operations, Division of Administration. 

Hill's nominator shared that "as an out trans woman working in the university's power plant, Olivia has been steadfast in her identity." The nominator continued: "She has used her voice to advocate for the needs of transgender employees in campus town halls and on campus-wide committees."
Intersectional Advocate of the Year Awards are given to individuals who live their commitment to justice for LGBTQI+ and intersectional identities. These recipients center intersectional advocacy and create brave spaces. This year's winners are:
Karen Sun, graduate student, Peabody College. 

Sun's nominator highlighted that "Sun is deeply committed to the liberation of themselves and others. Karen is consistently sharing counter-narratives, perspectives and activism that shed light on the dynamic beauty of the LGBTQ+ community."
Nisha Bala, graduate student, Peabody College. 

Bala's nominators emphasized that "their ability to get good work done in thoughtful ways, paired with the experiences and identities that they bring to the table, help to forge a space where intersectional advocacy is truly taking place."
Nicole Malveaux, associate director of the Bishop Joseph Johnson Black Cultural Center. 

Malveaux's nominator shared that "she always attends and promotes LGBTQI Life's signature events and works to make the Black Cultural Center welcoming to LGBTQI+ people." Malveaux's nominator continued: "During the construction of the gender-neutral bathrooms in the Black Cultural Center, she worked to ensure that the needs of trans individuals were taken into consideration."
The Spotlight Award recognizes community members who are unsung heroes in the Vanderbilt community, honoring the contributions of individuals who are often overlooked. This year's winners are:
Elysia Tillman, undergraduate student. 

Tillman's nominator emphasized that "Elysia is kind and one of the most compassionate people I have ever met. They are always offering to help, and the work that they have done in building bridges within this space needs to be recognized."
Matthew Shaw, assistant professor of public policy and education and assistant professor of law. 

Shaw's nominator shared that "Dr. Shaw is someone who lives intersectional advocacy, and that is evidenced by his passion for his students, his classes and his work." Shaw's nominator continued, saying that his "dedication to his students and his work is tangible in nearly every interaction that I have ever had with him."
Jacob Goedde, 2020 M.Ed. graduate in Higher Education Administration, Peabody College. 

Goedde's nominator highlighted that "as a co-chair of Peabody Q.ED, Jacob has done amazing work over the past year and a half of listening to student concerns, advocating for those concerns with the administration, and generally just making Peabody a more welcoming place for queer students."
Sarah Fogel, professor of nursing. 

Fogel's nominators shared about her extensive work to advocate for LGBTQI health, stating that she has been "advocating for LGBTQI health for many years," and has "developed an interprofessional graduate course at Vanderbilt University School of Nursing: LGBTI Health in Inter-professional Practice. This is the fourth year that it is being offered."
Lesbian, Gay, Bisexual, Transgender, Queer and Intersex Life at Vanderbilt University is a cultural center, a place of affirmation for individuals of all identities, and a resource for information and support about gender and sexuality. LGBTQI Life serves all members of the Vanderbilt community—students, faculty, staff and alums—by creating educational, cultural and social opportunities.
The Office of LGBTQI Life is part of the Provost's Office for Inclusive Excellence, which works to ensure that a broad array of faculty, students and postdoctoral scholars are able to fully avail themselves of the potential offered by Vanderbilt University. Visit the Office for Inclusive Excellence website to learn more about the office.