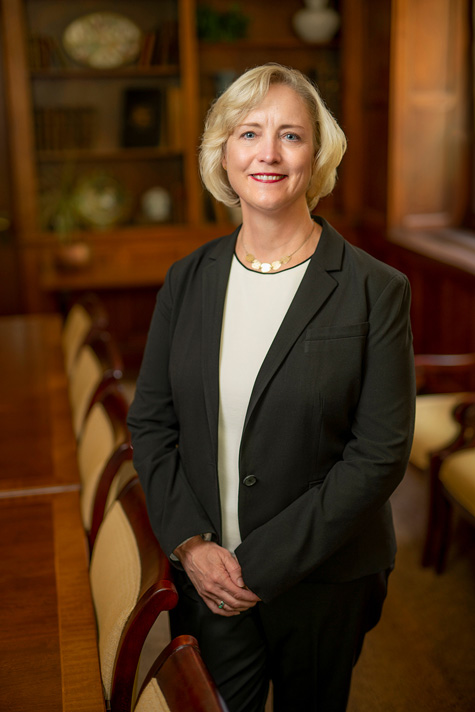 Interim Chancellor and Provost Susan R. Wente commended Vanderbilt staff for their dedication to the university and discussed the framework for carefully reopening campus in an address to the University Staff Advisory Council on May 12. USAC's monthly meeting was conducted virtually via Zoom as members continue to work remotely due to the COVID-19 pandemic.
Wente noted that she originally had been scheduled to speak to USAC in March, an engagement that was postponed as Vanderbilt confronted the emerging coronavirus outbreak and staff, faculty and students transitioned to remote work and learning on March 16. "Back then, I don't think I could have imagined the full extent of change that we would face as a community," she said.
"Many of us have experienced natural disasters or health crises or the turmoil of financial markets before in our lifetimes," she said, giving nods to the devastating tornado that struck Nashville on March 3, as well as the unprecedented global pandemic and ensuing economic fallout. "But I don't think any of us have lived through all of these together, in just a few months."
Wente said the university's decision-making in response to these circumstances has been strategic, measured and oftentimes rapid-fire by necessity.
"At every phase since March, we have been dealing with unknowns," she said. "At every step, we have made our calls based on the best possible data, information and public health guidance available, even when we wish we could have had more information."
Above all, one principle has guided these efforts, she said. "We must take care of our people, of each other. This has been my No. 1 priority over the last few months."
Reopening campus and planning for the future
Wente said the next step is the gradual resumption of campus activities in support of Vanderbilt's primary missions: teaching and research. The Return to Campus plan details how the university will ramp up various operations in orderly, sequential phases while adhering to strict safety protocols and testing their effectiveness. Phase 1 of the Vanderbilt plan will begin around May 18 and include the resumption of a limited amount of specific research and operations that cannot be conducted remotely.
"Reopening campus will not be a matter of flipping a switch," she said. "Many processes will happen gradually, and decisions will need to be made with input from individual schools and departments." Vanderbilt's phases for reopening will not necessarily match those of Mayor John Cooper's Roadmap for Reopening Nashville due to the university's specific needs and considerations, she noted.
Health protocols—such as physical distancing, wearing masks, enhanced cleaning and sanitation of campus buildings and limiting the size of gatherings—will apply to the entire Vanderbilt community for the foreseeable future.
"As for the fall semester and bringing students back to campus, no firm decisions regarding our timeline or levels of activity have been made. But from what we know now, our fall semester will look very different than it has at any other time in our history," Wente said.
"Various committees and working groups are considering all possible options, recognizing that there will not be a one-size-fits-all solution across our undergraduate, graduate and professional programs," she said. "But we will need significant and complete coordination across all of our schools and colleges."
Wente and Vice Chancellor for Administration Eric Kopstian will discuss the phased reopening of campus in a virtual town hall event today, May 13, at noon CT. Registration is required in advance. Those who are unable to attend the Zoom meeting and have questions or would like further information should contact covid-questions@vanderbilt.edu.
Economic considerations
As citizens have been observing safer-at-home orders in recent weeks, putting the national and global economies on hold, Vanderbilt is facing an economic situation perhaps more significant and longer-lasting than the recession of 2008-09.
Because of years of careful stewardship, however, Vanderbilt is in a stable financial position relative to its peers, Wente said.
"This has allowed us to be proactive and strategic in our decisions, instead of having to make reactive, across-the-board changes," she said. "However, we are not immune to these significant economic impacts."
Among the specific measures being put in place in response to the economic downturn are a suspension of all discretionary spending, a review of all capital construction and renovation projects, and the reduction of individual school and division budgets by 5 to 10 percent, among others.
"At this moment, there is no plan for across-the-board layoffs or furloughs," Wente said. "However, difficult decisions will need to be made, which could result in staffing changes or reductions in different areas.
"I know that managers across the university are united in our goal to protect and prioritize our mission above all," she said.
Accomplishments of the past year
Wente made note of Vanderbilt's progress over the past year, as well as the strides the university continues to make. "Although our attention is focused on pressing and difficult matters, it is especially important—now more than ever—to take the time to reflect on our achievements," she said.
Vanderbilt serves as a regional leader in sustainability. It has increased its efforts surrounding diversity and inclusion. The university launched its Strategic Plan for Athletics and named Candice Storey Lee as interim vice chancellor for athletics and university affairs and interim athletics director just a few short months ago. And as Vanderbilt has responded to the COVID-19 pandemic, staff have been instrumental to those efforts in every way.
"Thank you all for helping us transition through this historic time, and for all you do for Vanderbilt," Wente said. "I believe we will all look back at this time as one of great fortitude, innovation and resilience."