If you're a Vanderbilt student, 2020 graduate or faculty or staff member, the Jean and Alexander Heard Libraries invite you to document your experience of the COVID-19 pandemic for historians and future generations.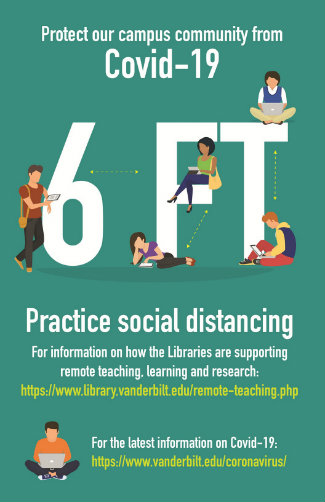 The library is seeking personal accounts ranging from artistic reflections to direct accounts of the crisis, and these documents can take the form of emails, journals, social media posts, photos, videos, audio recordings or physical items. Participation is open to anyone from the university or Vanderbilt University Medical Center.
"Unlike many archival collections that document events decades or centuries in the past, this collection provides us a unique opportunity to archive the pandemic in real time," said Zach Johnson, curator of Special Collections.
Library archivists also will preserve VU and VUMC website content in order to collect the online response of the university and Medical Center in real time. "This is an unprecedented medical, social and economic event for the vast majority of people living today, and it's important for us to collect as much as we can about how it affected those working, studying and teaching at Vanderbilt," said Chris Ryland, curator of History of Medicine Collections and Archives. "Future historians will use this archive to understand what it meant to live through this unique period of time."
To contribute, send your submissions (up to 25 MB) through the online form at https://covidarchive.library.vanderbilt.edu. The form can accept any item up to 25 MB. If your submission is over 25 MB or you have a physical item you'd like to contribute, please email covid.archive@vanderbilt.edu.
These materials will be archived by Vanderbilt's Special Collections and History of Medicine Collections in accordance with university policy.
For more information, visit the COVID-19 Archive website, or email covid.archive@vanderbilt.edu.