Hannah Miller welcomes a challenge—whether it's leading route reconnaissance and convoy security missions, participating in multinational military training exercises, or preparing to serve in the U.S. Army's Judge Advocate General Corps.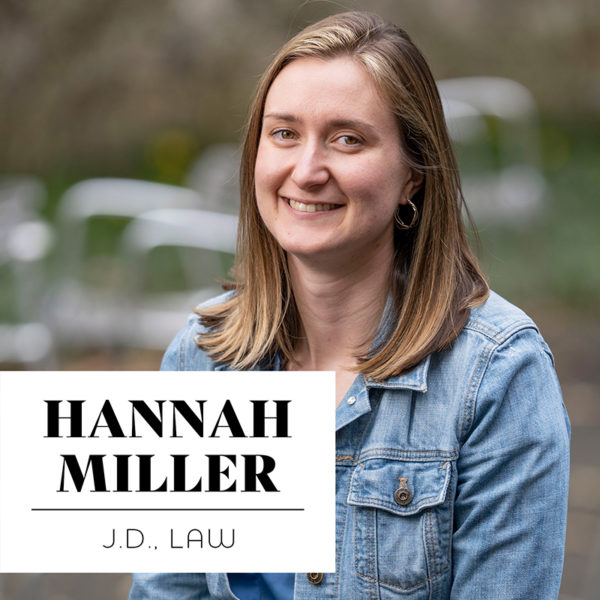 After earning her undergraduate degree at Princeton University, where she served as student commander of the ROTC program, Miller was commissioned as an Army officer.
"I thought of nothing more challenging than having just graduated from college and being in charge of 43 people with wildly different experiences and backgrounds," she says. "It sounded like such an exciting yet daunting experience, and it was not only a way for me to serve my country, but also to challenge myself."
Miller was a platoon leader, executive officer and battalion staff officer in an Army Military Police unit stationed in Grafenwohr, Germany. Working with foreign military and police forces, she traveled across Estonia, Latvia, Lithuania, Poland, the Czech Republic, Romania and Ukraine.
When it came time for Miller's next challenge, the intellectual rigor of the JAG Corps inspired her to apply to the Army's Funded Legal Education Program. Miller, still an active-duty captain, knew she needed to plan ahead when making her law school decision. Her husband, who now serves as an infantry company commander stationed at Fort Campbell, Kentucky, played a part in her coming to Vanderbilt.
"I knew Vanderbilt punched above weight for its law program, but I also wanted to attend because of the university's proximity to a military base," she says, adding that the mentorship she's received is what sets Vanderbilt Law School apart from other programs.
"Professors here go out of their way to take students under their wing," says Miller, whose education was aided by the Thomas W. Beasley Endowment Fund, which supports Vanderbilt Law School students who are military veterans.
"Professors here go out of their way to take students under their wing."
One mentor who played an important role for Miller is Michael Newton, professor of the practice of law, who served in the U.S. Army for more than 21 years and was also selected for the Funded Legal Education Program while on active duty.
"Professor Newton stands out because he personally recruits members of the military to come to Vanderbilt and helps build this family within the school," Miller says.
That feeling of family played a significant role in her favorite Vanderbilt experience—serving as editor-in-chief of the Vanderbilt Law Review.
Another memorable experience was serving as a student moderator for the Chancellor's Lecture Series in February, interacting on stage with former National Security Advisers John Bolton and Susan Rice. The event drew a capacity crowd to Langford Auditorium and garnered national media attention.
Law degree in hand, Miller now plans to join the Army's JAG Corps and to clerk for Judge Amul Thapar of the Sixth Circuit in 2023.
"The U.S. military is a fighting force that believes in operating with fundamental respect for the rule of law, and I want to be a part of that," she says. "I also look forward to the opportunity to practice all types of law—from assisting soldiers with individual legal needs, to prosecuting criminal cases, to advising commanders in the heat of things."