Media Inquiries
Latest Stories
By Becca Jensen
Jonathan Dallas is many things: a graduating medical student, a promising neurosurgeon, a researcher, an advocate. He's also an amputee.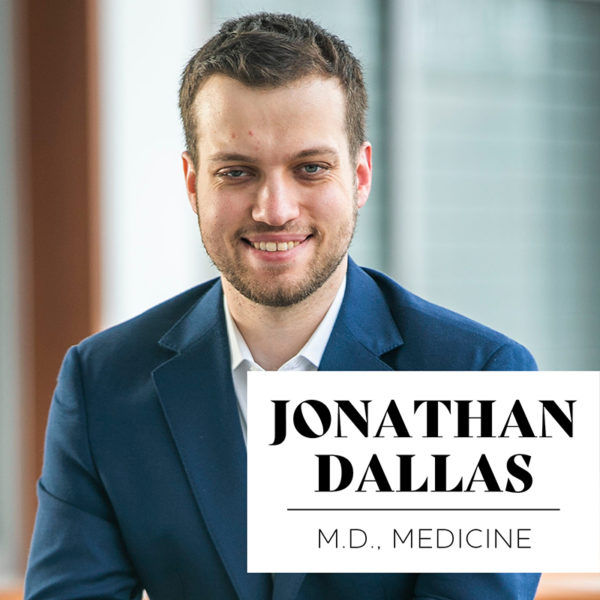 Born with a disease that causes a shortened femur and hip dysplasia, Dallas says he has lived his entire life, "from preschool to medical school," as an amputee.
That gave him an intimate view of medicine growing up, undergoing a series of procedures and prosthetic fittings that allowed him to walk. He saw firsthand the difference doctors made in his life. Yet, he also saw how much the medical community still has to learn when treating people with physical limitations and has tasked himself with helping to spur this change.
"We are pretty good at treating a patient's current issue, but we need to be better at matching that treatment with their future goals," Dallas says. "That means talking to our patients early on about what they hope to accomplish and how we can get them there."
A recipient of the David Hitt Williams, M.D., Memorial Scholarship and the Vanderbilt Medical School Cornelius Vanderbilt Scholarship, Dallas was able to pursue both his passions for medicine and advocacy. For example, as the founder of SLIDE—the Student-Led Initiative for Disability Education—he helped recommend changes to Vanderbilt's current curriculum that would better prepare doctors to treat patients with various physical abilities. These changes are now being integrated into the curriculum, and the group is examining ways to make these recommendations available to other medical schools.
In addition to this advocacy work, Dallas is looking forward to his residency in neurosurgery at the University of Southern California. "The most important thing is getting my patients where they need to be. That's why I'm in medicine: to help them and their families," he says.
"The most important thing is getting my patients where they need to be. That's why I'm in medicine: to help them and their families."
He also hopes to explore his interests in neuroprosthetics, assistive devices connected to the brain that have the potential to improve the lives of people with physical limitations.
As he looks back at his life and forward to his future, the Texas native says he is determined to find meaning in "the proverbial hand I was dealt."
"I am not thankful that I was born with a disability. I do not celebrate it, nor is it something that I would wish upon anyone else," Dallas says. "All I can do is take lessons from my experiences that I would not have learned otherwise. These lessons have shown me the challenges that thousands of patients face each day. It is these challenges, and the stigma involved, that we must actively address as a medical community to continue to improve the lives of those living with disabilities."
To learn more about Dallas and his advocacy for patients with disabilities, read his article in the Summer 2018 issue of Vanderbilt Medicine magazine at vu.edu/jonathan-dallas. The article originally was published in The Journal of the American Medical Association.