It's hard to say goodbye even when hello holds such promise.
Abbey Carlson focused her time at Vanderbilt on two passions: athletics and engineering. In July the mechanical engineering graduate heads to Boeing to join its Advanced Design and Prototype Solutions (ADaPS) team in Huntsville, Alabama.
Despite having a dream job in hand, Carlson says leaving campus mid-March because of the coronavirus threat was disheartening.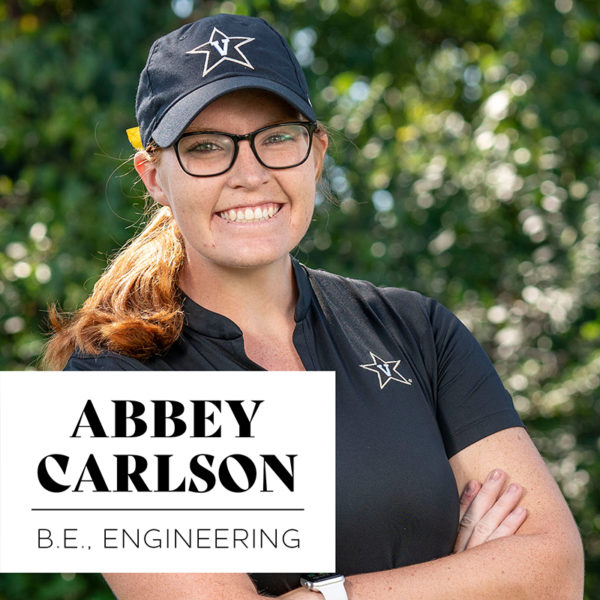 "The last two weeks on campus certainly were not what I expected them to be. It made me realize how incredibly hard it is for me to say goodbye after all the great experiences I've had here in the past four years," she says.
Carlson committed to play golf for Vanderbilt in high school. The Lake Mary, Florida, student-athlete built an experimental light-sport airplane as a member of her school's aviation program and earned her pilot's license. That sparked her interest in aerospace engineering.
"A lot of the schools I visited were hesitant when I brought up the idea of being both an engineer and an athlete," she says. "At Vanderbilt I got a great amount of support from day one." In fact, Carlson received a William H. Rowan Scholarship, which supports engineering undergraduates who participate in sports.
Carlson is one of Vanderbilt's leading golfers. A two-time All-SEC honoree and Mason Rudolph Championship individual medalist, she helped guide the Commodores to back-to-back NCAA appearances and represented the United States in Palmer Cup international competition. She earned an invitation to the April 2020 Augusta National Women's Amateur Tournament, but it was canceled because of the COVID-19 crisis.
"I've gotten a great education and made lifelong friendships and memories I cherish. I will forever be a Commodore, and for that I'm truly grateful."
Also affected was the NASA Student Launch Competition, the agency's annual rocket and payload contests. Carlson has been a member of the Vanderbilt Aerospace Design Laboratory for the past year and a half. Last year the senior members of the team were declared the competition's national champions for the sixth time. Carlson and the other current seniors were hoping to accomplish the same feat this year. NASA has announced plans to replace the 2020 rocket launch event with home-based and virtual events.
Accustomed to challenges, including team travel, weekend golf practices, and weeknights spent in engineering labs, Carlson still found time for Vanderbilt Student Volunteers for Science and the engineering fraternity, Theta Tau.
"I've gotten a great education and made lifelong friendships and memories I cherish," Carlson says. "I will forever be a Commodore, and for that I'm truly grateful!"