Psychology and communications studies double-major Tommy Oswalt came to Vanderbilt as a first-generation college student with a dream of finding a creative and supportive community like the large Cuban family he left in Muscle Shoals, Alabama.
As head resident adviser of West House on The Martha Rivers Ingram Commons, vice president of VUcept, and volunteer at the Monroe Carell Jr. Children's Hospital at Vanderbilt, Oswalt has mentored hundreds of students during his time on campus.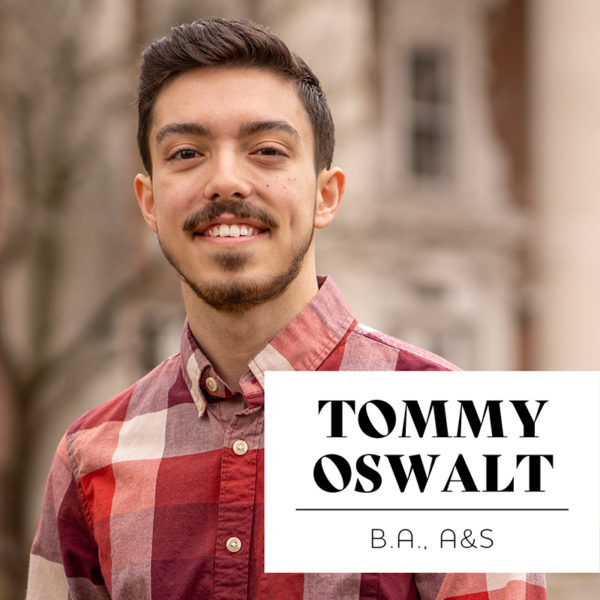 "We know everyone is intellectual, but I wanted to help break the myth of perfection at Vanderbilt and help students understand that they don't have to hide if they come from a lower socioeconomic background, a different culture, or any sort of background that might be marginalized," says Oswalt, who received the William H. Cammack Scholarship at Vanderbilt. "If you are your full self, you can find success here at Vanderbilt."
Oswalt didn't know anyone when he stepped onto Vanderbilt's campus and credits his experience on The Ingram Commons and in the classroom with his success.
"I think one thing that really sets Vanderbilt apart is this idea of community," he says. "For me, some of the most important moments I had were in the residential colleges, where I was able to talk with other people one on one about political issues or family or various beliefs. Those conversations really opened my eyes to the world and helped other people do the same."
Oswalt grew up in a dynamic environment with a musician mother and a politician father. At Vanderbilt he wove those experiences with his academic interests in psychology and communications, particularly by exploring reasons for political disengagement. He created a game called Tune In 2020 as well as a TEDx talk that used music playlists of the 2020 presidential candidates to help open doors of political communication among hesitant or apathetic potential voters.
"One thing I've loved about Vanderbilt is that it's really helped me explore how I fit in, not only in the Vanderbilt sphere, but also into this larger world."
"My game is a fun way to rethink politics through a musical lens and, I hope, to inspire engagement from people who maybe wouldn't normally be engaged in politics."
Beyond the classroom Oswalt combined his love of music and helping others by interning as a radio host at Ryan Seacrest Studios inside the Children's Hospital.
Oswalt now plans to work as a human resources analyst for Citibank in New York City. "One thing I've loved about Vanderbilt" he says, "is that it's really helped me explore how I fit in, not only in the Vanderbilt sphere, but also into this larger world."