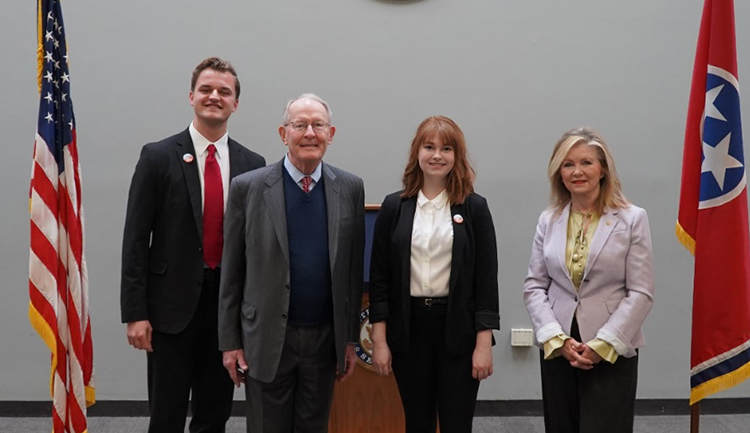 Before the COVID-19 outbreak necessitated the move to online and alternative learning earlier this spring, undergraduate students Barton Christmas and Miranda Cross traveled to Washington, D.C., and with guidance from the Office of Federal Relations, advocated for robust federal support for the National Endowment for the Humanities (NEH).
"NEH plays an important role in Vanderbilt's ability to research and study the humanities and social sciences," said Holly Tucker, director of the Robert Penn Warren Center, Mellon Foundation Chair in the Humanities and professor of French. "I was thrilled that RPW could provide two of our students the opportunity to advocate for NEH."
NEH provides essential support for humanities programs at universities like Vanderbilt. In 1989, Vanderbilt's Robert Penn Warren Center for the Humanities was awarded a $480,000 Challenge Grant from NEH to help establish a permanent endowment for the center. The grant, matched by private-sector funding, signified the nationally recognized achievements of the center and has helped ensure its long-term future.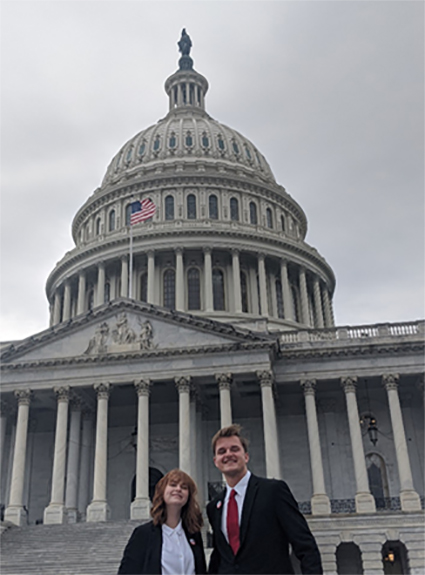 Thanks to this initial federal investment, the center continues to facilitate interdisciplinary research in the humanities and social sciences. Christmas and Cross were advocating to ensure that NEH continues to have the support it needs to further the nation's humanities research and teaching endeavors.
"One of my favorite things about RPW's programs is how they connect to people from both the broader Vanderbilt and Nashville communities," said Christmas. "NEH support helps make that happen. It was great to be able to tell this story to the Tennessee delegation and to advocate for NEH funding."
In meetings organized and led by Vanderbilt's Office of Federal Relations, Christmas and Cross met with staff in the offices of Sens. Lamar Alexander  (R-TN) and Marsha Blackburn (R-TN) and Rep. Jim Cooper (D-TN), as well as professional staff on the House appropriations subcommittee that funds NEH, to discuss how NEH supports their education.
"Our students are always such enthusiastic advocates for the university's priorities. Miranda and Barton did a fantastic job telling their stories of how NEH and RPW have supported their education at Vanderbilt," said Heather Bloemhard, assistant director of federal relations. "They helped to represent what the future of the humanities will look like and described the importance of NEH in supporting that vision."
"In our meetings, we highlighted the role that the humanities and RPW play in shaping a better world, including the role of the humanities in emerging technology areas," said Cross. "We emphasized the tangible impact of the center and NEH on the entire Vanderbilt community, including undergraduates."
Reporting by the Vanderbilt Office of Federal Relations