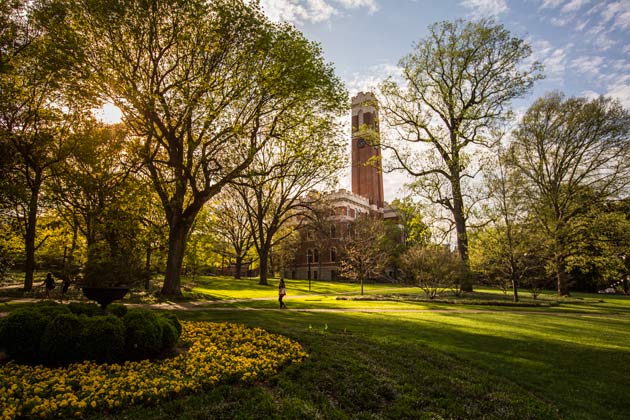 Interim Chancellor and Provost Susan R. Wente has appointed a new advisory group composed of students from the Class of 2020 to provide feedback and engage in planning their postponed Commencement ceremony and related events that will now take place in May 2021.
The extraordinary action of delaying this year's Commencement events, originally scheduled for May 6–8, was announced in order to protect the health and safety of the entire Vanderbilt community due to the COVID-19 outbreak.
The Commencement 2020 Graduating Student Committee, comprised of undergraduate, graduate and professional students, is charged with deliberating ideas and presenting planning recommendations. The committee will act as collective spokespersons for their peers, upholding century-old traditions while working to honor and engage their class in all that is created.
"In light of the profoundly difficult decision that was made regarding postponement, it is of the upmost importance that we engage a diverse group of student leaders from across campus to chart a collaborative path forward," Wente said. "We are devoted to ensuring that both this year's honoring of the Class of 2020, and next year's rescheduled festivities, reflect the hopes and expectations of this incredibly special moment and honor the outstanding achievements and accomplishments of the Class of 2020."
The Commencement and Special Events office is working directly with the student committee and will be reviewing options with campus partners, including the schools and colleges, as plans are developed.
Members of the 2020 Graduating Student Committee are:
Undergraduate students
Kofi Agyenim-Boateng – Blair School of Music
Christina Rogers – Blair School of Music
Reed Bonee – College of Arts and Science
Frances Burton – College of Arts and Science
Julianna Hernandez – College of Arts and Science
Nikhil Kothari – College of Arts and Science
Adrienne Parks – College of Arts and Science
Connie Du – Peabody College of education and human development
Christina Rentschler – Peabody College of education and human development
Gabriela Gallego – School of Engineering
Karina Gupta – School of Engineering
Jonah Levine – School of Engineering
Graduate and professional students
Thea Autry – College of Arts and Science, Ph.D. expected May 2020
Hunter Rhodes – Divinity School, M.Div. expected May 2020
Joey Blake – Law School, J.D. expected May 2020
Emily Singh – Owen Graduate School of Management, MMark expected May 2020
Carolyn Talaske Williams – Owen Graduate School of Management, MBA expected May 2020
Jacob Goedde – Peabody College of education and human development, M.Ed. expected May 2020
Jack Ding – School of Engineering, Ph.D. expected May 2020
Matthew Klooster – School of Engineering, M.Eng. expected May 2020
Leah Chisholm – School of Medicine, M.D. expected May 2020
Gwen Godlock – School of Nursing, D.N.P. expected May 2020