On a recent Wednesday night, when first-year residents of Gillette House on The Martha Rivers Ingram Commons would normally share a sweet treat and catch up at their traditional "Gillette Gelato," they still connected—but this time the room was virtual.
"It was clear that they all simply missed one another," said faculty head of house and Associate Dean of The Ingram Commons Frank Dobson. "These bonds have been forged since move-in day and strengthened on the halls, with faculty dinners and gatherings, and more. It was simply wonderful to laugh together again."
Across all of Vanderbilt's residential colleges, students, RAs and faculty heads of house are creating virtual spaces to share highs and lows of transitioning to online learning, giving tips on everything from studying to dealing with siblings to cooking suggestions, and simply hanging out.
"I've been so impressed by residents' resilience and calm during this strange time," said faculty head of E. Bronson Ingram Residential College Sarah Igo. "It's been wonderful during our virtual Bronson Breaks to confirm that students are okay and managing in creative ways in our new circumstances.
"This pause in normal life seems to be reminding all of us how important our families, friends and communities are to us," Igo added.
Though official house activities have been suspended, some residential colleges are continuing online versions of their traditions. Over at Memorial House, students shared in an online "S'Memorial" as faculty head of house Dan Morgan and his young family made s'mores outdoors. The students in East House joined a Zoom bake-along with faculty head Elizabeth Meadows. And faculty head Rosevelt Noble has been continuing his weekly group workout sessions online, just to name a few.
Learning to be tech-savvy

While the quarantine situation is pushing many in the Vanderbilt community to quickly learn new technology skills, faculty and students alike agree that they're grateful for a way to connect.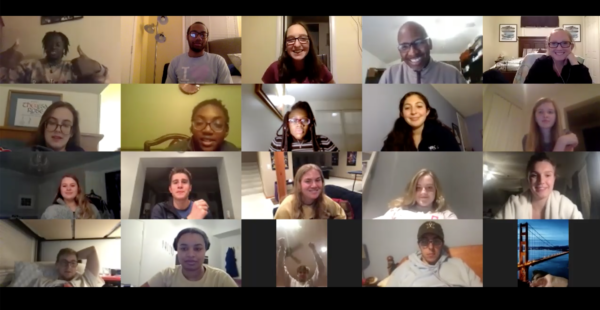 "This quarantine situation could have happened 20 years ago, and we wouldn't have had the benefit of virtual chatrooms, so being in the age of technology right now I'm definitely grateful for the tools that we have," said first-year student Lamar Morgan. "I miss my people, and I want to see them any way I can."
Living through history

Igo, the Andrew Jackson Chair in American History and director of the American Studies program, said she and her residents have been talking about the radical historical implications of this time.
"I keep telling students that this is one of the very few times in their lives that they will really feel that they are living through history," Igo said. "We are part of something that is much larger than any of us and in which, nevertheless, our particular behaviors are critical.
"I hope we come out of this appreciative of our fundamental interdependence and better prepared to nurture it," she said.
According to Dobson, the new ways of connecting support Vanderbilt's efforts to nurture relationships and build community.
"We're all in this together whether we're on campus or not," he said. "And since Vanderbilt is the students' home away from home, the bonds are sustaining for all of us."