by Christina Bailey Robbins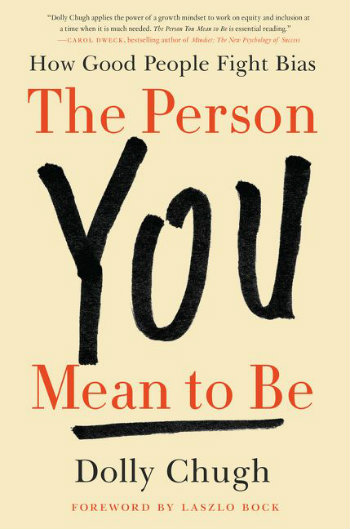 The Commons Reading for the 2020-21 academic year will be The Person You Mean to Be by award-winning author Dolly Chugh. Vanessa Beasley, vice provost for academic affairs and dean of residential faculty, and Melissa Gresalfi, dean of The Martha Rivers Ingram Commons, announced the selection April 3.
In years past, the Commons Reading has been distributed to all incoming first-year undergraduate students the summer before they arrive on campus. For the first time, incoming transfer students will be included in this year's recipient group. While first-year students will continue to discuss the Commons Reading through the Vanderbilt Visions program, transfer students will engage with the book through informal dialogue facilitated by peer mentors throughout the fall semester.
"Anyone moving to a new community is likely to think about who they want to be in their new space," Beasley said. "That's just part of making transitions, and it is especially important when you are a young adult making new choices for the first time. Reading this book will invite our new students to make the most of such a moment by asking how it can change you to think seriously about changing the ways you think about other people."
Published in 2018, The Person You Mean to Be offers readers a guide for discussing the challenging topics of racism, sexism and inequality. Leveraging research from psychology, sociology, economics, political science and other disciplines, Chugh exposes the root causes of injustice and shares practical tips for respectfully talking about it.
Chugh argues that in order to effect meaningful change in the world, one must acknowledge the privilege they bring with them, recognize their own blind spots and commit to personal growth. In doing so, the author equips readers with the tools they need to thoughtfully engage with their communities and adhere to the values of equity, diversity and inclusion.
"The theme of our programming on The Ingram Commons for the upcoming academic year is Communicating Across Differences. The Person You Mean to Be will be an excellent resource for us all as we strive to have open, honest, but likely difficult conversations about our values and beliefs, particularly during the upcoming election," Gresalfi said. "The Commons Reading gives us a chance to try out challenging conversations in a space where we have built connections and community—our Visions sessions. Our hope is that these conversations expand beyond those initial communities to our classrooms, our residences and into our friendships."
A committee comprised of Vanderbilt faculty VUceptors—the mentors who facilitate small-group discussions among first-year students through Vanderbilt Visions—and student representatives from the VUcept Executive Board selected the 2020-21 Commons Reading. Natalee Erb, associate director of residential colleges, led the selection committee alongside Gresalfi.
"The Commons Reading offers new students a shared opportunity to critically reflect not only on the intellectual experience they will have at Vanderbilt, but also on the type of community member they will be once they step foot on campus," Erb said. "The Person You Mean to Be provides practical tools to aid us all in examining how our words and actions are a reflection of our values and biases, just as it offers suggestions on how to develop new habits that foster an inclusive community across campus."
Ann Marie Deer Owens contributed to this story.