Vanderbilt University sophomores Ashwin Kumar and Abinaya Ramakrishnan and junior Amelia Taylor are among the 2020 recipients of the Goldwater Scholarship—awarded to undergraduate STEM students who show exceptional promise of becoming the nation's next generation of research leaders.
They are among 396 college students across the United States who were selected as Goldwater Scholars from a field of 1,343 nominees. The Goldwater Scholarships are one- and two-year scholarships that contribute up to $7,500 per year toward educational expenses.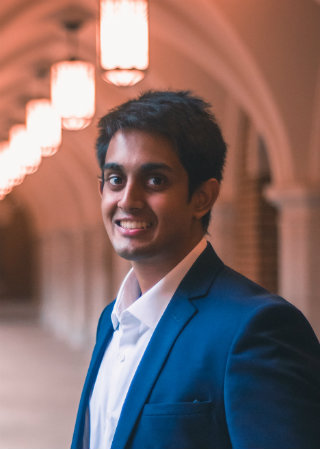 Ashwin Kumar, of Irving, Texas, is enrolled in the School of Engineering with a triple major in computer science, neuroscience and applied math.
"Ashwin works with three faculty members in two departments on impactful research projects while also leading one student organization and serving as an officer of another," said Philippe Fauchet, Bruce and Bridgitt Evans Dean of Engineering. "Goldwater Scholars are extraordinary students, and I congratulate Ashwin on the award of this prestigious scholarship."
As an undergraduate, Kumar has been conducting interdisciplinary research between the Human Imaging Lab, directed by Seth Smith, associate professor of radiology and radiological sciences; the Medical Analysis and Statistic Interpolation Lab, directed by Bennett Landman, associate professor of electrical engineering, computer engineering and computer science; and with Kurt Schilling, research assistant professor of radiology and radiological sciences.
"I am pursuing collaborative image acquisition and analysis research to create and analyze pediatric spinal cord maps for detecting pediatric pathologies," Kumar said. "Specifically, I have conducted random effects modeling to better understand pediatric spinal cord development through Jacobian analysis."
A Vanderbilt Chancellor's Scholar, Kumar aspires to earn a doctorate in biomedical engineering, with a specialization in imaging science. He plans to study the intersection among image analysis, high performance computing and statistical optimization. Conducting research on biomaterial optimization and teaching at the university level are among his career goals.
Kumar serves as president of Vanderbilt Project RISHI, which works to provide financially sustainable solutions to core problems within Indian villages. He is also secretary of the Vanderbilt Biomedical Engineering Society.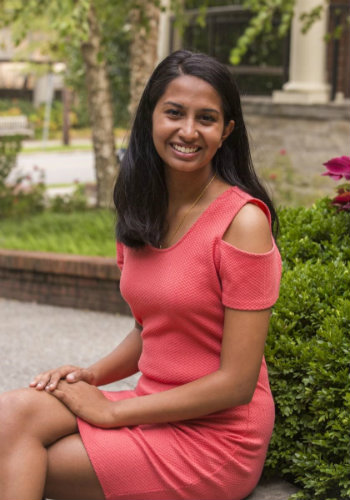 The other two recipients, Abinaya Ramakrishnan and Amelia Taylor, are enrolled in the College of Arts and Science.
"Having two students from Arts and Science selected for one of the nation's intensely competitive STEM scholarships is a testament to the quality of our undergraduate research experience," said John Geer, Ginny and Conner Searcy Dean of the College of Arts and Science and professor of political science. "We are extremely proud of Abinaya and Amelia and look forward to seeing the impact of their discoveries in the years to come."
Ramakrishnan, of Lisle, Illinois, is a double major in biological sciences and medicine, health and society. Her research experiences include working with Dr. Miklos Kertai, professor of anesthesiology, to understand postoperative complications following cardiac surgery.
"Since my freshman year, I have been investigating how mean platelet volume can be used to predict postoperative risk for acute kidney injury following cardiac surgery and minimally invasive procedures, like the transcatheter aortic valve replacement," Ramakrishnan said. She has also contributed to basic sciences research on mosquito heart physiology under Julián Hillyer, associate professor of biological sciences.
"Being a Goldwater Scholar validates the efforts I have put into research starting from my sophomore year of high school and further motivates me to continue my research journey," Ramakrishnan said. As an Ingram Scholar, Ramakrishnan has a strong commitment to community service. She volunteers with Hope Clinic, NAMI Tennessee and Vanderbilt University Medical Center, and serves on the Tennessee Department of Mental Health and Substance Abuse Young Adult Leadership Council.
Ramakrishnan plans to earn a doctorate in epidemiology and clinical investigations and pursue a research-based career devoted to understanding and predicting postoperative complications following surgery. "I hope that through these clinical investigations, we can reduce the number of postoperative complications after surgery and pave a path to a faster recovery," she said.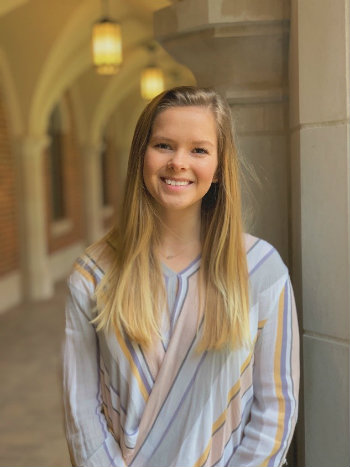 Taylor, of Bristol, Tennessee, is a double major in chemistry and philosophy. She is affiliated with the McLean Research Group Laboratory for Structural Mass, led by Stevenson Professor of Chemistry John A. McLean.
"It is so gratifying to be named a Goldwater Scholar and to be recognized for my research ability and potential to complete a doctorate in chemistry, because it is something I am so passionate about," Taylor said. "It confirms my notion that this is the correct career path for me."
She plans to pursue a doctorate in chemistry followed by a clinical chemistry fellowship. Her career goals include conducting interdisciplinary research in bioanalytical chemistry and teaching at the university level.
"My research focuses on better understanding the link between diet and Alzheimer's disease through quantitative metabolomics," Taylor said. "Currently, I am studying the changes that occur in amino acid metabolism in a mouse model of familial Alzheimer's disease and obesity/diabetes."
Taylor serves as president of the Vanderbilt University QuestBridge Chapter, a scholarship organization for high-achieving, low-income students. She is also a student fellow in the SyBBURE Searle Undergraduate Research Program.
Taylor encourages sophomores to apply for the Goldwater even if they are unsure if they will be competitive. "I applied my sophomore year and was not selected as a nominee, but because I had experience with the process, I was able to re-apply my junior year as a stronger candidate," Taylor said. "Writing and communicating are skills you have to practice to learn, and the Goldwater application provides valuable practice in scientific communication for other fellowships, grad school applications and beyond."
The Goldwater Scholarship Program, established by Congress in 1986 in honor of the late Sen. Barry Goldwater, seeks to foster and encourage outstanding students to pursue research careers in the fields of the natural sciences, engineering and mathematics. Vanderbilt is among 461 institutions whose institutional representatives submitted nominations for 2020.
The following faculty served on this academic year's nomination and review committee: Beth Bowman, assistant director, Interdisciplinary Graduate Program in Biological and Biomedical Sciences, School of Medicine; Lauren Buchanan, assistant professor of chemistry; Craig Duvall, professor of biomedical engineering and director of undergraduate studies; Todd Peterson, faculty director of the Office of Honor Scholarships and associate professor of radiology and radiological sciences; and Paul Sheldon, professor of physics and astronomy.
For more information on the Goldwater Scholarships, email Jaclyn Sheridan, associate director of post-baccalaureate opportunities at the Career Center.