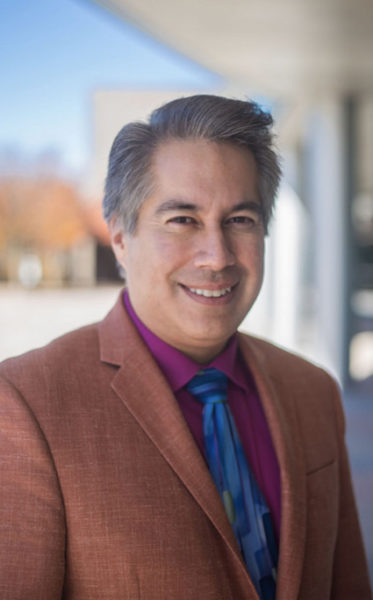 Vanderbilt University has tapped Lorenzo Candelaria, dean and professor of music at Purchase College, State University of New York, as the next dean of Vanderbilt's Blair School of Music following an extensive international search.
Candelaria, who goes by "Frank," is a tenured professor of music and has served as dean of Purchase College for two years. He previously was associate provost and professor of music at the University of Texas at El Paso. After completing his Ph.D. at Yale University, he began his academic career at the University of Texas at Austin, where he earned tenure.
"He has a demonstrated commitment to excellence and the vision and experience needed to propel the Blair School forward in its mission of advancing discovery and knowledge, expanding the horizons of musical expression, and promoting academic excellence in support of our Academic Strategic Plan. We are extremely pleased to welcome him to Vanderbilt," Interim Chancellor and Provost Susan R. Wente said.
Candelaria will be appointed to a five-year term as dean, effective July 1, pending approval of the Vanderbilt University Board of Trust, in the Martha Rivers Ingram Dean's Chair as well as a tenured professor of musicology. He will start his faculty position May 16 and then take on the deanship following the retirement of Mark Wait, who has served as dean of the Blair School since 1993 and is currently in the Martha Rivers Ingram Dean's Chair and professor of music. Under Wait's leadership, the Blair School has grown in size, reputation and excellence.
The Blair School of Music is one of the premier undergraduate schools of music in the country. Its students have access to both the highly personalized training that is Blair's hallmark and the world-class faculty, courses and resources of one of the nation's top research universities. The school's 145 faculty work across 11 departments, providing the highest-caliber training to 220 undergraduate majors and numerous non-majors from across the university who choose to take classes at Blair every year. In addition, 700 precollege and continuing education students attend Blair Academy, a preeminent music program for children, youth and adults.
Candelaria will be charged with working to strengthen the school's connections across the university and its reputation among its peer schools; fostering an inclusive, supportive community that is equitable and diverse; and streamlining internal systems and updating administrative processes.
"I look forward to bringing my experience to Vanderbilt, and to engaging with such an incredible community of talented students, faculty and staff. Together we will work to build on Dean Wait's legacy and further the Blair School's world-class reputation," Candelaria said.
Candelaria is a first-generation Mexican-American college graduate. Following a year of study with the celebrated Russian violinist Victor Danchenko at the Cleveland Institute of Music, he completed his undergraduate degree in musicology at the Oberlin Conservatory, where he also studied violin, viola and the Chinese erhu (a two-stringed fiddle).
He received his Ph.D. in musicology with the honor of "distinction" from Yale University, specializing in early music while pursuing a performance career with groups that included Walt Disney World's Mariachi Cobre and the Grammy-nominated Mariachi Sol de México. With support of a Fulbright Fellowship, Candelaria conducted nearly two years of groundbreaking archival research on Catholic plainchant and liturgy in Spain.
Candelaria has held professorships at the Yale Institute of Sacred Music (visiting) and the University of Texas at Austin, where he received tenure and served for 12 years on the musicology faculty.
As associate provost at the University of Texas at El Paso, he helped lead a Hispanic Serving Institution of 25,000 students that earned national distinction for its bold and inspiring mission of "access and excellence" in an under-resourced community along the U.S.-Mexico border.
A recipient of the prestigious Robert M. Stevenson Prize for outstanding scholarship on the music of Spain and Mexico, Candelaria is an award-winning author, teacher and widely engaged speaker on topics ranging from plainchant to mariachi music to arts education and the 21st-century student demographic.
Vanderbilt retained Isaacson Miller, a national executive search firm, to assist the university's search committee in identifying successful candidates. "I am deeply grateful to the search committee and the chair, Dean Emilie Townes, for their exemplary service in this important search," Wente said.
"It was abundantly clear that Frank was the right fit for Vanderbilt. He has excellent academic and musical credentials, demonstrated success in managing complex organizations, and a history of welcoming the people and music of diverse cultures," Townes said.
At the collegiate level, Blair's focus on training and educating only undergraduate students is rare and distinguishes it from other U.S. schools granting music degrees. Today, the school enrolls 207 undergraduates who benefit from rich instruction and close connections to the faculty, with a 4:1 student-to-faculty ratio.
The school's departments include Brass and Percussion, Chamber Music, Composition and Theory, Folk, Jazz, Keyboard, Musicology and Ethnomusicology, Music Education, Strings and Harp, Voice, and Woodwinds. Blair's facilities include three performance venues, hosting more than 300 performances annually. The Steve and Judy Turner Recital Hall (Turner Hall) debuted as a 272-seat recital hall in 1980 and is part of the original construction of the school. Turner Hall is the principal performing space for Blair faculty and students. The Martha Rivers Ingram Center for the Performing Arts, which opened in 2001, is home to two performance spaces for the school: Ingram Hall and Choral Hall.
"Leading the Blair School of Music for the past 27 years has been a privilege. I am extremely proud of all that the Blair community and I have accomplished together. I now look forward to new ways to engage with the music community and am eager to support and follow Blair's continuing success," said Wait, the outgoing dean. "Frank Candelaria is a wonderful leader, and I believe the Blair School's best days lie ahead."