All university-sponsored, non-Athletics events and gatherings are suspended through April 30 due to COVID-19.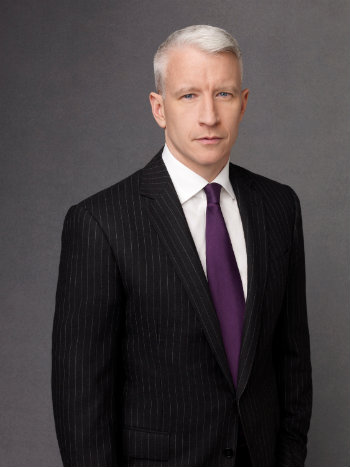 Anderson Cooper, a prominent journalist, CNN anchor and best-selling author who often reports from around the world, will be at Vanderbilt University for a Chancellor's Lecture on Sunday, March 29. Cooper had to reschedule his appearance from March 15 due to unforeseen circumstances.
Cooper's conversation, "Reporting From the Front Lines of History," is hosted by Interim Chancellor and Provost Susan R. Wente. The theme of the spring series, "Our Global Community," aims to create conversations about our increasingly connected world.
The event will begin at 3:30 p.m., with doors opening at 2:30 p.m. The event is free and open to the public, but tickets are required.
>> Click here to reserve tickets for the lecture >>
Current ticket reservations will be valid for the new date, March 29. Those who are unable to attend on March 29 are requested to cancel their tickets so that others on the waitlist may attend the lecture. Additional tickets for the March 29 event will be made available at a later date. Please check back for further details.
Since the start of Cooper's career in 1992, he has worked in more than 40 nations, frequently covering the world's major news developments. He anchors the global newscast Anderson Cooper 360⁰ on CNN. Cooper also has played a pivotal role in CNN's political and election coverage, moderating several presidential primary debates and town halls. In addition, he is a regular correspondent for 60 Minutes on CBS.
Cooper has won several major journalism awards, including an Edward R. Murrow Award and 16 Emmys. He helped lead CNN's Peabody Award-winning coverage of Hurricane Katrina and the network's reports on a 2004 tsunami off the coast of Indonesia, which received an Alfred I. duPont-Columbia Award.
Television viewers might recognize Cooper from his stints as a guest host on CNN's New Year's Eve special and Live with Kelly and Ryan on ABC. He is also a frequent guest on Bravo's Watch What Happens Live, hosted by Cooper's longtime friend Andy Cohen.
Before joining CNN, Cooper reported for ABC News and anchored the network's overnight newscast, World News Now. He also briefly hosted the reality game show The Mole on ABC.
Cooper, who was born in 1967, is the son of fashion designer and entrepreneur Gloria Vanderbilt and a descendant of Commodore Cornelius Vanderbilt. The Rainbow Comes and Goes: A Mother and Son on Life, Love, and Loss, a collection of correspondence between Cooper and his mother, Gloria Vanderbilt, debuted at the top of The New York Times bestseller list in 2016. Cooper's first book, Dispatches From the Edge: A Memoir of Wars, Disaster, and Survival, also topped bestseller charts in 2006.
Cooper grew up in New York City and graduated from the Dalton School. He earned a bachelor of arts in political science from Yale University in 1989. He also studied Vietnamese at the University of Hanoi.
The conversation with Cooper will be moderated by Claire Sisco King, associate professor of communication studies and director of undergraduate studies, and Tyler Easley, a senior in the College of Arts and Science. Pranoti Pradhan, a first-year doctoral student in cancer epidemiology at the Vanderbilt Institute for Medicine and Public Health and a Russell G. Hamilton Scholar, will introduce Cooper and the moderators.
Those attending the Chancellor's Lecture Series signature speaker events can park for free in the 25th Avenue Garage. Please use the Highland Avenue entrance.
CART services (live captioning) will be available during the events for hearing-impaired audience members.
For more information, email cls@vanderbilt.edu or visit our website.