With roots at some of the world's oldest universities, Vanderbilt's residential colleges provide undergraduates the opportunity to live and learn in close-knit, diverse communities overseen by faculty mentors. 
Photography by Joe Howell, Anne Rayner, John Russell and Susan Urmy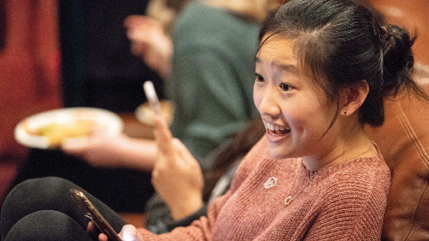 A TIGHTER SENSE OF COMMUNITY
Events like the annual Hogwarts-themed Magical Dinner at Bronson College not only foster camaraderie but also give students a much-needed respite from the daily demands of college life.
For Vanderbilt alumni who graduated more than a decade ago, residential colleges may seem like a far cry from the drab, maximally efficient dormitories built on campus in the 1960s to accommodate a quickly expanding student body. In fact, before the Class of 2012 moved onto The Martha Rivers Ingram Commons in 2008, never had there been anything on campus like these intentionally designed communities where undergraduates with different backgrounds are paired together and live alongside faculty.
But as new as it is to Vanderbilt, the idea for such communities is itself an old one, dating back to the earliest days of England's Oxford and Cambridge universities. The tradition also has some notable long-standing examples here in the U.S., including at several Ivy League universities. Today Vanderbilt is among a select group of higher education institutions that offer such a thoughtfully designed undergraduate residential experience that can encompass all four years of a student's time on campus.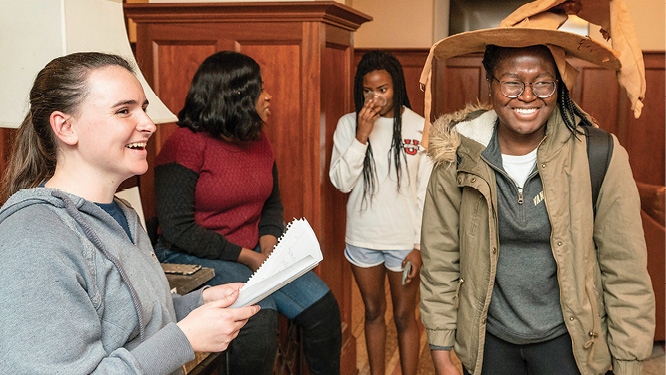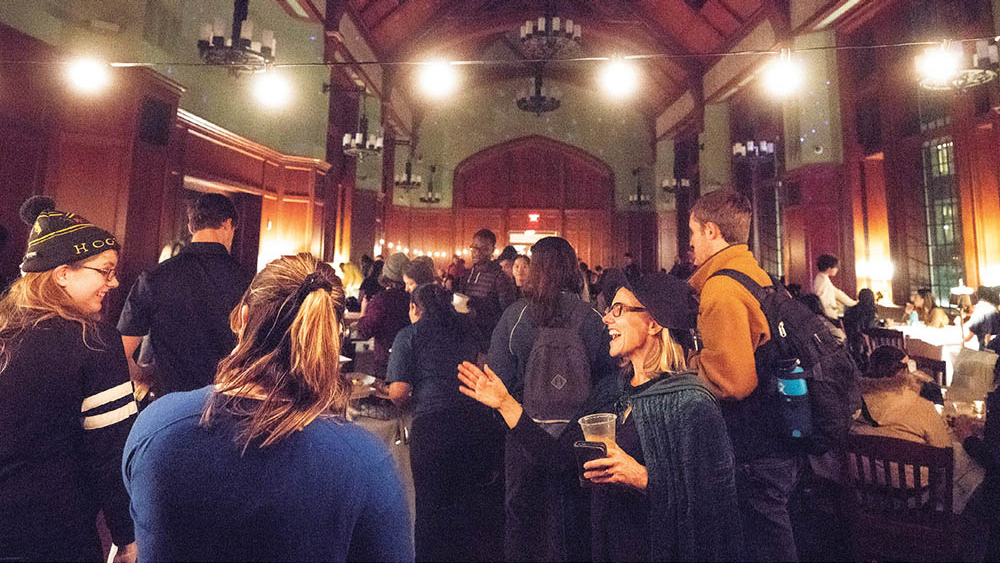 "Our modern version of residential colleges creates ties that nurture our community and strengthens one's sense of belonging—in a world where that is much needed. Residential colleges also enrich the learning experience in a way that is mutually beneficial to our undergraduate students and the faculty who live alongside them," says Interim Chancellor and Provost Susan R. Wente. "The benefits come from being part of a diverse, stimulating environment, where connections between faculty and students, creative inquiry and greater cultural awareness are prioritized. And grounding it all is our deep commitment to the personal well-being of our students with the ultimate goal of enhancing their success on campus and beyond." 
Vanderbilt requires all first-year students to live in one of the 10 houses on The Ingram Commons, each led by a faculty head who lives on-site and oversees innovative programming that gives each house its distinct identity. Sophomores, juniors and seniors then have the option of continuing to live alongside faculty in one of three residential colleges: E. Bronson Ingram College, Moore College or Warren College.
"When I was a student at Vanderbilt in the '80s, there wasn't this sense of community and identity that we're trying to cultivate among the undergraduates now," says Vanessa Beasley, BA'88, vice provost for academic affairs and dean of residential faculty. "What we're offering them is a richer, fuller experience."
Here we offer a look at life inside residential colleges, as seen through the eyes of two faculty heads — Rosevelt Noble, BS'97, PhD'03, senior lecturer of sociology and director of the Bishop Joseph Johnson Black Cultural Center, and Sarah Igo, the Andrew Jackson Professor of History and Director of American Studies, with affiliate appointments in law, political science, sociology and communication of science and technology. Noble is the head of Stambaugh House on The Ingram Commons, and Igo is the head of E. Bronson Ingram College.
We try to create a tighter sense of community through our programming and events, and offer our students a refuge from the stresses of college life. In the case of the Magical Dinner, most of them grew up with the Harry Potter books, so there's lots of nostalgia wrapped up in it.
A COMMITMENT TO INCLUSIVENESS
From weekly "StamSweets" events to informal monthly dinners in the faculty residence, the programming at Stambaugh House on The Ingram Commons is designed to encourage more social interaction among the diverse group of first-year residents.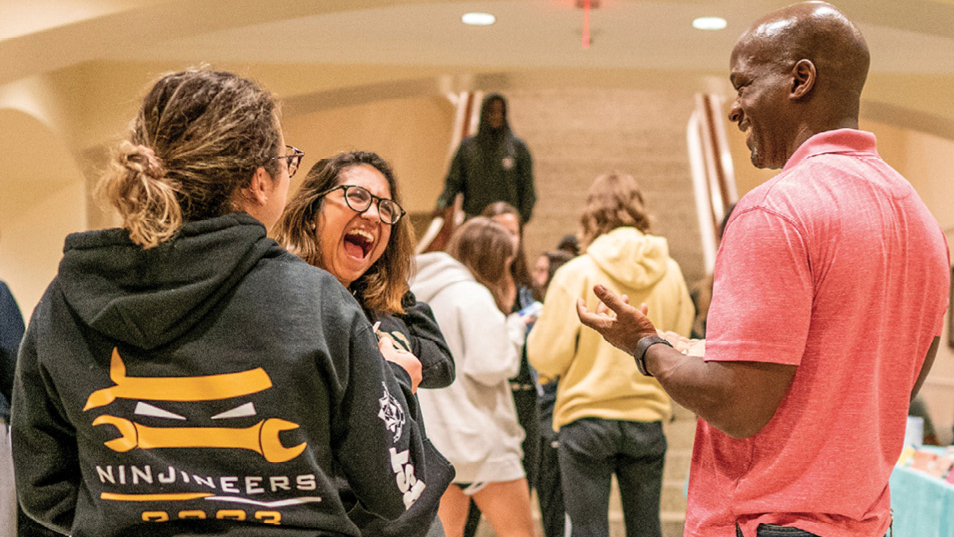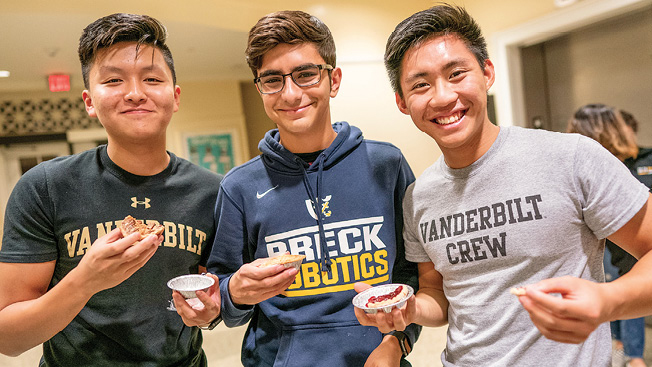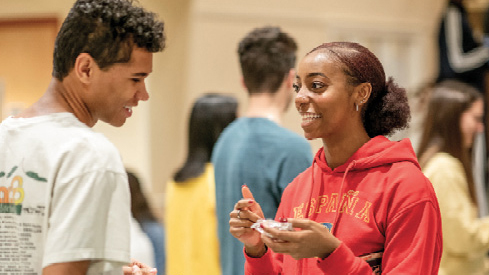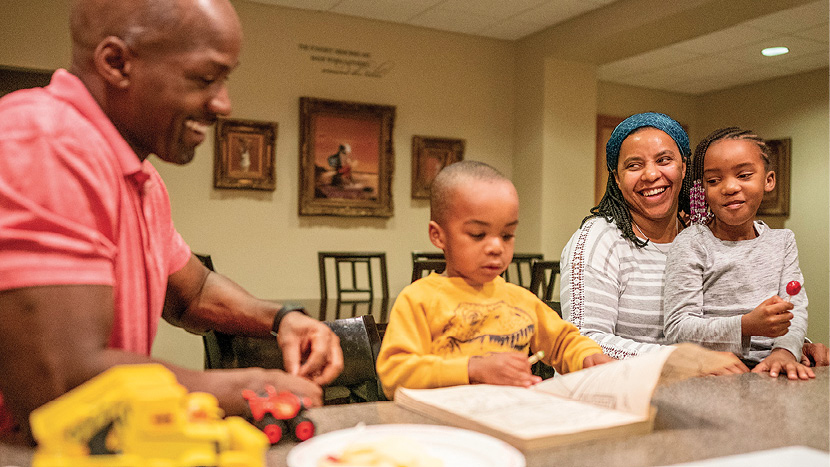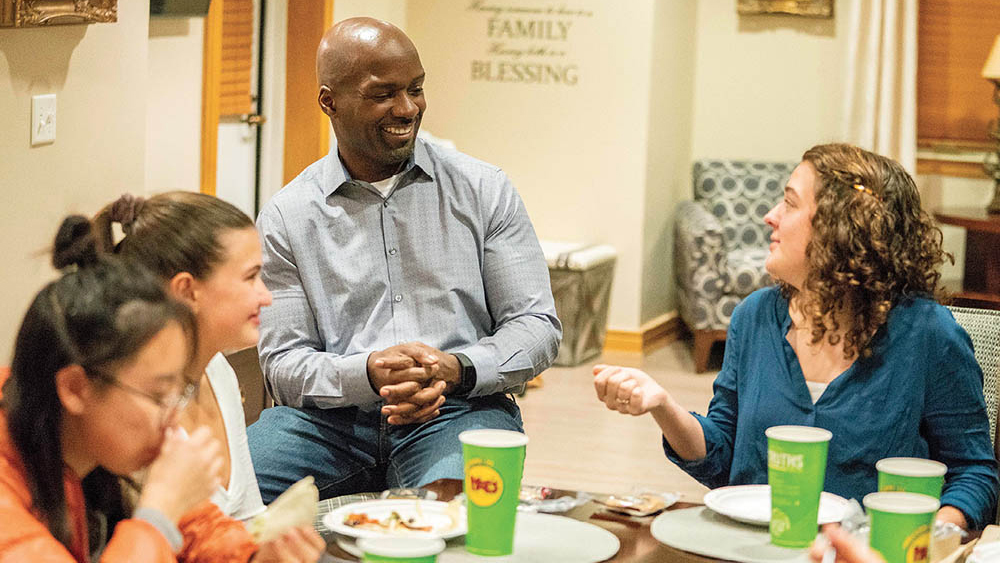 One thing I encourage among the residents is inclusive curiosity. That means not settling for what I call the low-hanging fruit—that is, only seeking out friends who are just like them. I tell them that the 'reaches'—the people who on the surface don't seem to have anything in common with them—may end up being their best friends. I remind them that as first-years they're all in that awkward 'Hi, my name is' phase, so why not embrace that and reach out to people they wouldn't normally reach out to?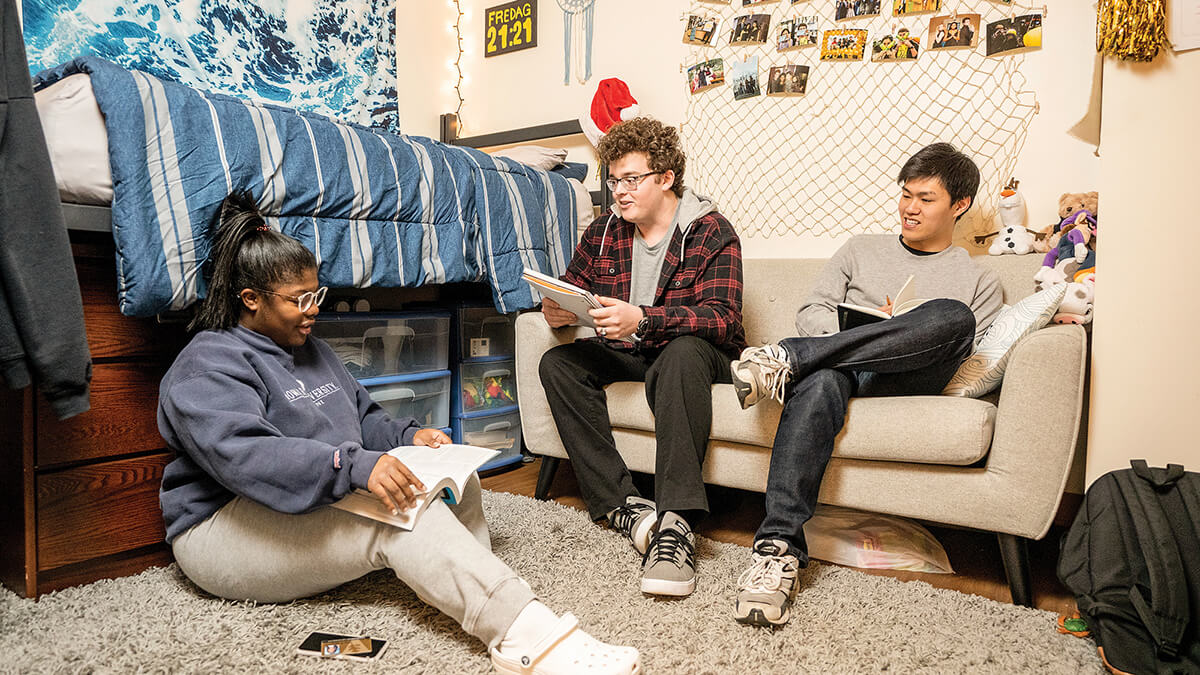 RESIDENTIAL COLLEGES FAQs
Why would faculty want to live in residential colleges? Don't they give up a lot of privacy?

"The residential colleges are surprisingly more private than one might imagine. The faculty member sets the cultural norms concerning how open the apartment space is to students. And outside of the monthly house dinner, one can choose to host all of the other programs in the common areas of the building. But to be honest, any loss of privacy is far outweighed by the positives that come from daily interactions with the students." — Rosevelt Noble

How are the faculty heads selected?

Ensuring a diverse blend of academic and personal backgrounds is an important part of the selection process. The current faculty heads represent six different colleges and schools—the College of Arts and Science, Blair School of Music, Owen Graduate School of Management, Peabody College of education and human development, Vanderbilt Law School and School of Medicine. They also have a variety of living arrangements: Some are single, while others live with their spouses, partners and families, including young children and teenagers.

How much do faculty heads actually interact with students living in residential colleges? Aren't they busy teaching and doing research?

"Faculty heads across campus hold regular events to which all students are invited. At E. Bronson Ingram, we have study breaks every Wednesday evening in our home with food and games, monthly dinners to discuss research and ideas with faculty guests, and formal programs such as concerts, talks and college-wide social events. We also work closely with student leadership: the resident advisers and council members. Beyond this are many serendipitous conversations in the hallways and dining halls. All of this certainly takes time, but is understood as part of the commitment—and the reward—of leading a residential community." — Sarah Igo

Are first-years able to choose their roommates?

No, Vanderbilt matches first-year students based upon their responses to a short list of lifestyle questions included on the housing application. The idea is to encourage a more inclusive campus community through roommate pairings that are not based on preexisting relationships.

Are first-years required to eat on the Ingram Commons?

No, but most do, and plenty of other students from across campus visit The Commons Center regularly for a meal. Besides its dining hall, there are other reasons students gather at the center, including its small rec room with cardio equipment, free weights and weight machines; its meeting and study rooms; and academic support services like the Writing Studio, CASPAR premajor advising center and Career Center.

Why would a student want to continue living in a residential college beyond first year?

"After living on The Ingram Commons as a first-year, why wouldn't you want to keep living in a residential college? The sense of community among residents is just unbeatable. The weekly signature events provide a homey and relaxing atmosphere where you can get to know everyone you live with. And you never have to go far for a good conversation with other residents or the faculty head, who personally values each and every one of those conversations." — AJ Kolondra, Class of 2022 E. Bronson Ingram College resident, Vanderbilt Hustler staff writer

How are the residents of Bronson, Moore and Warren selected?

Students must apply, and there is one application for all three residential colleges. Vanderbilt uses a random selection process to determine who lives where and to ensure that each community has an equal number of sophomores, juniors and seniors.

How is the Bronson College experience different from living on The Commons?

"One difference is in the programming. On The Ingram Commons, a lot of the events were geared toward acclimating first-years to being students at Vanderbilt, which is really important during that year. At Bronson we're being intentionally challenged to become more intellectually curious and engaged citizens by the time we graduate. And in Bronson the experience is always enriched by having students from different years in attendance who can offer a diversity of viewpoints." — Riley Alexander, Class of 2022, E. Bronson Ingram College resident adviser, Chancellor's Scholar, program director of Vandy Radio

Are communities like McGill and McTyeire part of residential colleges?

No, Vanderbilt's living–learning communities—the Mayfield Experience, McGill Project and McTyeire International House—are not part of residential colleges but play a complementary role, providing opportunities for students with similar educational interests to live together in structured learning environments. All three communities are co-sponsored by various academic departments on campus, and either have a faculty member in residence or are led by faculty advisers.

How does Greek life factor into the residential colleges plan?

Greek-affiliated students are vital members of the residential college communities. In fact, Bronson, Moore and Warren look for a deliberate combination of both Greek and non-Greek residents during the application process. Meanwhile, Greek Row remains an important component of undergraduate residential life and figures prominently in the university's improvements to its West Side Neighborhood, which now includes new accessible, parklike spaces throughout.

What's next for residential colleges?

Plans are underway to construct three new residential colleges along West End Avenue to provide additional housing for sophomores, juniors and seniors. The first of these will be the newly named Nicholas S. Zeppos College, which is under construction at the corner of 25th Avenue South and slated to open later in 2020.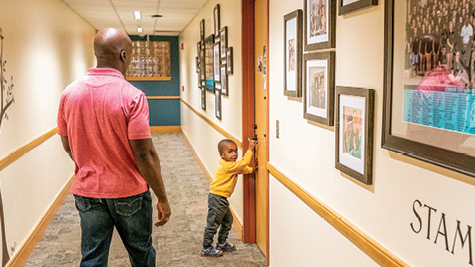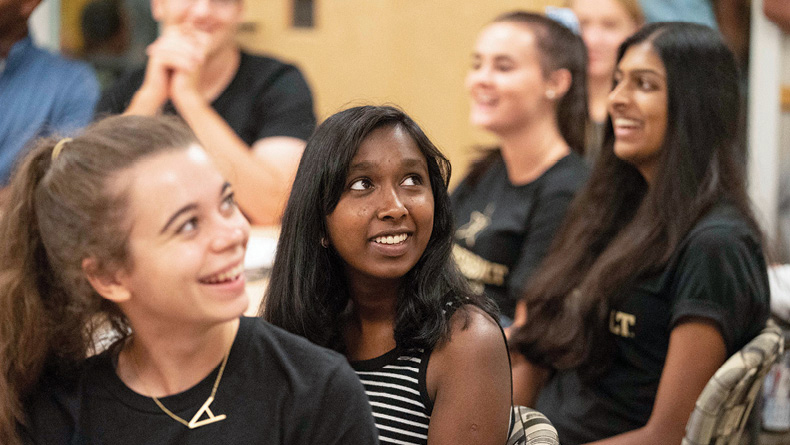 LEARNING OUTSIDE THE CLASSROOM
Guest lectures by faculty and Blair School of Music student performances are just some of the enriching educational opportunities available to students living in residential colleges.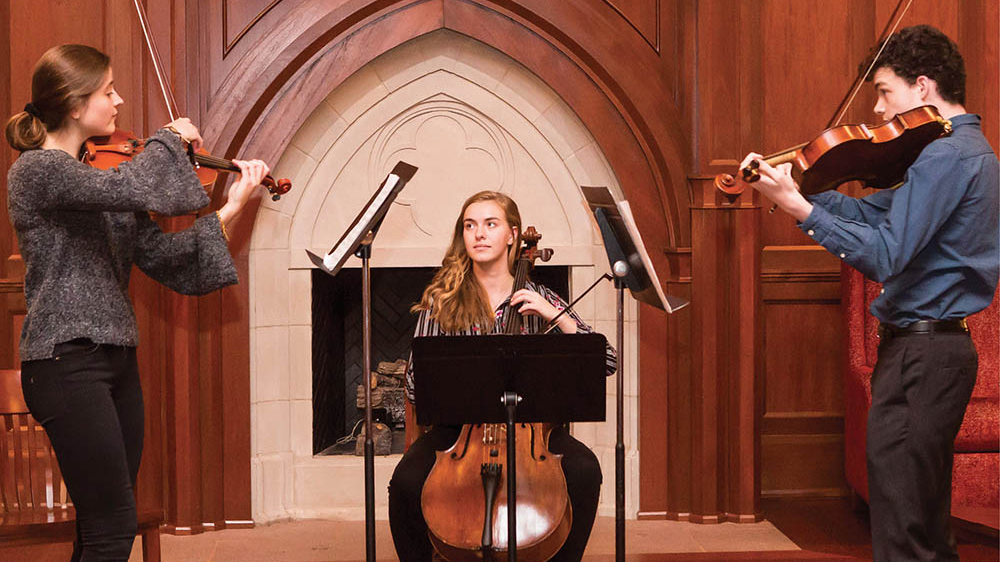 In the classroom, the interaction between faculty and students is often very formal. But the events we host at Bronson, like the dinners with guest speakers, help break down that divide. Our residents have taken part in fascinating, freewheeling discussions with faculty on everything from the exploration of Mars to prisoners' rights.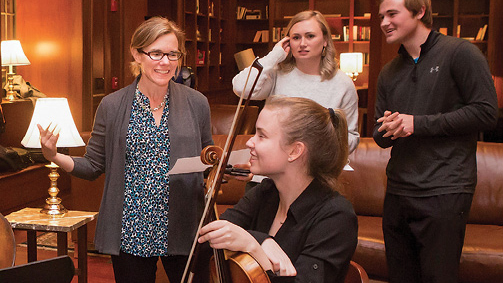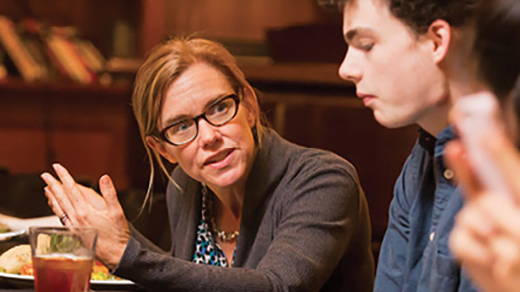 ACCESS TO MENTORING
Residential colleges give faculty heads a chance to get to know students on a more personal level and to offer them advice and counseling that wouldn't be possible in a typical classroom setting.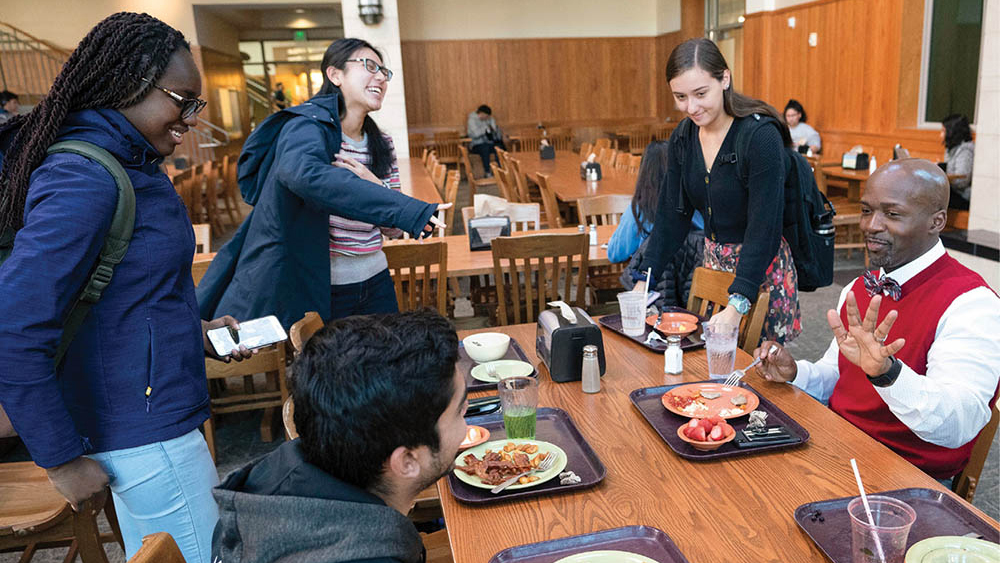 I'm someone who genuinely enjoys mentoring students and watching them thrive, so serving as faculty head of house has been a fun job for me. But my job also has been made a lot easier by the network of faculty and staff across campus who are looking out for the students and can tell me, for example, when someone is struggling. We're all invested in helping our students succeed.