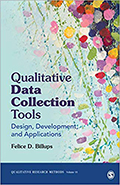 Qualitative Data Collection Tools: Design, Development, and Applications, (2020, Sage Publishers) by Felice D. Billups, EdD'91
This unique supplementary text will guide students and new researchers to design, develop, pilot and employ qualitative tools in order to collect qualitative data. Templates of interview protocols, focus group moderator guides, content analysis tools, document analysis tools, reflective questionnaires, diary and journal logs, and observational rubrics give the reader either a cut-and-paste solution for their own research or a starting point to design their own personalized qualitative tools.
God's Big Plan by (2020, Flyaway Books) by Elizabeth F. Caldwell, visiting professor in religious education, and Theodore Hiebert; illustrated by Katie Yamasaki
The world is full of so many different things: animals, plants, foods, languages, people. But it might not have been that way if it weren't for God's big plan . . . .This vibrant board book, adapted from the picture book version of God's Big Plan, is the perfect introduction to the wonderful diversity of the world God created.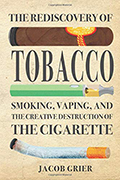 The Rediscovery of Tobacco: Smoking, Vaping, and the Creative Destruction of the Cigarette (2019) by Jacob Grier, BA'04
A moderate manifesto against the extremes of the anti-smoking movement, this contrarian take on smoking makes the case for respecting the choices of consenting adults, acknowledging the genuine pleasures of pipes and cigars, and encouraging an innovative market for lower-risk competitors that will finally end the deadly reign of the cigarette.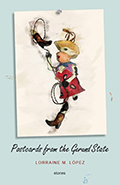 Postcards from the Gerund State (2019, BkMk Press at the University of Missouri-Kansas City) by Lorraine Lopez, Gertrude Conaway Vanderbilt Professor of English
These stories follow a group of women academics, mostly in the visual and literary arts, as they adjust to the hilarious surprises of life at Birnbrau, a fictional women's college in Georgia with its own characteristic dysfunctions. In the collection's culminating novella, the group attend a residency at a Wyoming artist colony where for a full month, they cannot avoid or escape each other, as much as they might sometimes wish to.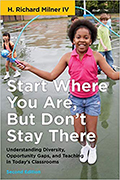 Start Where You Are, But Don't Stay There: Understanding Diversity, Opportunity Gaps, and Teaching in Today's Classrooms (Race and Education), second edition (2020, Harvard Education Press) by H. Richard Milner IV, Cornelius Vanderbilt Distinguished Professor of Education
In the thoroughly revised second edition of Start Where You Are, But Don't Stay There, H. Richard Milner IV addresses the knowledge and insights required on the part of teachers and school leaders to serve students of color. Milner focuses on a crucial issue in teacher training and professional education: the need to prepare teachers for the racially diverse student populations in their classrooms.
No Ways Tired: The Journey for Professionals of Color in Student Affairs, Vols. I–III, (2019, Information Age Publishing) edited by Monica Galloway Burke and U. Monique Robinson, assistant dean, Peabody Office of Student Development and Support Services
Even though diversity is currently conveyed as a ubiquitous principle within institutions of higher education, professionals of color still face many challenges. This book includes recommendations for professionals of color at all levels within higher education and ways to construct opportunities to flourish. The book's goal is to promote discussions regarding how professionals of color can be more proactive in developing strategies that are conducive to their professional and personal success as they navigate their higher education careers.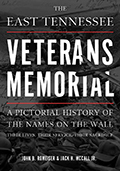 The East Tennessee Veterans Memorial: A Pictorial History of the Names on the Wall, Their Service, and Their Sacrifice (2020, University of Tennessee Press) by John Romeiser, MA'72, PhD'75, and Jack H. McCall Jr., BA'83
At the northern edge of the World's Fair Park in Knoxville, Tennessee, a striking set of 32 granite pylons stands as a monument to the tradition of military service in East Tennessee. The East Tennessee Veterans Memorial explores the creation and significance of this commemorative monument, providing a window into the lives and courageous actions of the more than 6,200 men and women whose names are inscribed on the sobering markers.

A People's Atlas of Detroit (2020, Wayne State University Press), edited by Linda Campbell; Andrew Newman; Sara Safransky, assistant professor of human and organizational development; and Tim Stallmann
A People's Atlas narrates the lived experiences of people engaged in political battles central to Detroit's future and that of urban America. This interdisciplinary volume features contributions by more than 50 figures from movement-building efforts in Detroit, including activists, farmers, students, educators, scholars, not-for-profit and city government workers, and members of neighborhood block clubs. Developed from a community-based participatory project, the book speaks to the challenges of fighting for land and housing justice, food sovereignty, economic democracy, accountable governance, and the right to the city.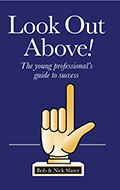 Look Out Above! (2019, Bulldog Ventures Media) by Bob Slater, BA'76, and Nick Slater
Specifically for young professionals in the first five or so years of their work life, Look Out Above! was written to fill the gap between what is taught in college and graduate programs and the practical skills required for a successful career—how to contribute, write, present, pitch ideas, lead and advocate in the manner valued in the workplace. Offering the perspective of both a young professional (Nick) and a seasoned executive and educator (Bob), the book is designed to give young professionals the tools they need to accelerate their development and contribution.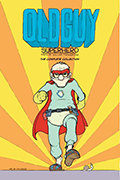 Oldguy: Superhero—The Complete Collection (2019, Red Hen Press) by William Trowbridge, PhD'75
In seriocomic misadventures, Oldguy valiantly attempts to continue his former heroism in a somewhat wry version of Faulknerian endurance, defeating his enemies time and again—if not through superhuman abilities, then at least by "outliving the sons-a-bitches." With its comic book-style illustrations, Oldguy inhabits a space all to itself—not strictly a poetry collection, not quite a graphic novel—a hybrid sure to visually and aurally delight. Trowbridge was Poet Laureate of Missouri from 2012 to 2016.