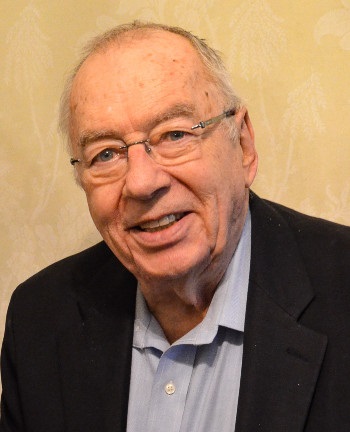 Milan Mihal, a noted Asian art historian at Vanderbilt who generously shared his expertise with the community during a time of rapidly developing cultural ties between the state of Tennessee and Japan, died Jan. 24 in Cleveland, Ohio. Mihal, 91, was a professor of fine arts, emeritus.
Mihal was born on Sept. 13, 1928, in Cleveland, Ohio, to Joseph and Paula (Zorman) Mihal. His keen interest in Japanese art and culture began as a youngster. He took art classes at the Cleveland Museum of Art and was a voracious reader of books on Japan. After high school, he enlisted in the U.S. Army for two years, serving as a medic in the Occupational Force in Japan.
Mihal earned both his bachelor's and master's degrees in arts education at Ohio University. With a Danforth Scholarship, he continued his studies at the University of Michigan and spent three years in Tokyo for his research. He earned his doctorate in Far Eastern art history.
Mihal joined what was then called the Fine Arts Department (now History of Art) as an instructor in 1968. He was promoted to associate professor in 1974, and after a distinguished career at Vanderbilt, he became professor of fine arts, emeritus, in 1997.
Robert Mode, a professor of art history, emeritus, first met Mihal at the University of Michigan when they were both graduate students. "Mel was particularly passionate about Japanese art and the concept of cross-cultural aesthetics between the East and the West," Mode said. "In his teaching and many public talks, he tried not to be too didactic when discussing artistic technique, but he truly believed in the spiritual and deeper meaning of art." Mode noted that his colleague was gracious and supportive in his dealings with students, always taking the time to make sure they fully understood the material.
Mihal developed and taught several courses in Japanese art, Japanese painting and prints, Chinese art and Buddhist art. His Asian arts survey class was popular among students. Mihal also devoted time to enriching the department's teaching collection, known as the University Art Collection, as well as the visual resources collection (slides) through his personal contributions.
Mihal's research field was in the Rimpa School of Japanese painting, with a concentration on the works of the Japanese painter Sakai Hōitsu.
Ljubica D. Popovich, professor of art history, emerita, remembers Mihal as "one of the original building blocks of their department" under the leadership of former department chair Hamilton Hazlehurst. "Among many specialists he was a universalist," Popovich said. "Mel could discuss any aspects of Western European art as easily as he would that of Japan, his beloved area. Mel loved and enjoyed all aspects of life: his family, to be followed by the love for his students, and then his appreciation for colleagues and friends. He also appreciated a range of music from classical to folklore." She noted that they shared a double connection through their profession and Yugoslavian ethnicity.
Mihal was awarded the Madison Sarratt Prize for Excellence in Undergraduate Teaching in 1975 and the Alumni Education Award in 1992. On campus, he served as director of the Asian Studies Program for three years and as an adviser to the Asian American Students Association and the Fine Arts Majors Association.
In the Nashville community, he offered free English lessons to the growing number of Japanese businessmen and their families living in Nashville during the 1980s and 90s. He also gave orientation talks for state and local leaders traveling to the Far East, including former Gov. Lamar Alexander. Mihal was an active volunteer at Cheekwood Estate & Gardens, delivering a welcoming address in Japanese to the president of Bridgestone Tire Company and other officials during their presentation of cherry trees to Cheekwood in 1983.
Mihal always enjoyed keeping in touch with his former students, leading several alumni tours to Asia and Asian art exhibitions in the United States.
In 2013, the Vanderbilt Fine Arts Gallery hosted an exhibition by Creighton Michael, MA'76, who paid tribute to Mihal's influence on his artistic practice. Michael expressed his gratitude to Mihal for introducing him to "the wondrous beauty and serene sensitivity of the Far East."
Milan is survived by his beloved wife, Marilyn Atkin Mihal; daughter, Mia Mihal Faxon, BA'89; son, Mark Mihal; and five grandchildren.
In lieu of flowers, memorial contributions may be made to the Cleveland Museum of Art; Hospice of the Western Reserve in Cleveland; or Fairmount Presbyterian Church, Cleveland Heights, Ohio, where services will be held at a later date.