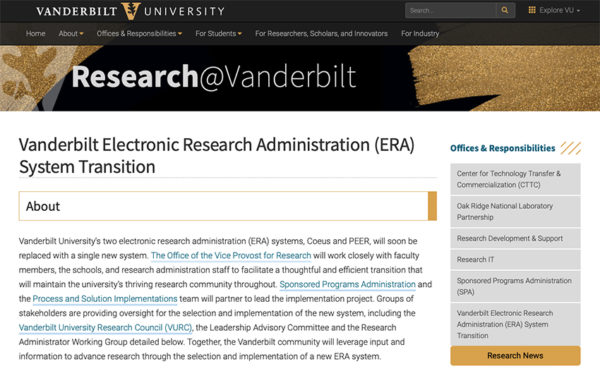 By Lauren McGuire and Jane Hirtle
The Office of the Vice Provost for Research has launched a new website to engage community members in the replacement of Vanderbilt University's two electronic research administration (ERA) systems, Coeus and PEER, with a new single Vanderbilt ERA system.
"Each year our faculty collectively submit about 2,200 funding proposals to external sponsors and receive approximately 1,000 grants and contracts," Vice Provost for Research Padma Raghavan said. "With the launch of this website, we will continue to engage our faculty and research administrators to support proposal and award activity and ensure smooth pre-award operations throughout this transition."
Through the website, community members will now be able to view updates on the Vanderbilt ERA system selection process, including engagement opportunities such as demo and testing events, and information about advisory teams such as the Vanderbilt University Research Council, the newly formed research administrator working group.
"We're very excited to announce the website as a way for the Vanderbilt community to engage in the ERA transition process," said Hilda McMackin, director of research administration systems and reporting. "The successful coordination and implementation of the Vanderbilt ERA system is integral to all stages of the lifecycles of proposals, contracts and awards, and we are grateful to have the input of the community guiding our process."
The Research Administrator Working Group has been convened to provide insight throughout the transition process. Members of the group will engage in the implementation process, support decision-making during the design phase, examine workflows and participate in user acceptance testing. Vanderbilt community members serving as part of the working group include the following:
Michele Austin, Sponsored Programs Administration, Office of the Vice Provost for Research
Judy Davenport, School of Nursing
Laurel Duncan-Biqiku, Sponsored Programs Administration, Office of the Vice Provost for Research
Eric Dye, College of Arts and Science
LaRashia Grafton, Peabody College
Paula Hemphill, School of Medicine Basic Sciences
Kristy Kruse, School of Engineering
Ela May, Divinity School
Emma Pacilli, School of Engineering
Magda Paszewska, College of Arts and Science
Palmer Payne, Peabody College
Claudia Paz, Financial Operations and Planning, Division of Finance
Beth Rivas, School of Medicine Basic Sciences
Michelle Vazin, Office of Contract and Grant Accounting, Division of Finance
In addition, faculty are engaged in the ERA selection and implementation process through VURC, a group of highly distinguished faculty from all 10 colleges and schools at the university who provide ongoing input and oversee the planning and operations of research-related activities at the university.
The selection of a new ERA system is in progress, with the implementation of the Vanderbilt ERA system planned to begin later this spring. In addition to the aforementioned advisory groups, other faculty and staff from across the university weighed in on the two vendors under consideration, InfoEd and Huron, through vendor demonstrations in September as well as sandbox testing with both systems in October and November.
Once the Vanderbilt ERA system has been selected and implementation begins, the website will provide progress updates and implementation news.  Updates, such as training session signups and answers to frequently asked questions from the community, will keep communication lines open throughout the transition.