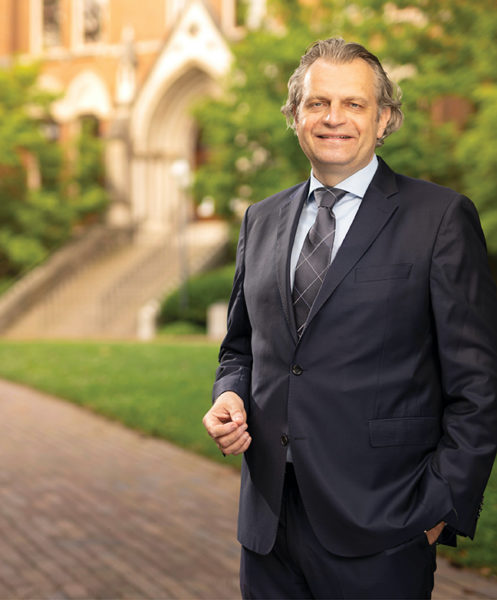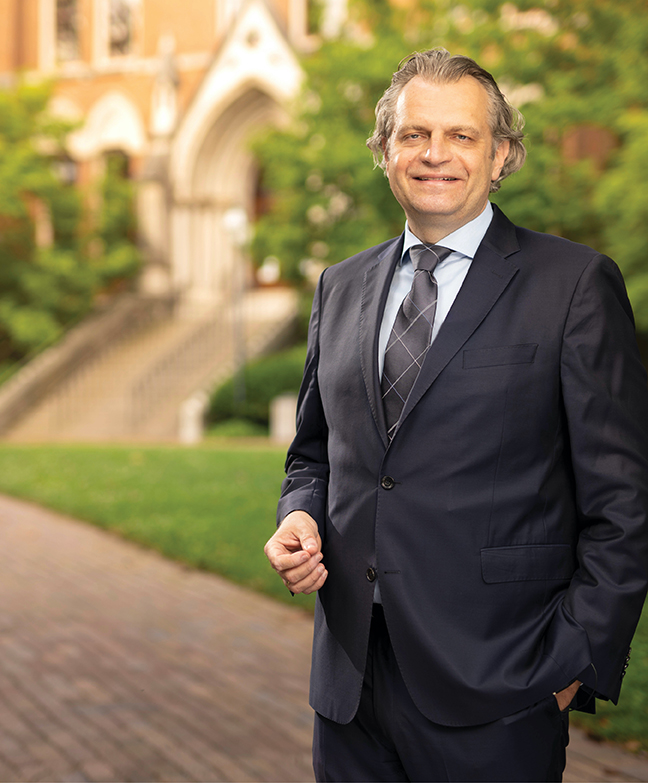 Daniel Diermeier, an internationally renowned political scientist and management scholar, has been elected Vanderbilt University's ninth chancellor, Board of Trust Chairman Bruce Evans announced on Dec. 4. His term as chancellor begins July 1. A member of the American Academy of Arts and Sciences and a Guggenheim fellow, Diermeier most recently was provost at the University of Chicago, where he previously had served as dean of the Harris School of Public Policy.
Diermeier addressed hundreds of students, faculty, staff and community members gathered at a welcome reception in the Student Life Center on the day he was announced as chancellor. "It is an honor to be named chancellor of one of America's top research universities—a university that has been on a meteoric rise," Diermeier told the crowd. "I am proud to join the Vanderbilt community at this time and to help write the next chapter."
He also noted the university community's strong sense of values and cooperative culture, and said he plans to seek regular counsel and advice from Interim Chancellor and Provost Susan R. Wente and Cornelius Vanderbilt Chancellor Emeritus Nicholas S. Zeppos.
"Daniel has the vision, leadership experience and deep commitment to trans-institutional research and teaching that we were seeking in our ninth chancellor. I am thrilled with this decision," Evans told the Vanderbilt community in making the announcement. "He embodies Vanderbilt's values and has a keen understanding of what makes Vanderbilt special: academic excellence made possible by a highly collaborative community.
"Daniel also shares Vanderbilt's commitment to making an elite education accessible to all qualified students, regardless of their background or ability to pay, a commitment informed by his own experiences as a first-generation college student," Evans continued. "His intellectual and strategic acumen, as well as his enthusiasm for our mission, will make him an outstanding chancellor."
Diermeier was elected chancellor after an extensive search launched in April 2019 following Chancellor Emeritus Nicholas S. Zeppos' decision to step down as chancellor Aug. 15. Wente was appointed interim chancellor beginning Aug. 16.
"Susan's outstanding leadership, both in driving our Academic Strategic Plan and in promoting trust, transparency and teamwork across campus, has ensured the university's momentum has continued unchecked," Evans said. "I am deeply grateful to her for her service and am looking forward to continuing to work with her in the coming years."
Wente will continue to serve as both interim chancellor and provost until June 30, at which time she'll resume her role as provost and vice chancellor for academic affairs.
"I was honored to help when I was asked to take on the role of interim chancellor when Nick Zeppos retired. I have greatly enjoyed my time as interim chancellor and can say with great confidence that Vanderbilt is in the best position in its nearly 150-year history. I also know our future is incredibly bright based on the work of the leadership team and the entire community to date," Wente said. "I look forward to continuing to advance our mission during this transition and as provost, and to ensuring that our academic excellence and our community continue to thrive."
A commitment to diversity and inclusion
Diermeier is David Lee Shillinglaw Distinguished Service Professor at the University of Chicago's Harris School of Public Policy, where he previously served as dean. His pioneering scholarship, which he continued while dean and provost, grapples with major questions facing society, including democratic governance, formal political theory, comparative political institutions, corporate social responsibility, private politics, and crisis and reputation management.
As dean, Diermeier led the transformation of the Harris School into the third-ranked public policy school in the nation. He launched a strategy that doubled student enrollment while increasing selectivity, a successful fundraising effort that included funds for the new $80 million, LEED Platinum-certified Keller Center, a 50 percent growth in faculty, and the recruitment of diverse students, faculty and staff.
"It is an honor to be named chancellor of one of America's top research universities—a university that has been on a meteoric rise."
As University of Chicago provost, Diermeier was responsible for all university academic and research programs, which include the university's $2.5 billion budget and those of its medical center and associated laboratories: the Marine Biological Laboratory at Woods Hole, FermiLab and Argonne National Laboratory. The university also operates campuses in Paris and Hong Kong and global centers in Beijing and Delhi.
During his tenure Diermeier and his team reorganized the university's financial management structure, leading to university-wide net income improvement of $80 million, while federal research grants grew by more than $100 million. Diermeier also led ambitious faculty expansion efforts in computer science and data analytics, economics and policy, urban studies and molecular engineering, culminating in the creation of the Pritzker School of Molecular Engineering in 2019. Recently, he and his team pioneered a new model of funding for Ph.D. students.
Diermeier was responsible for the University of Chicago's faculty-led, multiyear diversity and inclusion initiative, which enhanced student and faculty diversity and included recruiting and retaining a highly diverse academic leadership team. During his tenure, he appointed six female deans and three female vice provosts.
"Daniel understands that fostering diversity and inclusion is absolutely essential to an academic community," said Sarah Igo, Andrew Jackson Professor of History, faculty head of E. Bronson Ingram College, and a member of both the Chancellor Search and Advisory committees. "We were impressed by his unbending commitment to this principle—and even more so by the concrete ways he has put it into practice. Daniel's efforts to ensure access to college for students of all backgrounds and his sterling track record in building a diverse faculty and staff are vital strengths he will bring to Vanderbilt."
Taking Vanderbilt to the 'next level'
The search process, the most open and expansive in the university's history, was led by the Chancellor Search Committee, chaired by Evans. It included faculty and staff representatives for the first time and comprised leaders with strong connections to the university who have a broad mix of perspectives and experiences. The committee considered a diverse group of candidates from a wide range of backgrounds.
"Of all the outstanding candidates we considered, I was struck the most by Daniel's ability to pinpoint exactly what is unique about Vanderbilt and how those differences present us with tremendous opportunities in the coming years," said Martha R. Ingram, who served as Board of Trust chairman from 1999 to 2011 and was a member of the Search Committee. "It was essential to me that we find a proven leader who will build on our investments and vision and take us to the next level, and I am confident that Daniel is that leader."
"We were seeking someone who shares Vanderbilt's core values and has the proven ability to manage an organization as complex as Vanderbilt," said Vice Adm. (Ret.) Nora Tyson, BA'79, who is a member of the Board of Trust and of the Search Committee. "Daniel's approach to his role at the University of Chicago, which included extensive financial responsibilities, close relationships with their medical center and national laboratories, and a constant focus on undergraduate and graduate education, proved his abilities in these areas and I believe has given him the experience Vanderbilt needs today."
"It was essential to me that we find a proven leader who will build on our investments and vision and take us to the next level, and I am confident that Daniel is that leader."
The Search Committee's decision was informed by the findings of the Chancellor Search Advisory Committee, which included students, faculty, staff and alumni and was chaired by John Geer, Ginny and Conner Searcy Dean of the College of Arts and Science and Gertrude Conaway Vanderbilt Professor of Political Science.
"The Advisory Committee gathered and analyzed feedback from more than 2,500 Vanderbilt community members, and the committee's report showed substantial agreement across all stakeholders on the experience, professional and personal characteristics, and leadership style needed to lead Vanderbilt," Geer said. "As one colleague observed, 'Vanderbilt needs someone with a bold, innovative and inclusive vision for the future. … I very much hope that our next chancellor will be able to hold many things to be true at once.' Daniel's background and approach line up exceptionally well with that particular hope and the overall findings of the committee."
"We were impressed by Daniel's holistic approach to scholarship, his innovative ideas about higher education, and his proven commitment to outstanding teaching," said David A. Owens, Evans Family Executive Director of Vanderbilt's innovation center, the Wond'ry, and a member of both committees. "He understands, fundamentally, the significant opportunities that Vanderbilt has because we have leveraged our trans-disciplinary approach and our many active collaborations. He also understands the unique opportunities that our dynamic hometown, Nashville, offers with its creative and growing civic and business communities."
A native of Berlin, Diermeier earned his Ph.D. in political science from the University of Rochester in 1995. He also holds master's degrees in philosophy and political science from the University of Southern California, the University of Munich, and the University of Rochester.
Before joining the University of Chicago, Diermeier taught at the Graduate School of Business at Stanford University and the Kellogg School of Management at Northwestern University, where he was promoted to professor just four years after earning his Ph.D. At Northwestern he was IBM Professor of Regulation and Practice in the Department of Managerial Economics and Decision Sciences and director of the Ford Motor Company Center for Global Citizenship. He also held appointments in economics, political science, linguistics and law.
Diermeier and his wife, Ariela Lazar, director of visual arts education and outreach at the University of Chicago, have twin sons: a sophomore at the University of Wisconsin, Madison, and a sophomore at New York University Tisch School's Kanbar Institute of Film and Television.
---