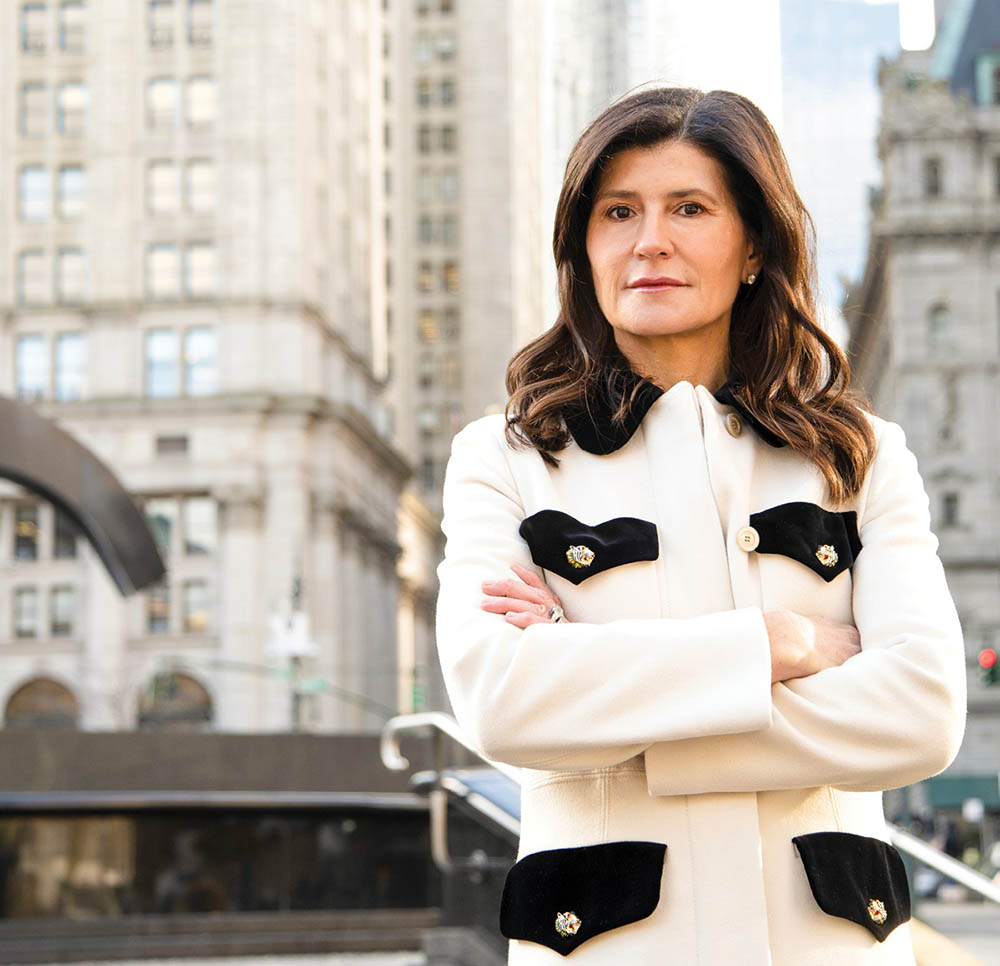 Tiffany Erwin Moller, BS'89, has served as a federal prosecutor for the U.S. District Court for the Southern District of New York, handling cases of financial fraud and other white-collar crimes. She also was the first-ever chief of compliance and oversight for the New York City Police Department, where she helped reform its policies.
Moller uses that range of experiences to inform her current work—this time in corporate monitoring. Pallas Global, her New York–based consulting firm, assists companies in detecting and preventing misconduct and improving overall corporate integrity. The aim isn't just to hold wrongdoers accountable, but to strike at the root cause of the problem, ensuring that it doesn't recur. It's a forward-thinking approach that, Moller says, can be traced back to her days at Vanderbilt—and helps explain why she remains committed to giving back to the university, including endowing the Moller Family Scholarship to provide financial support for undergraduate women from the rural South.
Here Vanderbilt Magazine talks with Moller about her work and the formative experiences that helped shape her career.
How would you describe the work that Pallas Global does?
Broadly speaking, we work with large multinational companies to strengthen their governance and improve their corporate integrity. We're retained typically because these companies have regulatory or possible criminal exposure because of a failure. What's interesting is that these are sophisticated companies with compliance and ethics programs in place already, so the question becomes: Why did these programs fail? What we do is uncover the root cause and then help the companies think through how best to remedy the failure. And whatever the remedial measures are, we test those measures to demonstrate they are effective.
Are you appointed by the courts, or do companies reach out to you on their own?
It happens both ways, but more often we're retained by a company's management or board ahead of a resolution with the government. The company can use our suggested remediation actions to demonstrate a serious commitment to reform and hopefully avoid a harsher penalty. In some instances, though, our involvement is a condition of a company's resolution with the government, but we're still retained by the company.
Why is a firm like yours more effective at addressing these problems than the government?
Government regulators can levy fines and arguably even put a company out of business, but those aren't necessarily ideal remedies. Unlike the government, Pallas can go into the company and actually monitor its remediation efforts, allowing the company to continue to operate but ensuring that what went wrong doesn't happen again.
Why do you think certain companies are prone to these sorts of failures?
It's not always about corrupt intent. Yes, there are bad apples, but often it's also about corporate mismanagement. It's important to remember that companies are made up primarily of people like you and me, who don't want to be part of an entity that is engaging in wrongdoing and maligned in the newspaper every day. Many are simply doing their job and want to be proud of what they do. It's rewarding to work with those employees and directors to help a company chart a better course.
You started your career as a corporate defense lawyer but then became a federal prosecutor. Why did you make that change?
The Southern District of New York truly is a special place because the mission there is to do the right thing. People can argue about what that means—the Southern District is often called the "Sovereign District" because it has an expansive view of its place in the legal ecosystem that sometimes ruffles feathers. But every single day you feel good about your job because you fought for what you believed in, and pursued justice by doing the right thing every step of the way with integrity and honesty. Plus you get amazing trial experience that you simply can't get at a big law firm like Sullivan & Cromwell, where I came from. This experience enabled me to see both sides of the coin.
After your time with the District Court, you became the first-ever chief of compliance and oversight for the NYPD. What was that experience like?
First it's important to know the backstory. Before I began, a federal court had ordered a monitor be put in place at the NYPD, after having found the department's stop-question-and-frisk policies and practices were unconstitutional and racially discriminatory. Newly elected Mayor Bill de Blasio campaigned on a promise of reform, and I was brought in by the NYPD to coordinate and oversee that reform process, working with the monitor. It was a very raw time for our city. The NYPD felt under siege, and some people were concerned that crime would go up as a result of the court's order. But, ultimately, the NYPD was able to reduce the number of stop-and-frisk incidents dramatically, and crime actually fell. What that experience taught me is that monitorship can be a really effective tool for change inside an organization.
How has your Vanderbilt experience influenced your career?
I majored in history, and one of my favorite professors was the late Dewey Grantham [Holland N. McTyeire Professor of History, Emeritus], who was a scholar on the South and its struggles to modernize and reckon with its past. He really inspired me to think about the region and its history in a deeper way than I had been pushed to think about it before—to grapple in an intellectually honest way with its complexities. Looking back on it, that was the catalyst for me to think more broadly about my place in the world, and that kernel blossomed into what my work is now, both professionally and philanthropically. I also teach at Columbia Law School, which is extremely rewarding. I hope I someday inspire a student the way Professor Grantham inspired me.
You serve on the College of Arts and Science Board of Advisors and are involved with Vanderbilt in other ways. What keeps you so engaged?
I'm so impressed by the direction Vanderbilt has taken since I was a student there. I love the idea of the residential colleges and the immersive living-learning experience. And I find the concept of "One Vanderbilt"—all these outstanding schools and colleges connected across campus—really exciting and visionary. The problems the world faces today are so complex and ever-changing, it really is important to bring an interdisciplinary approach to solving them—just like in my business.
---
Tiffany Erwin Moller was interviewed by Michael Blanding, a Boston-based journalist.
---