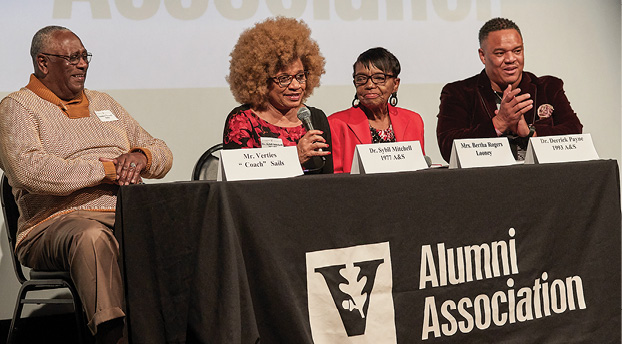 For Jessie Wallace Jackson, the trailblazing experience of her brother Perry Wallace, BE'71, is a story of love and hope for the future. A recent Memphis Vanderbilt Chapter Commodore Classroom expanded his inspiring message.
On Dec. 9, more than 60 alumni and friends gathered at the National Civil Rights Museum for a screening of Triumph—The Untold Story of Perry Wallace and a panel discussion sharing generations of perspectives on race in sports and university life.
Alumni Association Board Director Scott Morrell, BA'73, and longtime Memphis journalist Zack McMillin, BA'94, worked with Jackson, a retired schoolteacher, to organize the event.
"I wanted to raise awareness of the role my brother played, but also share the experiences of other African American students, who, like him, decided to attend college as a minority student," says Jackson.
The panelists, who shared their nearly 40-year range of viewpoints with those attending, were Bertha Rogers Looney, one of the first students to integrate the University of Memphis in 1959; Sybil Mitchell, BS'77, Perry Wallace's niece; legendary Memphis basketball coach Verties Sails Jr.; and former Vanderbilt football player Dr. Derrick Payne, BA'93.
"We were grateful to be able to assemble a cross-section of individuals who could express how it feels to be placed in that position of representing something larger than themselves," says McMillin, who moderated the event.
Jackson was thrilled to see the large turnout for the event. "It was wonderful to see so many people come together to learn about Perry's experience and the challenges each panelist faced," she says. "It proves that Perry's story lives on and continues to shed light for the future."