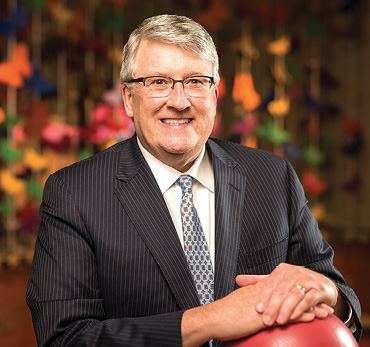 Luke Gregory, CEO of Monroe Carell Jr. Children's Hospital at Vanderbilt and senior vice president for business development, died Oct. 18, 2019, after a courageous battle with lymphoma. He
was 63.
The embodiment of a servant leader, Gregory joined Vanderbilt University Medical Center in 2007 as senior vice president and chief business development officer. He was named CEO of Children's Hospital in January 2011.
Continually focused on serving the needs of children and families from throughout Tennessee and surrounding states, Gregory led Monroe Carell Jr. Children's Hospital at Vanderbilt's remarkable growth across all areas both in the hospital and in surrounding clinics, building on its reputation as the region's premier pediatric health care provider.
While Gregory was CEO, Children's Hospital underwent critical expansions of inpatient space, including a 33,000-square-foot addition that added 33 beds in 2012. Also in 2012 the Doctor's Office Tower, which houses Children's Hospital's outpatient clinics, added 21,000 square feet of new space with an additional floor.
Children's Hospital is completing a 160,000-square-foot, four-floor expansion that has the facility well positioned for future growth. Gregory also presided over the opening of many units and centers, including the Ryan Seacrest Studio in the hospital.
"We will remember Luke not only for his superb leadership, but also for the friendship, warmth and kindness he generously shared with everyone," said Jeff Balser, MD'90, PhD'90, president and CEO of Vanderbilt University Medical Center and dean of the Vanderbilt University School of Medicine.
As a fellow of the American College of Healthcare Executives, Gregory received the organization's 2013 Regents Award recognizing his four decades of service and leadership in health care management.
He was actively involved in the community, having served with numerous organizations and boards, including the Children's Hospital Alliance for Tennessee, the Tennessee Association for Homes and Services for the Aged, the Tennessee Board for Licensure for Healthcare Facilities, and the Board of Visitors for Vanderbilt Divinity School.
In addition to Susan, his wife of nearly 40 years, he is survived by their two grown children, Kate (Mathew) and Ben, two grandchildren, and his brother, John Gregory Jr.
—STAFF REPORTS