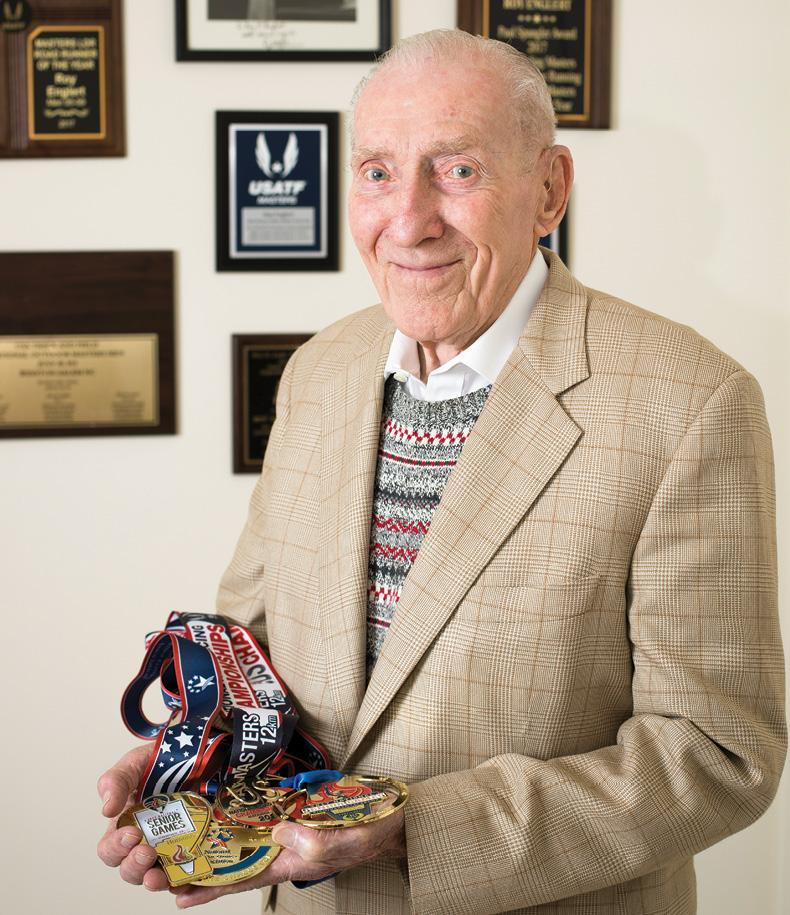 Roy Englert Sr. admits he doesn't like to run. He does it because it's good for him, and he's good at it. Very good, in fact—especially for someone who participated in the D-Day invasion of Normandy.
Englert, who turned 97 in September, added to his long list of athletic accomplishments in June when he set a world record for men in the 95-to-99 age group. He ran a 5,000-meter race in 42 minutes at the USA Track and Field Masters Outdoor Championships in Ames, Iowa, and now holds world records in his age group in the 800-meter, 1,500-meter, 3,000-meter and 5,000-meter races, along with the 4×100, 4×400 and 4×800 relays.
Not bad for someone who didn't start running until he was 60 years old.
"I read a book called Aerobics by Dr. Kenneth Cooper, who was an Air Force surgeon, and he said one needed to exercise and that running was good exercise, so I started running," says Englert, a Nashville native who now lives in Northern Virginia.
Englert started running laps in his "pretty big" basement before moving outside to a track at a local high school. Shortly after, he began competing on a national stage.
"I read about a Masters meet at Georgetown University," he says. "I live in the D.C. area, so I thought I would give it a try. I ran two races, the 400-meter and 800-meter, and I got a gold medal and a silver medal and thought, 'This is kind of fun.'"
Winning, that is. Not necessarily the running part.
"I do not enjoy running when I'm doing it," Englert says. "It is always nice to finish. You feel good after you finish. Not while you're running."
Englert, remarkably, has never sustained any running-related injuries.
"I've never had a problem with my knees, ankles, hips, anything," he says. "I don't know why. You see so many people with knee and hip replacements nowadays. I've been lucky."
Englert attended East Nashville High School before enrolling at Vanderbilt in 1939. "It wasn't as hard to get into the school then as it is now," he says with a laugh.
His best memories of Vanderbilt are on the academic side. "I took two courses on Shakespeare with Dr. Walter Clyde Curry, and that was a wonderful experience," he says. "I also enjoyed Professor Edward Mims, who taught freshman English."
During his junior year Englert joined the Navy Reserve, a program that allowed him to graduate from Vanderbilt before heading off to serve his country in World War II.
"Immediately after college I went to Midshipmen's School at Columbia University," he says. "There were seven or eight of us from my class [at Vanderbilt]. Then I served."
During his three years of active duty, Englert was involved in some of the most famous military operations in U.S. history, most notably D-Day, Operation Dragoon in Southern France, and the Battle of Okinawa in the Pacific.
"It was a great experience," Englert said of his time in the military during an interview with the Veterans History Project for the Library of Congress. "In those days, at that age, you think you are immortal, you don't think anything is going to happen to you. I saw the world. I wouldn't take anything away from my time [in the service]."
After briefly working for an insurance company, Englert attended Columbia University Law School. He spent his entire professional career in Washington, first with the U.S. Department of the Treasury and then at a private law firm. He retired in 1997 at the age of 75.
Englert continues to run two to three times per week, mostly on a treadmill. He increases his workouts to four times per week if he is training for a competition. The next big event is the World Masters Championships in Toronto this summer.
"I may try that," he says. "I'm not sure yet. I am getting older."
—MITCH LIGHT, BA'93
---