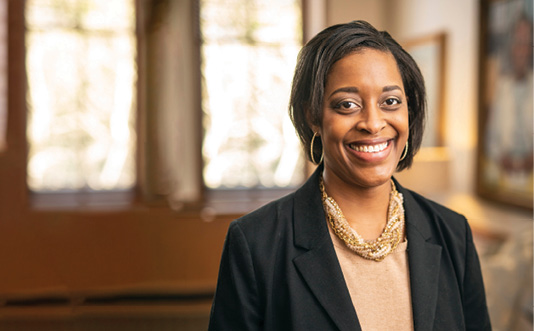 Former Vanderbilt standout student-athlete Candice Storey Lee, BS'00, MEd'02, EdD'12, has become the university's first female athletics director and the first African American woman to head a Southeastern Conference athletics program.
Vanderbilt University Interim Chancellor and Provost Susan R. Wente announced Feb. 4 that Lee has been named interim vice chancellor for athletics and university affairs and interim athletics director, effectively immediately. She succeeds Malcolm Turner. The university accepted Turner's resignation as vice chancellor for athletics and university affairs and athletics director the same day.
"Candice embodies the Vanderbilt Way, which is our commitment to ensuring that student-athletes excel on the field of play, academically and in life," Wente said. "Candice is a trailblazer. Her unparalleled work ethic, energy and vision, and steadfast commitment to the Commodore family, will only build on our momentum."
Lee has served as an integral leader at the university and in athletics for nearly 20 years, most recently serving as deputy director of the program, a role to which she was appointed in 2016.
"As someone who can personally appreciate the value of Vanderbilt's unique student-athlete experience, I can say without reservation that we are building on a storied legacy of excellence and achievement—in athletics and in academics," Lee said. "Vanderbilt is a special place, and this is a very exciting time: We are charting the future course of Vanderbilt athletics. I am excited to work with our coaches, staff and student-athletes as we move forward."
Lee is assembling a working group that will collaborate directly with the interim chancellor and provost and the entire university leadership team on the launch and implementation of the Strategic Plan for Athletics in a holistic effort to support the university's vision for the Vanderbilt Way.
---